Graney: Raiders erred in taking Hoyer over O'Connell as backup
Updated August 30, 2023 - 8:59 am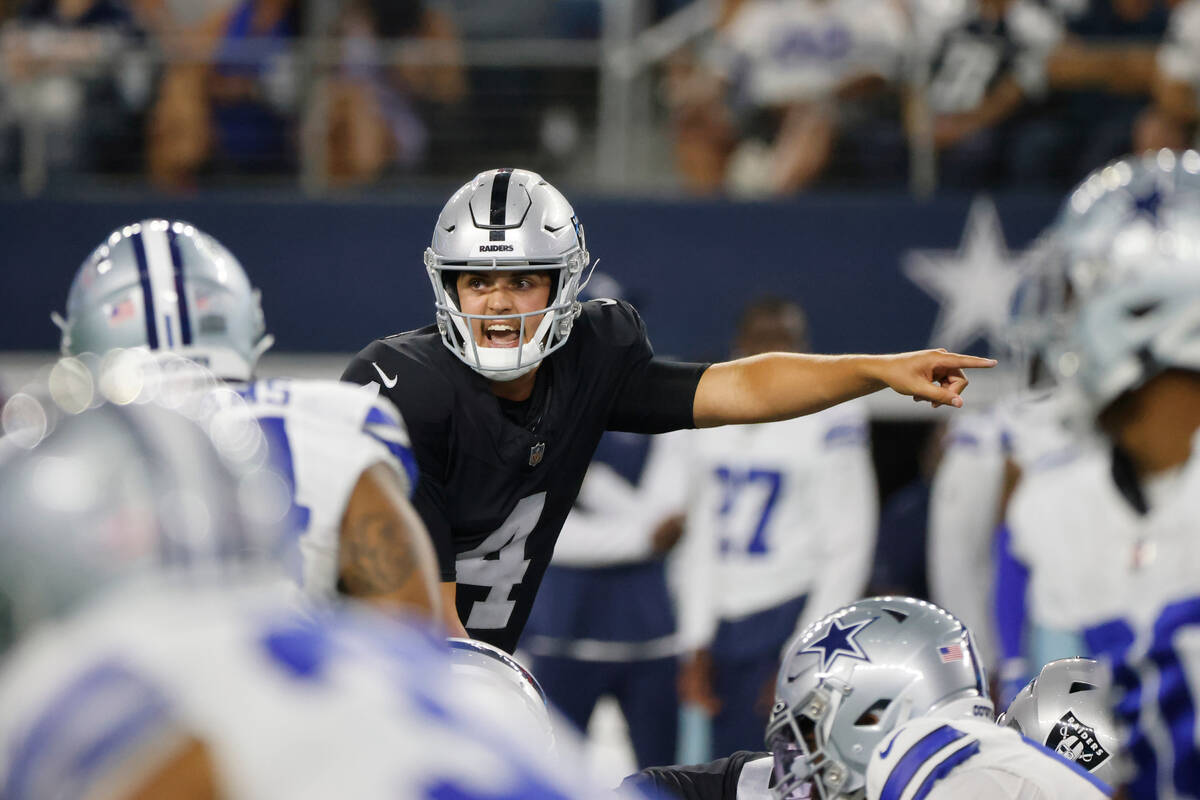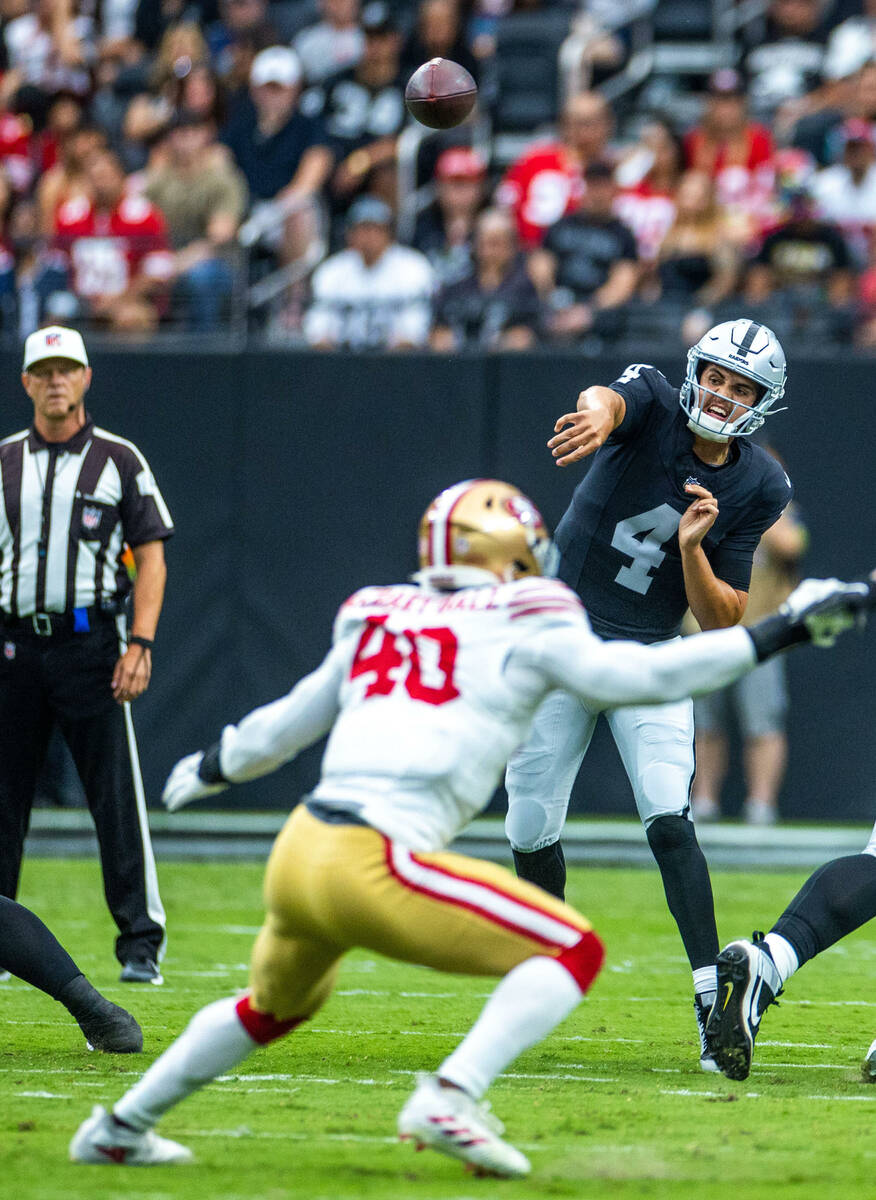 This isn't about getting over one's skis because of some impressive play by a rookie during the NFL preseason. It's more than that.
Aidan O'Connell should be the Raiders' No. 2 quarterback over Brian Hoyer to begin the season.
Yes. O'Connell looked much better than a fourth-round pick out of Purdue in three preseason games, completing 70 percent of his passes with nearly 500 yards and three touchdowns. He didn't throw an interception.
He also didn't play against the sort of defenses (players and schemes) he would face during a regular-season game. Didn't see what he would when the lights come on and things get real.
But you never know if a guy is ready until you know.
In the moment
I get it. We're talking about a backup quarterback. In most cases, that would elicit the interest and excitement of watching a fly buzz around your house.
But when your starter (Jimmy Garoppolo) has a fairly robust history with injuries, who would replace him first becomes more than a newsworthy topic.
And it should be O'Connell.
It's probably a long shot in the moment.
Here's why: The Raiders cut their roster to the 53-player limit Tuesday, and in doing so kept all three remaining names in the quarterback room. So now we await the depth chart for the Sept. 10 season opener at Denver.
Or word before that about who the backup will be. Let's be honest — we probably already know given Hoyer made the cut.
I'm sure he's the choice. Would be shocked if he isn't. He's a 15-year veteran who has started games for seven teams, the second-most in league history. He also has just 16 wins in 40 starts and has completed less than 60 percent of his passes.
But he's the safe pick, and coaches often gravitate toward that to start. You probably will hear all the expected reasons, from experience to the knowledge of coach Josh McDaniels' system from their time together in New England.
Hoyer didn't see near the preseason action as O'Connell did, meaning this decision was likely made long ago — no matter what the rookie did in games.
Hoyer has played plenty of football. McDaniels knows him well. There might not have been a need to see him much beyond practices. It's also true Hoyer saw much work in the spring when Garoppolo was nursing a foot injury and not participating.
But you're not making any serious run to a playoff berth if Hoyer had to start numerous games. You're probably not doing so with O'Connell, but at least you could see what the future might hold for him and your team.
Hoyer probably would manage a game much better right now, but what would that mean if one loss turned into two and two into three and so on?
You need to understand, if something happened to Garoppolo and the opportunity arose, if O'Connell could be a long-term answer. Identifying a quarterback of the future might not be priority No. 1, but it's in the ballpark.
It's also another deep draft of quarterbacks in 2024, meaning the Raiders, depending on things such as their record, could find themselves in a position to grab one of the better prospects. If, of course, O'Connell wouldn't impress to such a degree.
But what if he did?
Lean on others
You won't know that until he plays, and yet it's obviously the Raiders' hope that neither backup enters a game. That would suggest something was amiss with Garoppolo. That wouldn't be ideal in any situation.
McDaniels recently said nothing was set in stone regarding a No. 2 quarterback, which would point to Hoyer getting the first shot and O'Connell having the opportunity to work his way into the role.
If nothing else, the rookie needs to continue leaning on Garoppolo and Hoyer for guidance. I'd make O'Connell the No. 2 entering the season. I doubt it falls that way.
But remember: You never know about a guy until you know.
Ed Graney, a Sigma Delta Chi Award winner for sports column writing, can be reached at egraney@reviewjournal.com. He can be heard on "The Press Box," ESPN Radio 100.9 FM and 1100 AM, from 7 to 10 a.m. Monday through Friday. Follow @edgraney on X.