Breeders' Cup weekend begins Friday at Santa Anita
Updated October 31, 2019 - 7:16 pm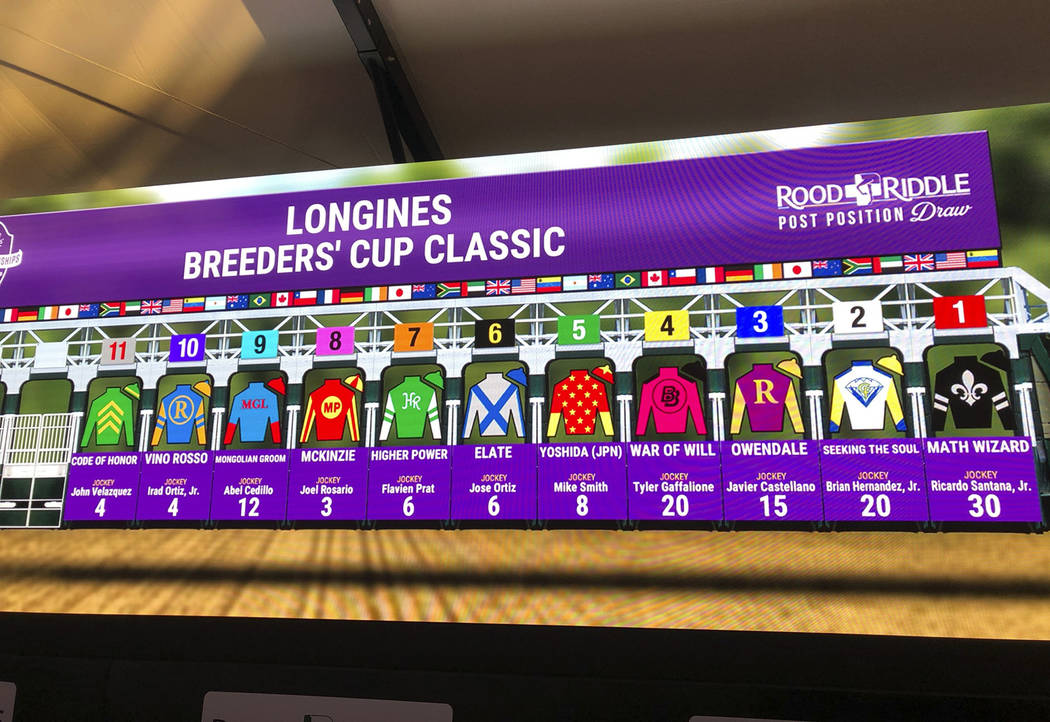 Christmas comes early for horseplayers, and Friday is the day we get to tear into a big box of surprises known as the Breeders' Cup.
The 14 races to be run over the next two days at Santa Anita Park promise plenty of drama, with great individual matchups and end-of-year honors on the line. But there's also an underlying tension to this celebration of the breed, arising from the surge of horse deaths this year at the California racetrack known as the "Great Race Place."
I'll be covering the races on both days and will share my observations on the racing and overall atmosphere, as well as my opinions and those of the #RJhorseracing handicapping crew.
For now, here's my brief analysis of Friday's Breeders' Cup races:
— The five-furlong Juvenile Turf Sprint offers an intriguing mix of European and U.S.-based runners, with trainer Wesley Ward's duo of Kimari (7-2) and Four Wheel Drive (3-1) getting a lot of attention. I like them both, but also will take long looks at the filly Band Practice (12-1), who looks quick for a Euro runner, seems likely to relish the firmer ground and is well drawn in post 2, and A'Ali (6-1), a three-time Group 2 stakes winner in Europe to be ridden by the Lanfranco Dettori.
— In the one-mile Juvenile Turf, 5-2 favorite Arizona probably is the best horse in the field, but his 12 post is no bargain at the distance. Structor (5-1) seems the one to give him a tussle, but I'd toss Our Country (15-1) and Peace Achieved (10-1) into the mix.
— In the 1 1/16th-mile Juvenile Fillies on the main track, rail horse Donna Veloce (3-1), who has never run around two turns, probably will lead them to the stretch, but I expect the more experienced runners to wear her down. The three co-second favorites at 7-2 – Bast, British Idiom and Wicked Whisper — seem most likely to take over late.
— The one-mile Juvenile Fillies Turf looks like easy pickings for the Europeans, with Daayeh (5-1) and Albigna (9-2) most likely to pose for the photographer. If you're looking for a bigger payoff consider Croughhavouke (20-1), who began her career in Europe but now has two U.S. races for trainer Jeff Mullins.
— In the 1 1/16th-mile Juvenile, which will produce the early favorite for the 2020 Kentucky Derby, I think Bob Baffert's Eight Rings (2-1) can overhaul 8-5 favorite and big buzz horse Dennis' Moment. My long shot play in the race is Anneau d'Or (15-1), who demolished a maiden special weight field on the turf at Golden Gate and should have no problem with the dirt. He's likely the strongest closer and will benefit if the top two mix it up.
One more thought before we turn to this week's #RJhorseracing featured races: Remember when you're handicapping the dirt races that the main track at Santa Anita is playing much slower than it was before a major renovation this summer aimed at creating the safest racing surface possible. So don't be fooled when you see times from late in the winter-spring meet or this meet that appear snail-like compared to previous years.
#RJhorseracing featured races
While the #RJhorseracing handicappers are sharing their opinions on all the Breeders' Cup races, they're focused for contest purposes on two of the toughest races on Saturday's card: the Breeders' Cup Mile and the Classic.
In the former, run at a mile on the turf, the crowd 'cappers are siding with co-second choice Uni (7-2), who broke the course record in her last race at Keeneland and has won six of her last seven for trainer Chad Brown. They see morning line favorite Circus Maximus (3-1) edging Got Stormy (7-2) for the place.
I agree that Uni is the horse to beat, but in what appears to be a fairly paceless race, I'm going with Got Stormy, who handed Uni her only defeat two races back. I'll use Uni underneath and the European-based colt Hey Gaman (12-1) to show.
In the Classic, the handicapping crew is on board with 3-1 morning line favorite McKinzie, apparently figuring that Hall of Fame trainer Bob Baffert will figure out a way to get the big money at his home track. They see Code of Honor (4-1) and Vino Rosso (4-1) filling out the trifecta.
McKinzie has too many questions surrounding him to get my money. I'll go with Vino Rosso, Elate and McKinzie in that order.
Mike Brunker's horse racing column appears Fridays. He can be reached at mbrunker@reviewjournal.com or 702-383-4656. Follow @mike_brunker on Twitter.
Forecasting Friday's Breeders' Cup races
Mike Brunker ; #RJhorseracing handicappers
$1 million Juvenile Turf Sprint
Kimari, Four Wheel Drive, Band Practice ; Kimari, A'Ali, Four Wheel Drive
$1 million Juvenile Turf
Arizona, Structor, Our Country ; Decorated Invader, Structor, Arizona
$2 million Juvenile Fillies
British Idiom, Bast, Wicked Whisper ; British Idiom, Bast, Wicked Whisper
$1 million Juvenile Fillies Turf
Daahyeh, Albigna, Croughhavouke ; Daahyeh, Albigna, Selflessly
$2 Juvenile
Eight Rings, Dennis' Moment, Anneau d'Or ; Dennis' Moment, Eight Rings, Scabbard
Ellis Starr's Breeders' Cup Classic analysis
The rematch between Code of Honor and Vino Rosso is the number one story in this year's Classic in my opinion and I will give slight preference to Vino Rosso. His four year old campaign has been all about pointing to this year's Classic and I think he's on a pattern to run the best race of his career and win. Returning from six months off in March, Vino Rosso earned a new career-best 114 Equibase Speed Figure winning the Stymie Stakes, a one-turn mile race. One month later he faced one of the best sprinters in the country (World of Trouble) in the Carter Handicap, finishing fourth without showing any late kick at all. A brilliant move on the part of trainer Todd Pletcher was sending Vino Rosso west for the Gold Cup at Santa Anita in May at the Classic distance and the colt proved resilient in tying his 114 figure with a powerful effort as he rallied from fourth to lead in the stretch and gamely held that lead to the wire. Given two months off, Vino Rosso returned in the Whitney and, just as in the Carter, he ran evenly throughout, never threatening to win. Stretched out to 1 1/4 miles again for the Jockey Gold Cup Stakes at Belmont, Vino Rosso once again showed a lot of mental toughness in not only leading from the start, but battling with a number of horses in the late stages, prevailing by a nose on the wire over Code of Honor. Unfortunately, he had bumped his rival late in the race and the stewards felt that warranted a disqualification to second. Making his third start off a layoff in the Classic and on an improving pattern of figures (108, 112), I feel the previous race at Santa Anita may give Vino Rosso the slightest edge in experience which can help him to earn the glory of a Breeders' Cup Classic victory.
Code of Honor is also on a solid pattern for improvement. Following his third place finish in the Kentucky Derby (moved up to second via the disqualification of Maximum Security), Code of Honor took two months off. That freshening did him a world of good as he won the Dwyer Stakes in July, the Travers Stakes in August and the Jockey Club Gold Cup (via disqualification of Vino Rosso) in September. Going from a 101 figure effort, to 108, to 112, is a pattern we might expect of a still improving 3-year-old in the summer and fall, with further improvement to come. Furthermore, having run three times at the distance of the Classic, winning twice and finishing second in the other start, there's little doubt Code of Honor has what it takes to succeed in this race.
Elate is an Amazon mare and deserves to face off against males in this year's Classic. She's also a perfect three-for-three at the 1 1/4-mile trip of this race. Although beaten a nose one race before last in the Personal Ensign Stakes at Saratoga, the same race she lost by a neck the previous year, Elate earned a 115 figure — as good or better than any of the males in this year's Classic field. Tough as nails in the stretch in nearly every one of her 18 career starts, Elate has finished second seven times to match her win total. Trainer Bill Mott, who also saddles Yoshida (JPN), has given Elate a pair of three furlong "blowout" workouts coming into the race, a superb strategy to have her on edge for her best, which is good enough to post the mild upset in this year's Breeders' Cup Classic.
About the rest:
There is little doubt most of the other eight entrants in this race can run well enough to win and I would not argue with a single person who felt a win bet on any of them is warranted. However, there are little chinks in the armor on all of the rest in my opinion so personally although I will be considering them all for second place on exacta tickets and third place on trifecta tickets, I will confine my win bets to the three contenders above.
I'll start with McKinzie, who has only finished lower than second one time in 13 races. His two tries at the Classic distance were below par in my opinion as he missed by a nose while having every chance to win the Santa Anita Handicap in April and was 12th in last year's Classic at 7-2 odds. Although the 123 figure earned in his most recent start in the Awesome Again is the second best figure in the field, he seemed to be running in place throughout the race and although the jockey change to Rosario may help, I would prefer a jockey familiar with the horse, not a rider in the irons for the first time. Mongolian Groom led from start to finish in the Awesome Again and earned a field high 123 figure in the process. He has two third place finishes at this distance in his career and I don't feel his last effort is repeatable at this distance or in this field. Owendale faces older horses for the first time, which isn't an impediment in the fall of a horse's 3-year-old campaign. But the 110 figure earned in the Oklahoma Derby last month won't be good enough to win if repeated and he too is winless in two tries at the Classic distance. Similarly, Preakness winner War of Will could not threaten in the Pennsylvania Derby and the 107 figure earned at nearly the distance in the Preakness is another effort which, even if repeated, is not likely to win this race. Yoshida (JPN) closes from far back in nearly every start and rarely gets up in time, but should be in the top three or four at the end if able to run as he did in the Whitney in August when second with a 115 figure. Higher Power posted the upset in the Pacific Classic this summer with a 112 figure, which appears to be an aberration as he was a non-threatening third in the Awesome Again following that win. Math Wizard was a great story for trainer Saffie Joseph when winning the Pennsylvania Derby with a 113 figure which equaled the effort he put forth when second to Owendale in the Ohio Derby in June. Math Wizard is also facing older horses for the first time, as well as trying the distance of the Classic for the first time. Those two hurdles may be too much to overcome. Seeking the Soul has had a brilliant career, winning over $3 million, but as he enters the race off seventh and fourth place finishes, particularly with most of the others in much better recent form, he is hard to endorse.
Ellis Starr is the national racing analyst for Equibase. Visit the Equibase website for more on the race or to purchase handicapping products.