French jockeys build magnifique resumes in US
Updated August 8, 2019 - 6:12 pm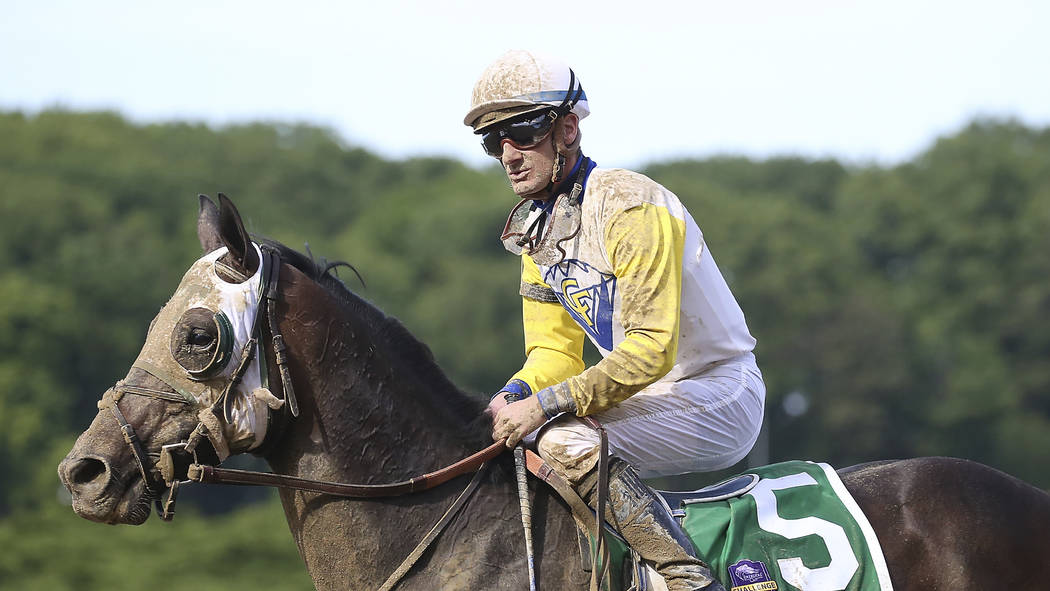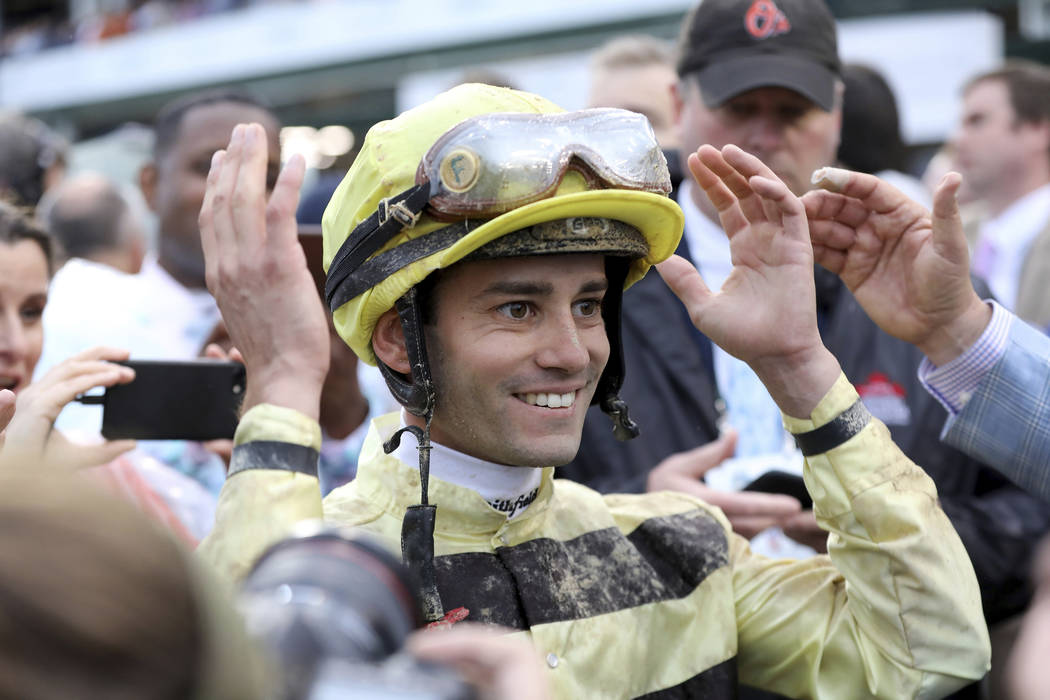 One for all and all for one — except when we're competing against one another.
That first part should sound familiar as the motto of the "The Three Musketeers," but the latter applies to three French jockeys, all good friends, who crossed the Atlantic over the past decade and a half to give U.S. racing a go. The results, shall we say, have been magnifique.
As you may have guessed, I refer to Florent Geroux, Julien Leparoux and Flavien Prat. Consider, for a moment, what they have achieved:
Geroux, 33, has won 1,464 races in the U.S. and Canada since coming to the U.S. in 2007, most notably the 2017 Breeders' Cup Classic and many other big races aboard Gun Runner. All told, he has won five Breeders' Cup races and finished fifth in North America last year with more than $21.4 million in earnings.
Leparoux, 36, is a two-time Eclipse Award-winning rider and has amassed 2,630 victories in his 14-year career with a win rate of 18 percent. He has won seven Breeders' Cup races, most famously the Mile on the champion mare Tepin, and led the nation in number of wins with 403 in 2006.
Prat, 27, the most recent arrival, shipped his tack stateside in 2009 after riding for several years in France, where he was a champion apprentice Jockey and Group 1 race winner. He has notched 719 victories — including two in the Breeders' Cup — while winning at a 19 percent clip and capturing multiple riding titles on the tough Southern California circuit. Oh, yeah, he also won the 2019 Kentucky Derby aboard Country House after the disqualification of Maximum Security.
All three riders knew one another in France, either through the training center where Leparoux's father, Robert, was an assistant trainer or at the French jockey academy that Geroux and Prat attended.
"We had many friends in common," Geroux said this week by phone from Kentucky. "We would see each other at the training center and at the races all the time."
And they remain friends in these heady days, cheering one another on with one exception.
"We are friends, but we're very competitive," Leparoux said Saturday during a rare appearance at Del Mar. "We love to see one of us achieve success, but we don't like to lose, either."
Circling back to the "Three Musketeers" theme, there is a d'Artagnan in this story as well. French jockey Jerome Lermyte, 30, recently joined his countrymen in North America and has been riding in Canada and at the Fair Grounds in New Orleans, making an immediate impression at both venues.
You probably won't be surprised to learn that he's also a friend of Geroux's and knows Leparoux and Prat, too.
#RJhorseracing featured races
The #RJhorseracing handicapping crew this week is trying to crack the code for the $1 million Arlington Million, a Grade 1 test for older horses at 1¼ miles on the turf, and the $600,000 Beverly D. Stakes, a 1 3/16ths-mile Grade 1 for fillies and mares on the lawn, at Arlington Park.
Both races have heavy favorites trained by Chad Brown, presenting a particular sort of handicapping challenge: Do you try to beat the chalk and risk tearing up your tickets or try to inject value by using other horses beneath the favorite that are likely to be underbet?
The handicapping crew is taking the latter path, going with 8-5 morning line choice Sistercharlie in the Beverly D., with Competitionofideas (6-1) and Fleeting (5-2) filling out the top 3.
Sistercharlie, winner of four straight, will probably end up at 3-5, so I'll try to beat her with Magic Wand (3-1), who has been facing top older males in most recent starts and should get the firm turf she is said to prefer. Magic Wand is cross-entered in the Arlington Million, and if she goes there instead I'll have no choice but to fall in line with the handicapping crew.
In the Arlington Million, the crowd 'cappers also are backing Bricks and Mortar, 8-5 on the morning line, over stablemate Robert Bruce (7-2) and The Great Day (12-1).
It's impossible to knock the favorite — winner of six straight stakes — but crowd' capper Bill Dentinger has another reason to root for him: "Having spent nearly fifty years in the masonry business, no question Bricks and Mortar is a personal favorite," he wrote.
Even I can't persuade myself to go against a horse who has turned into a virtual machine since returning from a long layoff last year. I'll hope to add some value underneath by using Intellogent (12-1) in the place spot and Robert Bruce in third.
Mike Brunker's horse racing column appears on Fridays. He can be reached at mbrunker@reviewjournal.com or 702-383-4656. Follow @mike_brunker on Twitter.
Ellis Starr's Arlington Million Analysis
Knowing it is highly likely Bricks and Mortar will be the prohibitive betting favorite at post time for the Arlington Million, I'll start with Intellogent (IRE) as my top contender in the race. A 4-year-old who has only raced 11 times, Intellogent (IRE) ran the best race of his career when last seen finishing fourth of nine in the Prix d'Ispahan in May. That effort earned Intellogent (IRE) a career-best 122 Equibase Speed Figure which is identical to the career-best figure Bricks and Mortar earned in the Manhattan Stakes in June. Intellogent (IRE) also proved himself at the top level last July when winning the Prix Jean Prat in France. Adding blinkers and Lasix for his North American debut, Intellogent (IRE) also gets the services of jockey Florent Geroux. Per STATS Race Lens, in the last six months Geroux is red hot in turf races, winning 27 of 136 (20 percent) with a median win payoff of $7.40 and a flat bet profit on his starts returning $2.66 for every $2 wagered. Considering this colt opens at 12 to 1 odds, those numbers can be improved upon. Per STATS Race Lens, another factor in favor of a big effort by Intellogent (IRE) is the fact that over the past year, horses making their first start in North America in graded stakes, in turf routes, who are adding Lasix for the first time have won 10 of 69 races. That 14 percent win percentage may not seem like a lot, but with four of those winners going to post at odds of 8 to 1 or greater, this angle shows a flat bet profit of 39 percent, or $2.78 for every $2 wagered.
There's not much which needs to be said about Bricks and Mortar as his nine for 11 career record and $4.3 million in earnings speak for themselves. Since turning 5 this year, he's reeled off four straight grade stakes victories, three in grade 1 races, including the Manhattan Stakes when last seen in June. Bricks and Mortar also has improved his Equibase figure in three straight races, from 109 in the Muniz Memorial Handicap in March to 116 in the Turf Classic Invitational in May to 122 in the Manhattan. Jockey Irad Ortiz has been aboard for all the wins on the current six-race skein and rides again the Million. As such, it would be imprudent to consider Bricks and Mortar anything less than the one to beat.
Robert Bruce (CHI) won all six races he ran in his native Chile, including four straight group 1 stakes, one of which was contested at the distance of the Million. Following time off to acclimate to U.S. racing, Robert Bruce (CHI) won the Fort Marcy Stakes in his North American debut in May, 2018. Two races later he won the Arlington Million with a strong 118 figure. Since then, however, Robert Bruce (CHI) has managed just a pair of runner-up efforts in four races. Both those second place finishes came in grade 1 races, the most recent when behind Bricks and Mortar in the Manhattan in June. Last year Robert Bruce (CHI) finished sixth in the Manhattan but was beaten just one length in a blanket finish, so his second-place effort in that same race this year bodes well for his chances to take a big step forward and perhaps win the Million for the second year in a row.
The rest of the Arlington Million field, with their best representative Equibase figures: Bandua (106), Captivating Moon (107), Catcho En Die (ARG) (116), Hunting Horn (IRE) (119), Magic Wand (119), Pivoine (IRE) (109) and The Great Day (ARG) (105).
Ellis Starr is the national racing analyst for Equibase. Visit the Equibase website for more on the race or to purchase handicapping products.