Nevada looking for a way to allow Kentucky Derby bets
Updated August 21, 2020 - 10:33 am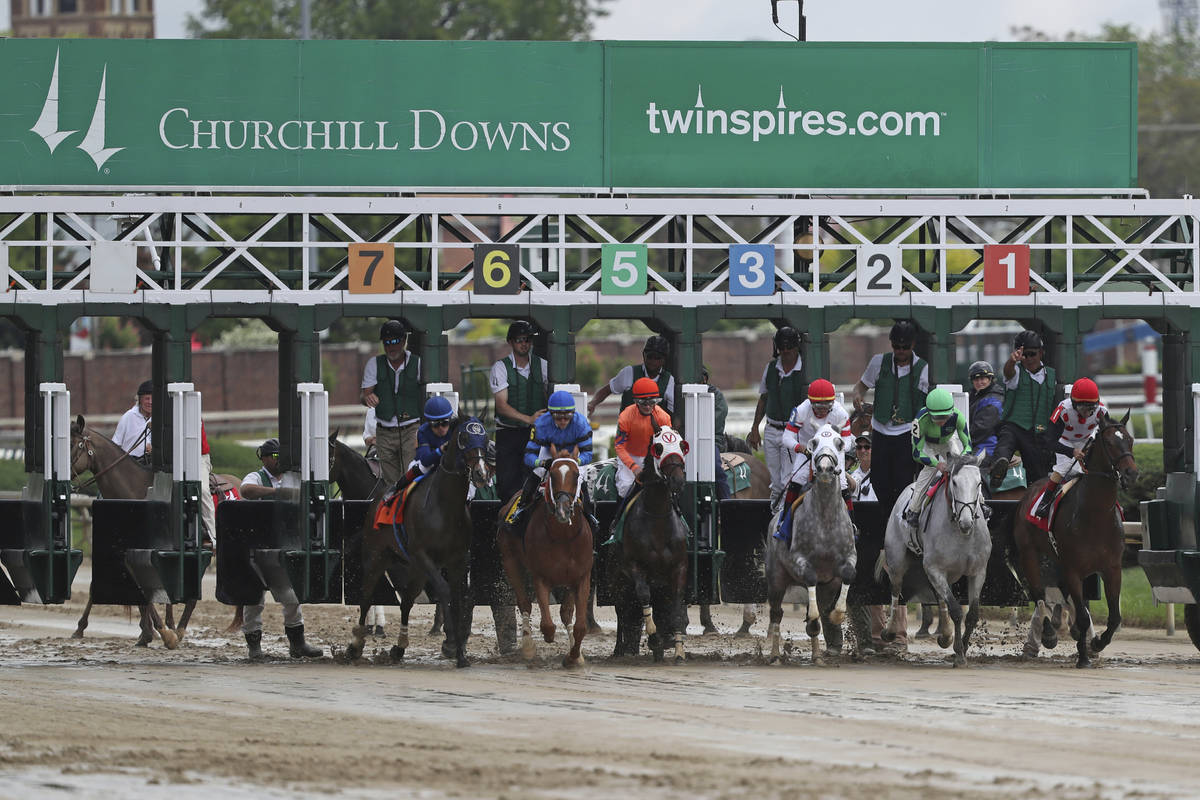 Nevada gaming regulators are considering an 11th-hour intervention that would allow the state's racebooks to have betting on this year's Kentucky Derby despite an ongoing contract dispute with Churchill Downs.
But to do so, the operators will have to step back 30 years in time, to the days when Las Vegas racebooks were really run by bookies. It also will be a return to the not-really-so-good-old days for horseplayers, when books often set low limits on exotic payouts and wagering could only be done in person.
Even so, it clearly beats the alternative, which would have been for the most famous race in the U.S. to be run without a single betting dollar entering the pools via Nevada's gaming establishments.
The contract dispute between the Nevada Pari-Mutuel Association, which represents the state's race and sportsbook operators, and Churchill Downs Inc. began Oct. 27 and has since prevented bettors in Nevada from wagering on races at the iconic racetrack.
It appeared the feud would preclude casual fans — most serious players have offshore accounts they can use to bet on virtually anything — in the state from wagering on the pandemic-delayed Derby when it is run Sept. 5. But then a proposal surfaced at the Nevada Gaming Control Board requesting an obscure change to Nevada Gaming Commission Regulation 22.
Testimony at a board hearing last week clarified the purpose, which is to enable the state's racebooks to take bets on "nationally televised broadcasts" such as the Derby, with or without a contract with the host track.
If approved by the state Gaming Commission on Aug. 27, the rule will require race and sportsbooks that want to offer wagering on the race to book the bets as they did before the advent of parimutuel wagering in Nevada in the early 1990s.
South Point racebook manager Mary Jungers said the casino will offer Derby wagering if the change is approved, but doing so will require some interesting contortions.
"Everything is different," she said. "We have to control the crowd for social distancing. … There are just a lot of unknowns at this point."
Jungers noted that bettors won't be able to use the South Point's mobile app because it operates only through the parimutuel system and that the South Point's annual Derby watch party and handicapping seminar have been canceled.
"But I guess it's better than nothing," she said.
Tony Cabot, a longtime gaming attorney in Nevada and now a distinguished fellow of gaming law at UNLV's Boyd Law School, said he could see no reason why the Gaming Commission would reject the arrangement.
"The key is whether that live feed is a secure feed," he said. "If you allow them to take it off a national broadcast, the likelihood of issues with the integrity of the information is extremely low. It wouldn't concern me any more than it would to book an NFL game off televised results."
CDI officials did not respond to a request for comment.
#RJhorseracing featured races
The #RJhorseracing handicappers will watch the $500,000 Pacific Classic on Saturday at Del Mar featuring top older horse Maximum Security, but they'll test their abilities on two other more bettable races on the card: The $200,000 Del Mar Handicap, a 1 3/8th-mile turf race for 3-year-olds and up, and the $250,000 Del Mar Oaks, a 1 1/8th-mile turf test for 3-year-old fillies.
In the former, the handicapping crew is solidly behind 8-5 morning line favorite United, winner of three straight graded stakes for trainer Richard Mandella.
They see Red King (8-1) finishing a distant second and Ward 'n Jerry (10-1) in third.
United is clearly the one to beat, but I'll give it a try with Originaire (5-1) who just missed to the favorite in the Charles Wittingham Stakes at Santa Anita in May and now gets a small break in the weights. I have United to place and North County Guy (15-1) to show.
In the Oaks, the crowd 'cappers are again on the chalk, 3-1 morning line favorite Laura's Light. They like Warren's Showtime (6-1) to place and French shipper Niege Blanche (5-1) to show.
I'll try to beat Laura's Light with a different French filly, Miss Extra (9-2), who took down a Group 2 race across the pond and makes her first start to Mandella. I'll use Laura's Light and Warren's Showtime underneath.
Mike Brunker's horse racing column appears Fridays. He can be reached at mbrunker@reviewjournal.com or 702-383-4656. Follow @mike_brunker on Twitter.
Ellis Starr's Pacific Classic analysis
Sharp Samurai can post the upset in this year's Pacific Classic. The only question being whether he can transform his recent effort last month in the Eddie Read Stakes to dirt.
In that race, Sharp Samurai rallied from last of six into a moderate pace and was gaining on the favorite and eventual winner United. Beaten just a half-length at the wire, Sharp Samurai earned a 118 Equibase Speed Figure.
To put that in perspective, Maximum Security earned a 107 figure winning the San Diego Handicap last month. Maximum Security's career-best speed figure of 123 came when winning the Cigar Mile Handicap last December. But Sharp Samurai earned a very similar career-best figure (122) winning the City of Hope Mile Stakes. As the purpose of a speed figure is to normalize all horses' performance regardless of surface or distance, it's fair to say Sharp Samurai can run as fast as Maximum Security.
As Sharp Samurai and Maximum Security match up in terms of how fast they can run, with those figures better than any of the other four runners have earned, the question then becomes whether Sharp Samurai can run as well on dirt as he did on turf. That question is answered in two ways. The first is Sharp Samurai ran his first three races on dirt, winning in his second start at a mile by nine lengths. Using Stats Race Lens to answer the second, we can look up the performance of sons and daughters of his sire, First Samurai, at longer distances on dirt. Going back five years, a Stats Race Lens query reveals those horses have won eight of 39 races on dirt from 1 1/8th to 1 3/8ths of a mile. That tells me there is no question Sharp Samurai can run as well on dirt as he has on turf and therefore can give betting favorite Maximum Security all he can handle in the Pacific Classic.
There's not much more to be said about Maximum Security other than what was stated above. He has shown he can handle the distance successfully as when winning the Kentucky Derby (although disqualified for interference). He transferred to the barn of Bob Baffert before the San Diego Handicap and considering he had been away from the races for five months, that effort with a 107 figure may be exceeded significantly in his second start off the rest. Still, in the San Diego, Midcourt battled with Maximum Security for the entire last eighth of a mile and although Maximum Security prevailed by a nose, it wasn't the kind of dominant effort we saw in his last three victories of 2019. Therefore, if Maximum Security does not improve second off the layoff, he could be beaten.
Higher Power was privately purchased between March and May 2019 and sent to the barn of John Sadler. His first start for the new connections resulted in a fifth place finish in the Gold Cup at Santa Anita. Following that, he won an allowance race on turf and finished second in a stakes on the grass. Then, in the 2019 Pacific Classic, Higher Power stalked the pacesetter in second and drew off to win by five lengths, earning a 113 figure. Taking time off following a third place finish in the Breeders' Cup Classic, Higher Power shipped to Florida and ran poorly (10th) in the Pegasus World Cup Invitational, then finished second in this year's Gold Cup at Santa Anita with a 111 figure. He didn't run nearly as well when third behind Maximum Security and Midcourt last month in the San Diego Handicap, but it could be the 1 1/16th mile distance is too short for him at this stage of his career. Stretching out to 1 1/4 mile, Higher Power could reach back and find the effort he put forth in last year's Classic to be a factor.
The rest of the field, with their best Equibase Speed Figures: Dark Vader (114), Midcourt (112) and Mirinaque (ARG )(120).
Ellis Starr is the national racing analyst for Equibase. Visit the Equibase website for more on the race or to purchase handicapping products.