Santa Anita to continue racing despite calls to end meet early
Updated June 13, 2019 - 5:34 pm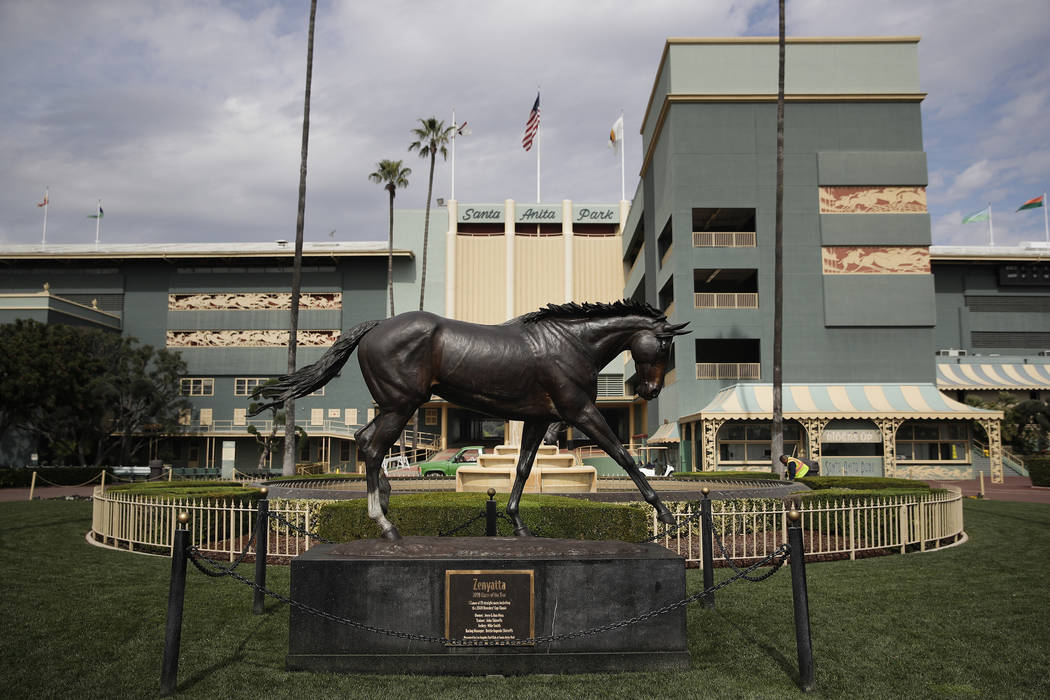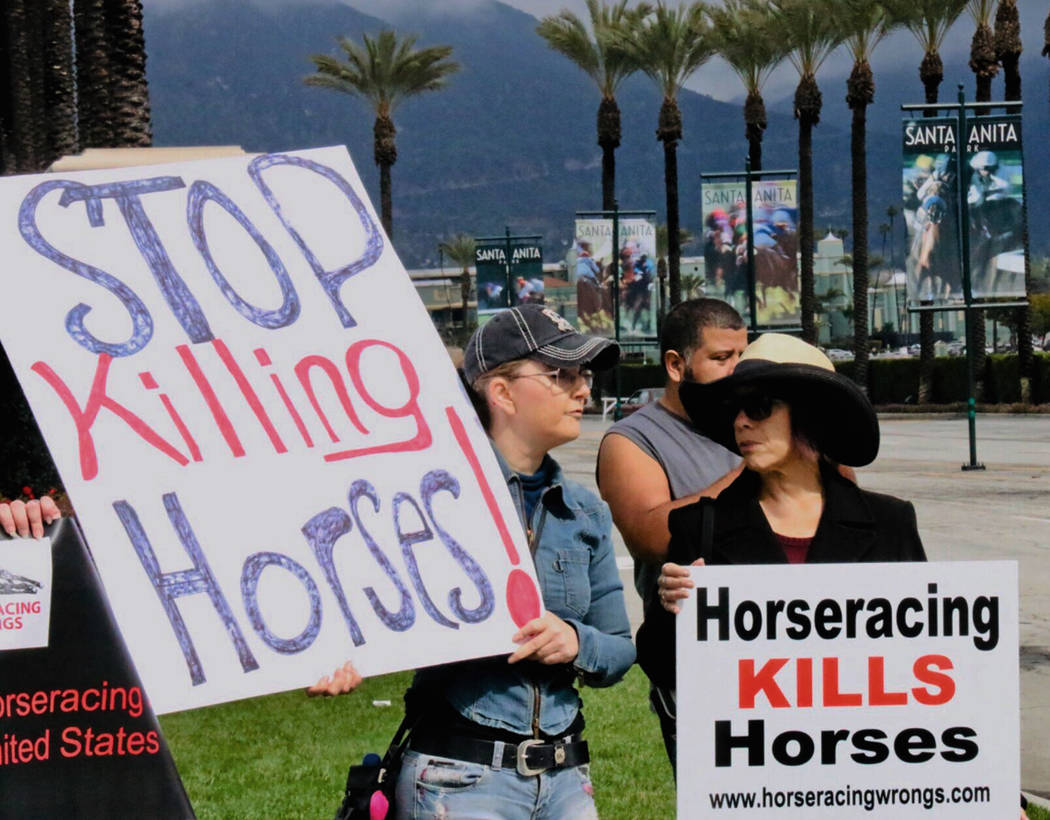 They say the house always wins, but that might not be the case as Santa Anita Park's snakebitten meeting draws to a close.
Officials at the historic Southern California racetrack are rolling the dice in a big way by resisting growing pressure to cancel the final six days of the meet after the deaths of two more horses last week, bringing the total since Dec. 26 to 29.
The California Horse Racing Board and California's senior U.S. senator, Dianne Feinstein, urged the track owner, The Stronach Group, to end the session early.
"With only two weeks left in the racing season, there's no reason to wait for more dead horses," Feinstein said in a statement. "Terminate racing at Santa Anita and do it now."
Officials with the company, the biggest owner of horse racing tracks in the U.S., demurred and indicated the show would go on.
Gov. Gavin Newsom entered the controversy being stoked by PETA and other animal rights activists on Tuesday, issuing a statement calling on the racing board to "ensure that no horse races until it is examined by independent veterinarians and found fit to compete."
"As Santa Anita prepares to host the 2019 Breeders' Cup in November, we must show the horse racing world that California puts safety first," Newsom said.
That led to an announcement Wednesday by the horse racing board stating that, with the support of the Stronach Group, it was immediately creating a five-member team to provide additional review of horses' medical training and racing history. Any single member of the team, consisting of racing officials and independent veterinarians, will be empowered to scratch horses that do not appear fit to run, it said.
The new reviews come on top of other measures implemented in recent months to increase examinations of horses scheduled to race or undergo workouts.
A series of aggressive statements by Feinstein, which have nearly mirrored PETA's talking points, and Newsom's restrained response illustrate the growing political influence of animal rights activists in the state and the tricky spot Golden State officials find themselves in, since horse racing provides thousands of jobs and generates considerable tax revenue.
One can only hope that the remaining morning workouts and races at Santa Anita aren't marred by any more fatalities. If any horses die, you can expect the hue and cry to grow even louder and the future of the sport to grow even more clouded.
#RJhorseracing featured races
Churchill Downs has a stellar twilight card scheduled Saturday, capped by the $600,000 Stephen Foster. The #RJhorseracing handicappers are all over that 1⅛-mile test for 3-year-olds and up, which drew a bountiful field of 12. The crowd 'cappers also are tackling the $250,000 Wise Dan on the undercard, a 1 1/16th-mile turf battle that attracted an overflow field of 15.
In the latter, the handicapping crew is narrowly backing Admission Office (morning line co-favorite at 5-1) over California invader Itsinthepost (also 5-1), with Inspector Lynley (6-1) in third.
I've been going my own way lately, but I also like Admission Office, who altered course in the stretch of the Dixie Stakes at Pimlico last month and then just missed catching the top runner, Catholic Boy. I have March to the Arch (6-1) and Cullum Road (6-1) filling out my top three.
In the Grade 2 Stephen Foster (no longer run as a handicap), the crowd 'cappers see 3-1 morning line favorite Gift Box as having the field over a barrel, with Seeking the Soul (4-1), Tenfold (12-1) and Quip (10-1) tied for No. 2.
"Ran his heart out in defeat," wrote Mark "the Godfather" Wayman of the group's pick, referring to his narrow loss to Vino Rosso in the Santa Anita Handicap.
I can't resist a double-digit morning line on Quip, who showed serious talent in last year's Triple Crown preps and is improving after two races as a 4-year-old. I'll use Gift Box and Exulting (20-1) in the lesser placings.
Mike Brunker's horse racing column appears Friday. He can be reached at mbrunker@reviewjournal.com or 702-383-4656. Follow @mike_brunker on Twitter.
Ellis Starr's Stephen Foster analysis
Thirstforlife really likes racing at Churchill Downs and that is the main reason I prefer him slightly over three other horses I believe can win this year's Stephen Foster Stakes. Thirstforlife has won seven of 20 races on dirt in his career, with four of those wins coming over this track. Thirstforlife was so highly regarded early in his career that he made his first start in a stakes, the Kentucky Juvenile Stakes at Churchill Downs, two years ago last month, finishing third. After breaking his maiden the next month, Thirstforlife won just one of seven races through August 2018. Then, after being gelded, he won or placed in eight straight races, including one in which he earned a then career-best 107 Equibase Speed Figure, before tailing off. After a layoff, Thirstforlife showed his old spark, gamely winning a classified allowance race on May 4 at Churchill Downs, achieving a new career-best 110 figure in the process. Jockey Miguel Mena rode Thirstforlife in his last two start and rides again in the Foster. Trainer Wesley Hawley may be unknown compared to some of the bigger named trainers in this race like Asmussen, Motion and Mott, but it must be noted Hawley had a lot of success with a horse similar to Thirstforlife – Hawaakom. Like Thirstforlife, Hawley claimed Hawaakom early in his career, then trained him and won over $1 million including a number of stakes races. Considering Hawley's acumen with his horses, if he thinks Thirstforlife can be competitive in the Foster, I will wholeheartedly agree.
Gift Box is likely to go to post as the favorite, and really can't be labeled vulnerable considering his body of work. Since joining the barn of trainer John Sadler last winter, Gift Box has run three big races at the top level. He won the San Antonio Stakes in December with a career-best 117 figure then proved that effort to be no fluke with a win in the Santa Anita Handicap in April with the same 117 figure. Although beaten three-quarters of a length after that in the Gold Cup at Santa Anita by 4-year-old Vino Rosso, Gift Box wasn't disgraced with a 113 figure Given his very competitive spirit as evidenced by a 5-6-2 record in 16 career starts, Gift Box deserves a lot of respect as a contender to win this race.
Tom's d'Etat has had some stops and starts in his career but when he's feeling good he is a very tough competitor. Having won six of 10 races on dirt, Tom's d'Etat has room to improve off a runner-up effort over the track in the Alysheba Stakes last month. The Alysheba has been an important prep for the Foster over the years, most notably when 2014 Alysheba winner Moonshine Mullin came back to win the Foster and when Noble Bird, who lost the Alysheba by a neck, won the Foster in 2015. Tom's d'Etat makes his second start after three months off which is another reason I think we can expect an even better effort than his most recent race, which earned a strong 108 figure.
Alkhaatam will likely be a longshot in this year's Foster, as he has only raced five times. His only previous start in a stakes came last December in his second start of his career when he entered the Remsen Stakes as a maiden, having finished third in his debut. After a fourth place effort back in the maiden ranks last summer, Alkhaatam was allowed to mature and that he did because when he returned at the end of March he won by seven lengths with a 102 figure. Showing that effort not to be a fluke, Alkhaatam won his next start by three lengths then was flattered when the second and fifth place finishers won their next starts. Considering the win last month was at Churchill Downs and that he is a son of exceptional sire Tapit, Alkhaatam may be able to take a big step forward in the Foster and even if he does not win, may run a lot better than many handicappers think he will, at high odds.
Ellis Starr is the national racing analyst for Equibase. Visit the Equibase website for more on the race or to purchase handicapping products.