It was a couple of weeks ago when Betsy Helfand, who writes about baseball for the Review-Journal, ventured out to the 51s new ballpark site and snapped a photo on her cellphone. It showed a big pile of dirt and what appeared to be a crater, also filled with dirt. If one squinted, one could see specks of trees in the distance.
"In 2019, the 51s will play baseball on this pile of dirt," she wrote on her Twitter account. "They will likely break ground in the next month or so."
People on Twitter made jokes, as people on Twitter often do.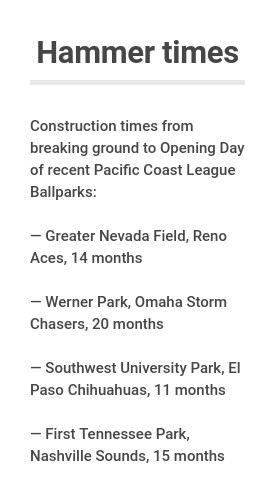 "Looks like they've already improved the infield," wrote one.
The 51s posted a GIF of Kevin Costner walking through tall corn with a bewildered expression.
That was Jan. 22.
Monday was Feb. 5.
The Super Bowl is over, and The Mystery Bettor has started to count his Eagles winnings. Bob the Builder still hasn't broken ground on the 51s' new ballyard behind Red Rock resort in Summerlin adjacent to the Golden Knights' practice rink.
At least 5,057 minor league baseball fans, which is what the 51s averaged at decrepit Cashman Field last year, are getting anxious.
There's still time
"We'll be announcing groundbreaking shortly, we're bidding out contracts so it's moving, yes," said Tom Warden, Summerlin senior vice president of community affairs. "We anticipate 2019 (for completion). But you have to take all of that with one grain of salt. The labor market is tight; everything is tight because you've got everything going at once in this town. I think you know what I'm talking about."
I don't think Warden was referring to a new arena for Las Vegas' franchise in the Ultimate Sumo League, which will be announced Wednesday. (Honest.)
The Raiders might have first dibs on building material and manpower, but the good news for 51s fans is that it doesn't take as long to build a $150 million (or thereabouts) minor league ballpark with 10,000 seats, a climate controlled batting cage and a party deck as one might think. At least not after the heavy equipment operators break through the granite-like caliche.
Case in point: Greater Nevada Field in Reno.
Ground was broken on the home field of the Reno Aces on Feb. 25, 2008. Aces Stadium, as it was then called, opened on April 17, 2009. Time between dignitaries putting honorary shovels in the ground and the home plate umpire bellowing "Play Ball!": 14 months. A newspaper account called it an "accelerated schedule."
Three other PCL ballparks have opened since:
— Ground was broken on Werner Park, home of the Omaha Storm Chasers, on Aug. 12, 2009. First pitch was April 11, 2011. (Omaha essentially built two ballparks in that time frame, as TD Ameritrade Park, home of the College World Series, debuted with an open house on April 18, 2011.)
— Ground was broken on Southwest University Park, home of the El Paso Chihuahuas, on May 30, 2013. First pitch was April 28, 2014.
— Ground was broken on First Tennessee Park, home of the Nashville Sounds, on Jan. 27, 2014. First pitch was April 17, 2015.
There's still time.
Loge rangers
Last week I was out at Las Vegas Motor Speedway for NASCAR testing, where new clubhouses and loges and other elements of a fan experience upgrade (coinciding with the removal of grandstand seats) looked half finished with Pennzoil 400 weekend only a month away. Ditto for the widening of the drag strip from two lanes to four.
Not to worry said a track spokesman. It will get finished. When the weather is pleasant, construction crews can work around the clock. It's almost like building with Lego blocks. Once they break through the caliche.
But to use another analogy, if the hard hats don't get started soon at the ballpark site, it's going to be like that movie "Gung Ho" when Michael Keaton, George Wendt and the Japanese plant manager tried to build 15,000 cars in a month without the doors falling off during inspection.
When plans for Las Vegas Ballpark were announced in October, an attorney for franchise owner Howard Hughes Corp. estimated it would take 14 months to complete. There are exactly 14 months between now and Opening Day 2019.
It's time for Bob the Builder to start warming up in the bullpen.
In 2019, the 51s will play baseball on this pile of dirt. They will likely break ground in the next month or so. pic.twitter.com/Lvq9mozKNf

— Betsy Helfand (@betsyhelfand) January 22, 2018
Contact Ron Kantowski at rkantowski@reviewjournal.com or 702-383-0352. Follow @ronkantowski on Twitter.