Dale Earnhardt Jr. preferred to retire on Las Vegas Strip
Updated April 25, 2017 - 10:02 pm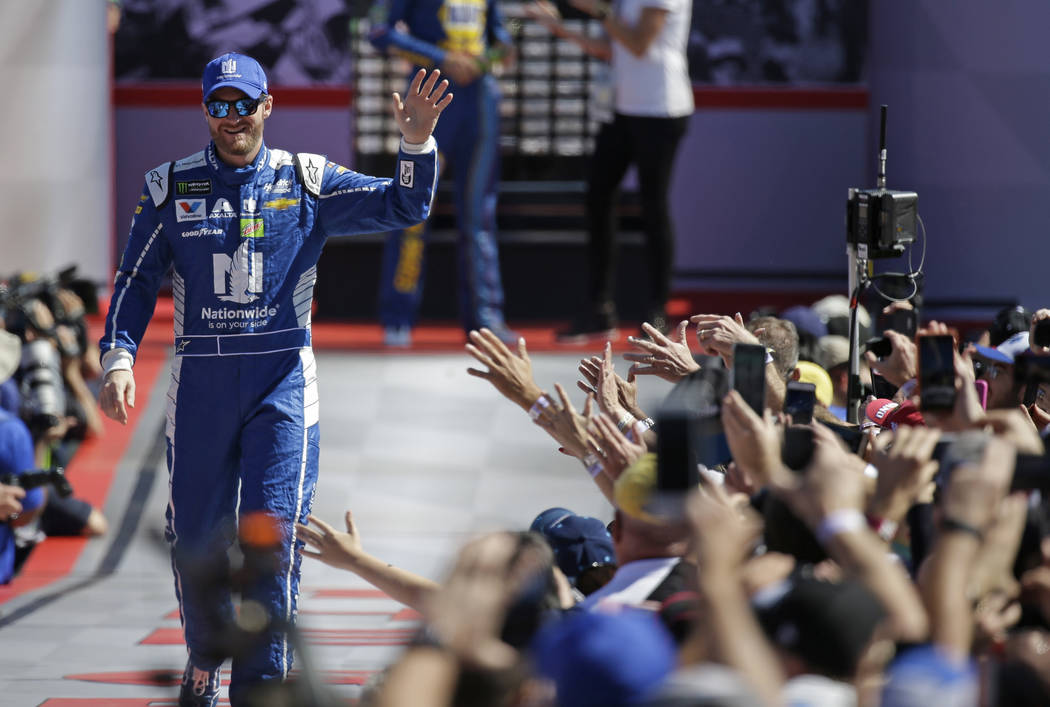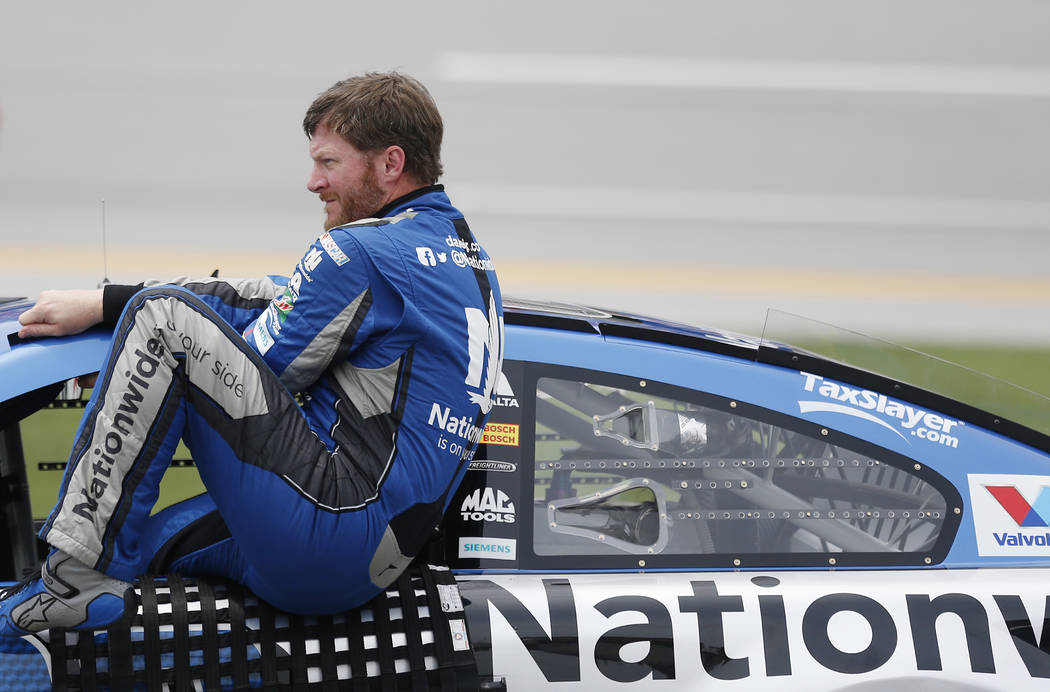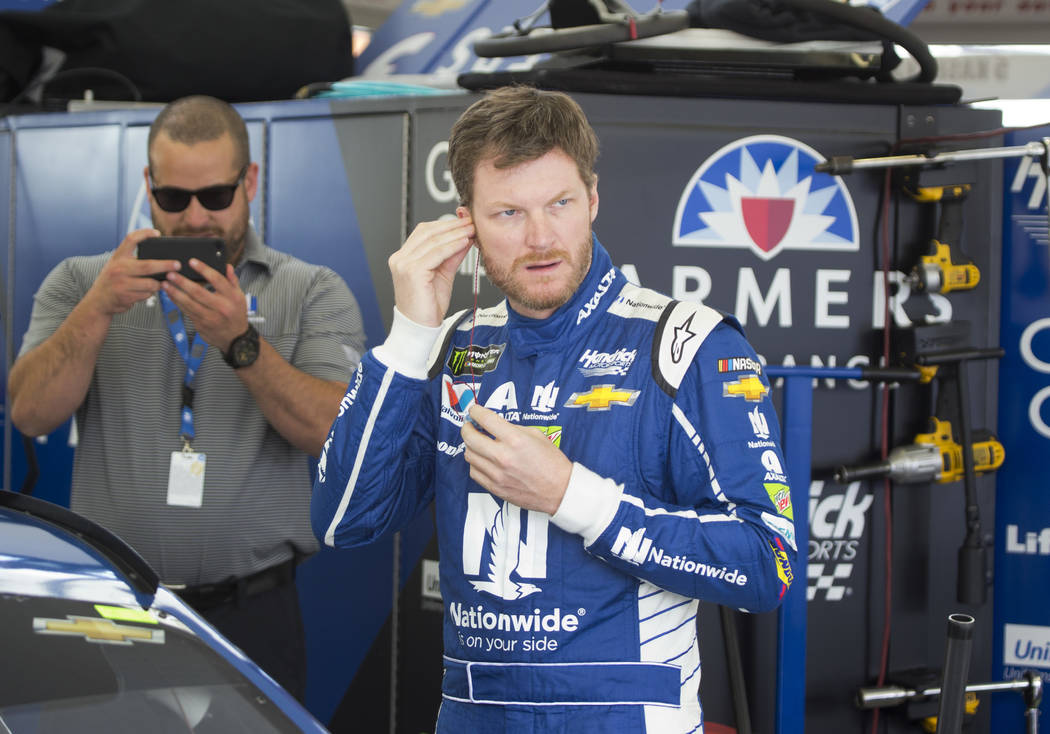 Dale Earnhardt Jr. never won a Cup Series race at Las Vegas Motor Speedway. His best finish in 18 starts was second, which he did three times, and that will have to suffice.
NASCAR's most popular driver said Tuesday he will retire at the end of the 2017 season. He made the announcement in North Carolina.
He would have preferred to have made it in Las Vegas.
Before the Daytona 500, the man known simply as Junior was in a talk radio studio with Dan Patrick, who inquired about his future. The third-generation driver had turned 42, and though guys often drive stock cars into their 50s, Earnhardt Jr. had suffered a concussion that forced him to miss the second half of 2016. And then he married his longtime girlfriend, Amy Reimann, during the offseason.
Focus-altering things were happening on and off the track.
"If I won the championship, I would retire on the stage in Vegas," Junior said in February, alluding to the NASCAR awards show here in December.
"Hell, yeah.
"Wouldn't it be the best way to do it, to go out on top?"
After eight races, he's nowhere near the top. He's 24th in points, with one top-5 finish.
As Dale Jr. might put it, "It don't mean (squat)" now.
Good driver, great guy
I was speaking to a colleague Tuesday about the impact of Earnhardt's retirement, a decision that surprised many who don't listen to Dan Patrick's radio show.
He won the Daytona 500 twice, which is a heck of a career right there. There was brief banter about the other 24 Cup Series races he won, and the Busch Series races and championships he won, and a whole lot of other races and championships he didn't win.
Because whereas his daddy was great, Junior was merely real good — especially on the big tracks.
Dale Earnhardt won a record-tying seven Cup Series championships before being killed in a crash at Daytona.
His son did not win one. Junior's best was third in 2003.
Remember when he won at Talladega for the fifth time in 2004, and the pit road reporter asked what that meant? And Junebug, which is what Darrell Waltrip called him, said: "It don't mean (squat), because Daddy done won here 10 times …"
The lasting image I will have of Dale Earnhardt Jr. will have nothing to do with the kind of driver he was, but of the kind of person he is — the kind who was voted the Cup Series' Most Popular Driver 14 times; the kind who made you feel like you knew him even when you didn't.
It was two years ago when the sky around Las Vegas Motor Speedway turned the color of a deep thigh bruise — black and bluish-purple with a smudge of yellow. When it started to hail and blow as if Armageddon was lurking on the backstretch, most Kobalt 400 drivers sought shelter in their well-appointed infield motor coaches.
Not Dale Jr.
He waited out the storm in the last place you'd expect: in the media center.
"How y'all doin'? he said, his hat on backward as media types looked up from their laptops in disbelief.
"Y'all got a weather report?"
It was so unusual for someone of his magnitude to mingle with the media when it wasn't required that I took a photo on my cellphone.
"So did I," said RJ sports columnist Ed Graney.
Bridge from past to future
By the end of Tuesday, a lot of people from the southern states and beyond were showing pictures of Junior taken on a cellphone. They were telling Junior stories, sharing Junior anecdotes, issuing Junior statements.
In his, LVMS president Chris Powell said Dale Earnhardt Jr. "was the embodiment of NASCAR … the bridge from NASCAR's past to its future. We'll miss him here in Las Vegas. While he never won here, his 10 top 10s tie him for first all time at Las Vegas Motor Speedway, and he's been a great ambassador for our speedway and our city."
In the back of his mind, Chris Powell also must have been thinking that selling tickets for a second Cup Series race at LVMS in 2018 just got a little tougher.
Contact Ron Kantowski at rkantowski@reviewjournal.com or 702-383-0352. Follow @ronkantowski on Twitter.