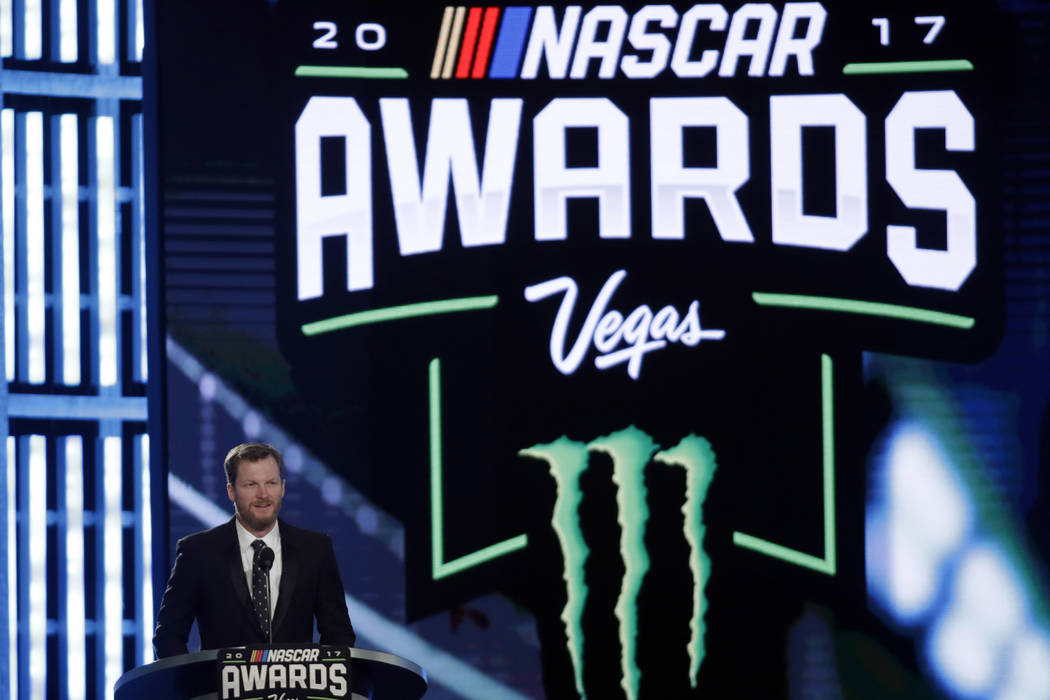 He looked happy to see us again.
When Dale Earnhardt Jr. announced his retirement in April, an anecdote was shared about him being the only NASCAR driver who would go to the media center without having to be told.
It happened just before the start of the 2016 Kobalt 400 at Las Vegas Motor Speedway. The sky turned purple-black, and the wind began to howl like it does when a TV weatherman pokes his head outside just before the hurricane hits.
Instead of riding out the storm in his well-appointed luxury coach, Junior sought sanctuary in the media center.
He was wearing his hat backward. He was being Junior.
"Y'all got a weather report?"
Media types looked up from their laptops with incredulous expressions. Some snapped cellphone photos. When was the last time Derek Jeter or somebody like that walked into the press box during a rain delay to shoot the breeze with scribes?
It was almost like that Tuesday before the APPRECI88ION night in his honor at Wynn Las Vegas, where some racing pals and Charles Barkley greeted him onstage, and longtime sponsor Nationwide presented Earnhardt and his foundation a check for $888,888.888 in support of Nationwide Children's Hospital in Columbus, Ohio.
When we were allowed in, Junior already was in the green room. He looked happy to see us, just as when the wind howled at LVMS. This time he was clad in a crisp plaid shirt and pressed jeans instead of a firesuit and a ballcap worn backward.
"Being finished with the season and knowing you're not going back to start another one is a weird feeling," he said about his retirement, which he was only nine days into. "Just being home for Thanksgiving is a very odd feeling, and not a comfortable feeling at all.
"Just being away for a couple of days, it's difficult. No regrets, no second thoughts. But I like that we're back around it. I don't know if y'all are ready for that, but I was kind of looking forward to seeing familiar faces today, so it's kind of nice."
Junior answered all of our questions, until the man from Nationwide said it was time to go. And then he answered a few more.
No. 88 on the track, No. 1 in our hearts. pic.twitter.com/Ll8EVKCQLC

— NASCAR (@NASCAR) December 1, 2017
0:03
— Embattled NASCAR chairman Brian France was virtually invisible during Champion's Week, and that included the awards ceremony at Wynn Las Vegas. He rushed off the stage as if hopped up on Monster Energy with two planes to catch after presenting Earnhardt Jr. with an award named for France's father, and he didn't even pause to shake Martin Truex Jr.'s hand upon giving him the championship ring.
This year's awards were shortened from about four hours to 90 minutes, so perhaps that explains the NASCAR chief's odd behavior. Whatever the reason, the optics were not good.
Remember when I said yesterday that NASCAR executives fail at being authentic?

Well, here's Brian France proving my point last night at the Cup Awards banquet. What the hell. pic.twitter.com/dGmZS6yiTD

— Nick Bromberg (@NickBromberg) December 1, 2017
Brian France at least shook Dale Earnhardt Jr.'s hand when presenting him with an award named after France's father.

But he almost sprinted off the damn stage. pic.twitter.com/vmYzkNnWzk

— Nick Bromberg (@NickBromberg) December 1, 2017
— During his delayed honeymoon to Austria, Chicago Cubs slugger Kris Bryant of Las Vegas did unusual things, such as put on lederhosen for a photo shoot, and drive race cars for another photo shoot. The race cars were plastered with Red Bull logos. No coincidence there, as Red Bull is one of Bryant's sponsors.
"Tallest race-car driver ever," he said while pulling on his balaclava.
Close. Former NASCAR driver Buddy Baker stood 6 feet 6 inches tall. Bryant is listed 6-5 by baseballreference.com.
Bryant was clocked at 111 mph on a wet track at the Red Bull Ring, site of Formula One's Austrian Grand Prix. Not exactly as fast as Niki Lauda in his prime, but I'll bet Joe Maddon still was holding his breath.
— After Jim Nabors sang "Back Home Again in Indiana" for the 36th and final time at the 2014 Indianapolis 500, I bought a T-shirt on my way out of Indianapolis Motor Speedway commemorating the occasion, knowing that prerace ceremonies at the legendary Brickyard wouldn't be the same without him.
"Jim was born in Alabama, but he became a Hoosier to all of us almost immediately after he began his superb performances of 'Back Home Again in Indiana' starting in 1972," the Hulman Family, which operates IMS, said in a statement when Nabors died Thursday at age 87.
Let it be said the gleaming light will always burn bright through the sycamores for Jim Nabors.
RIP JIM NABORS– And thanks for your 36 years of singing "Back Home Again in Indiana" before the Indy 500. I'm a sucker for tradition. https://t.co/uL7ECbtWcZ

— Fred Cantu (@fredcantu) December 1, 2017
Contact Ron Kantowski at rkantowski@reviewjournal.com or 702-383-0352. Follow @ronkantowski on Twitter.
NASCAR awards
At Wynn Las Vegas
— NPMA Most Popular Driver Award: Dale Earnhardt Jr.
— Bill France Jr. Award of Excellence: Dale Earnhardt Jr.
— Betty Jane France Humanitarian Award: Julian Maha
Myers awards winners
— NMPA Myers Brothers Award: Martin Truex Jr. and Sherry Pollex
— Buddy Shuman Award: Bruton Smith
— NASCAR Marketing Achievement Award: FOX Sports and NBC Sports
— Chevrolet Lifetime Achievement Award: Dale Earnhardt Jr.
— American Ethanol Green Flag Restart Award: Martin Truex Jr.
— Coors Light Pole Award: Kyle Busch
— Goodyear Tire and Rubber Company Award: Martin Truex Jr.
— Ingersoll Rand Power Move Award: Ryan Newman
— MAHLE Clevite Engine Builder of the Year Award: Toyota Racing Development
— Mechanix Wear Most Valuable Pit Crew Award: Joe Gibbs Racing No. 18 team
— Mobil 1 Driver of the Year Award: Kyle Larson
— MOOG Go the Extra Mile Crew Chief of the Year Award: Tony Gibson, crew chief No. 41 Stewart-Haas Racing team
— Sherwin-Williams Fastest Lap Award: Kyle Busch
— Sunoco Diamond Performance Award: Martin Truex Jr.
— Comcast Community Champion of the Year: Chip Ganassi Racing Pit Crew Department
— Sunoco Rookie of the Year Award: Erik Jones
— Champion Crew Chief Award: Cole Pearn