Former NHL star Jeremy Roenick puts down ultimate hockey hot lap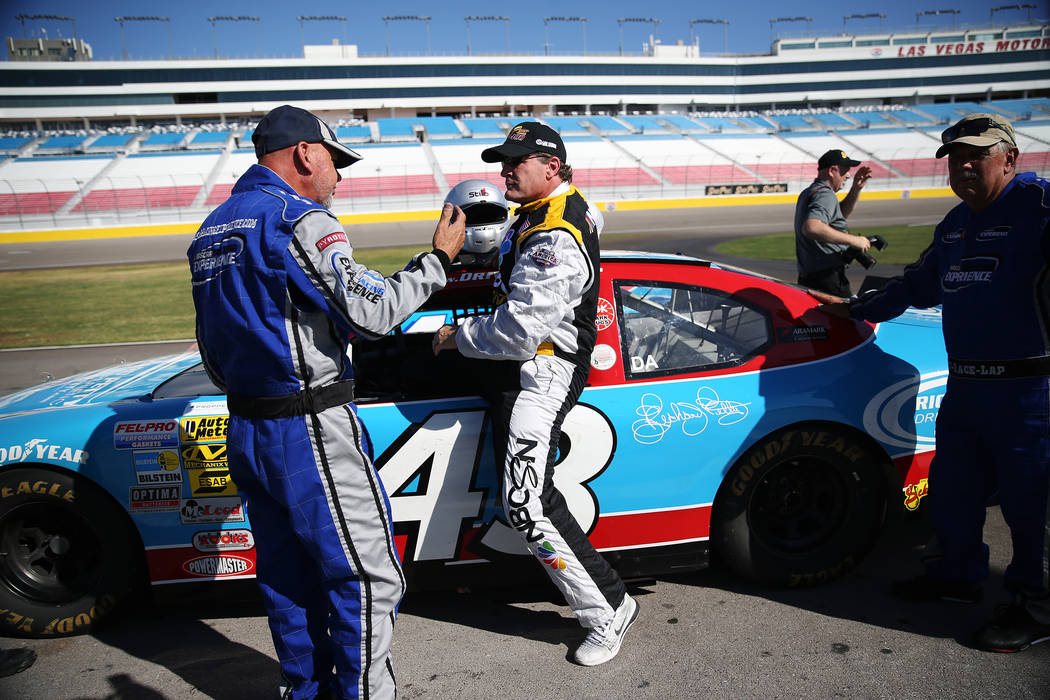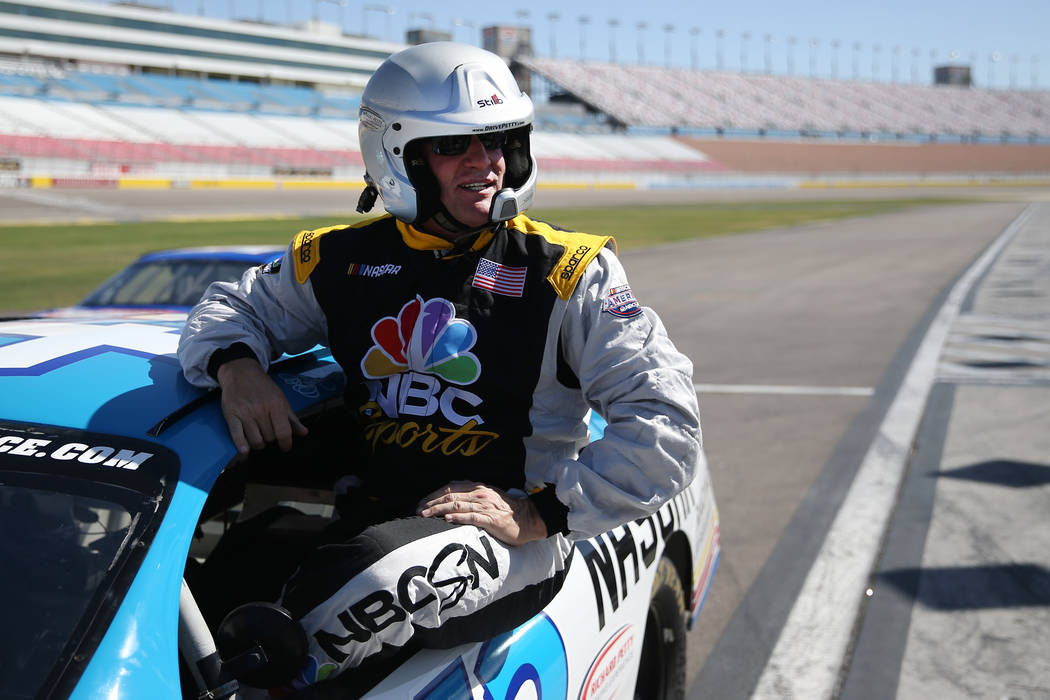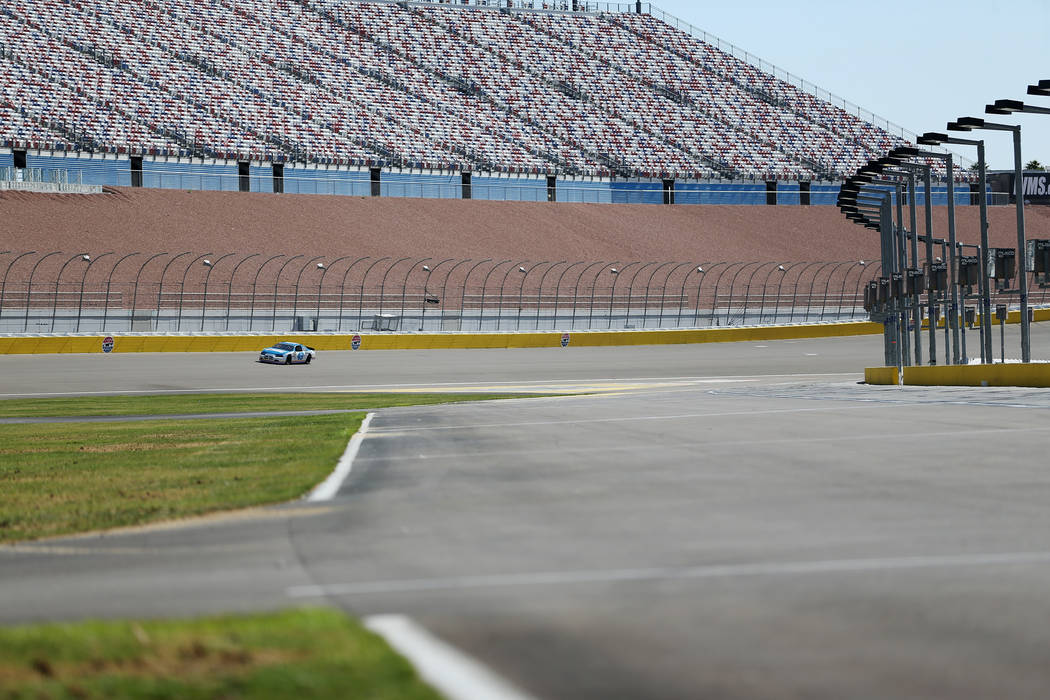 In the manner of Wonder Woman's bracelets and ill-timed parade plans, hockey hot laps before practice have become a thing during the Stanley Cup playoffs. But the ultimate ones probably transpired Wednesday at Las Vegas Motor Speedway.
Former goal-scoring whiz and self-avowed thrill-seeker Jeremy Roenick climbed behind the wheel of a race car on the off day before Game 5 of the Stanley Cup Final between the Washington Capitals and Golden Knights. After shakedown laps, the NBC hockey analyst ripped around the 1.5-mile oval at top speed, at least for a NASCAR Racing Experience car.
Somebody said it was 165 mph. It was probably more like 150 and change, because that's about as fast as one of those cars will go.
Roenick's pace at LVMS would have made Yvan Cournoyer and the "Flying Frenchmen" of Montreal look as if they were skating in quicksand.
"This is the most incredible (expletive) thing I've ever done," Roenick shouted into his radio as he drifted toward the wall heading into Turn 1 and set off the rev limiter. Round and round he went, and then Las Vegas native and real-life NASCAR racer Brendan Gaughan drove onto the track to rattle his cage a bit, as the late Dale Earnhardt would have put it.
"This was the hottest lap done I've ever done," Roenick, 48, said after wriggling out of his borrowed NBC firesuit and slapping a cap adorned with South Point 400 logos onto his head. The first race in the NASCAR playoffs is Sept. 16 at LVMS, and it just so happens NBC will televise.
"I've flown in an F-16, I've jumped off the Stratosphere, I've jumped on alligators, I've caught rattlesnakes. This made my heart race more than anything," added the former hockey star, who scored 513 career goals over 20 NHL seasons. "I'm a speed guy. I used to have a Porsche twin turbo and I ended up selling it (because) I was getting too many tickets. So this stuff (legal speeding) does not bother me."
Season on the brink
Though an asphalt-blistering sun was beating down hard on Roenick, you got the impression he would have been willing to talk about legal speeding all day. He also had to know a Golden Knights question was coming after Vegas' Stanley Cup championship hopes nearly were impeached in the nation's capital.
Three straight victories by D.C.'s native hockey sons have pushed the upstart Knights to the brink of elimination in Game 5 Thursday.
"The Knights have been playing so hard for so long, and I think the Washington Capitals found a little glitch in their system. And that's playing really strong D and being very focused on playing the players," Roenick said about Washington finding a higher gear and Vegas spinning its wheels.
The Capitals' strength and physical presence has had much the same effect on Knights' skaters as rev limiters have on race cars, Roenick suggested.
"Where they (usually) were open, they're not open anymore," he said. "Mentally that's tiring, physically that's tiring. This is the first time all year where this team really looks lethargic and almost questioning themselves. There is no tomorrow. The fact they have to get it done (now) is gonna cause a little bit of nerves, a little bit of anxiety."
Roenick's advice to the Knights is to put the hammer down, turn left, have fun. Check that: that was his advice to himself on Wednesday. But putting the hammer down and having fun isn't a bad place to start when tasked with climbing out a 3-1 hole at this late date.
"Nobody expected you to be here," Roenick said of the expansion team that until now has turned the NHL upside down, like one of those "big ones" at Daytona or Talladega Superspeedway in Alabama does to race cars. "Go out and throw everything on the table. Play as physical and as fast as you can. If (you) get a couple of breaks, it could be a different story."
If the Knights get a couple of breaks and climb out of this hole and come all the way back to erase a 3-1 deficit —which no hockey team has done in 76 years — it will be like Jeremy Roenick shouting into his radio after setting off the rev limiter at the track on Wednesday.
It'll be the most incredible (expletive) thing they've ever done.
More Golden Knights: Follow all of our Golden Knights coverage online at reviewjournal.com/GoldenKnights and @HockeyinVegas on Twitter.
Contact Ron Kantowski at rkantowski@reviewjournal.com or 702-383-0352. Follow @ronkantowski on Twitter.