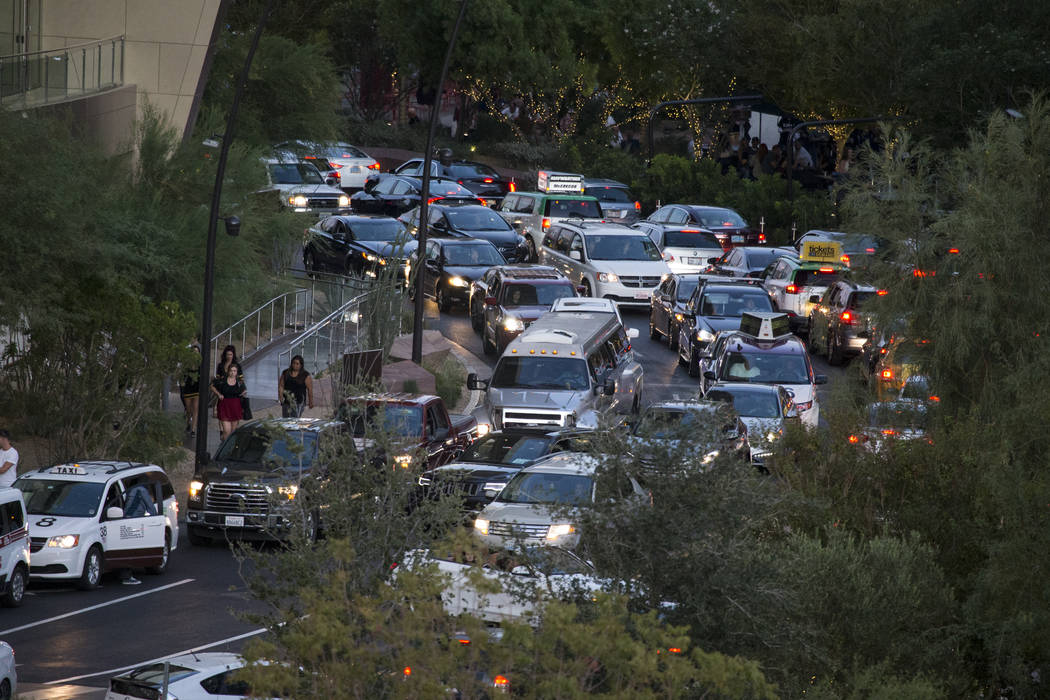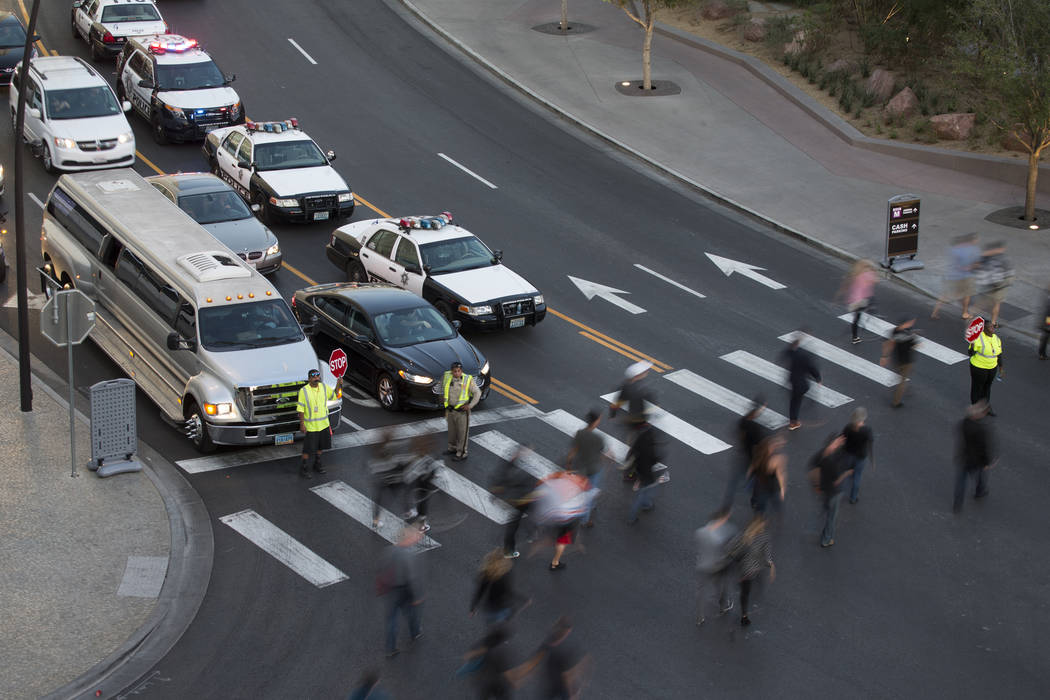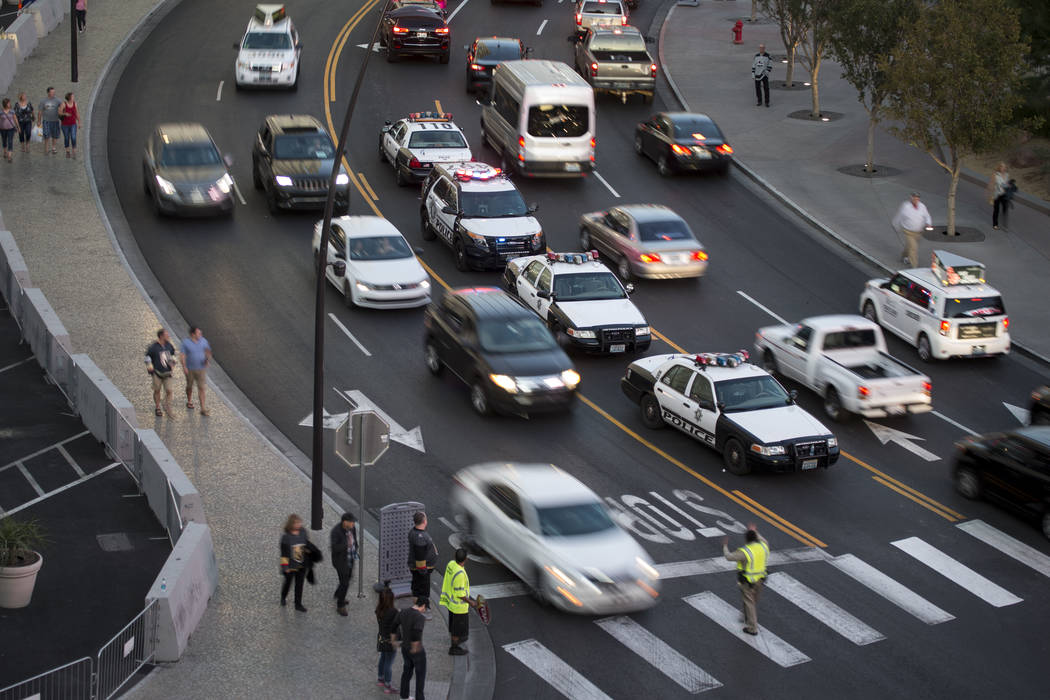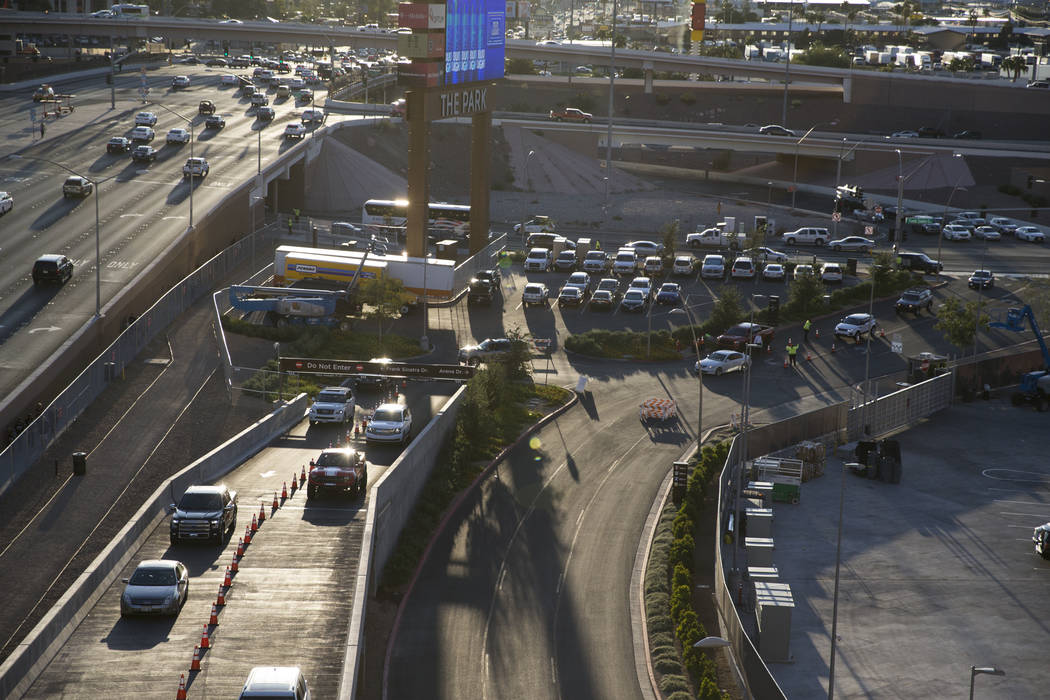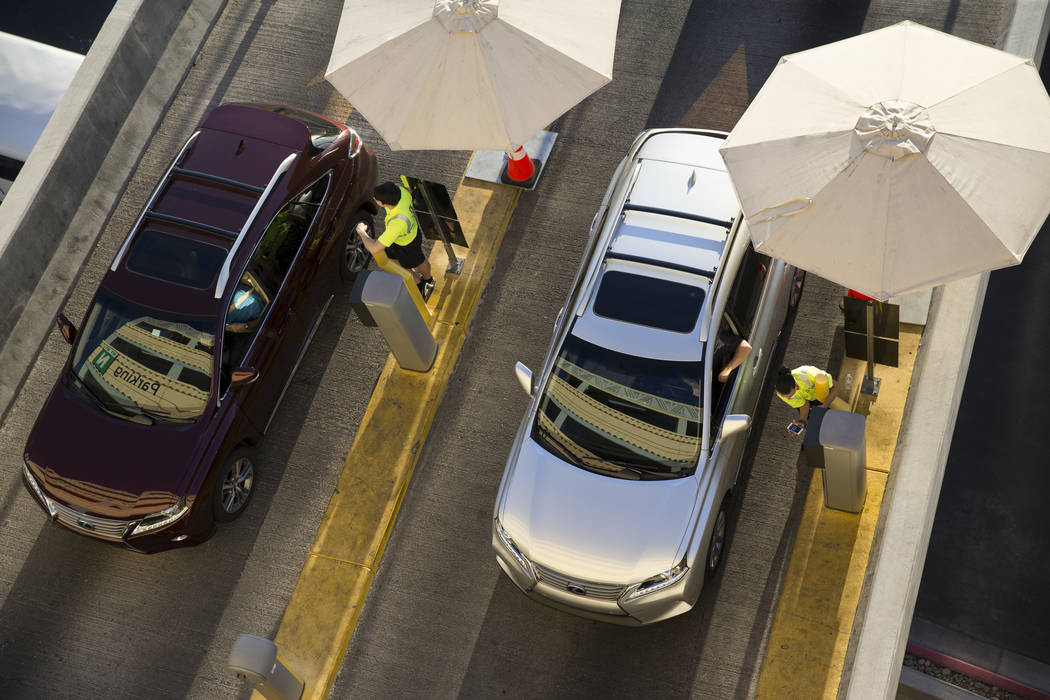 A few weeks ago, Clark County commissioner Larry Brown was talking about the Golden Knights Express buses that on Thursday starting shuttling local hockey fans to and from T-Mobile Arena at $2 per ride.
Brown said if VGK supporters weren't willing to pay a reasonable price for round-trip bus fare — and didn't care to drop $20 to park in a hotel garage — savvy fans probably would find a "back way" into and out of the arena that offered free parking. Like when one's old man drove the Country Squire to a Red Sox or Cubs game when one was young.
Maybe it would take two or three games, Brown said. But savvy hockey fans would almost certainly find a cheaper alternative.
It took me one preseason game.
I was totally prepared to drive to SLS Las Vegas and hop on the monorail for $1 and be dropped in the general area of the Golden Knights' crease, or at least at a convenient hop-and-skip site close to the beer lines.
Instead I drove straight to the Tropicana, which is like a two-line pass away from T-Mobile, if there still were two-line passes.
I was prepared to pay (a little) to park.
I paid nothing.
It was like landing on St. Charles Place on the Monopoly board and throwing nine on the dice.
Free Parking! For a Golden Knights game.
Ogie Ogilthorpe would never believe it.
The other three properties on the corner of Tropicana and the Strip are MGM-owned, as is T-Mobile Arena (mostly). So parking is not free at the MGM Grand or New York-New York or Excalibur.
But the Trop is old school. There's a sprawling outside lot back by the beach club, where swim-up blackjack was invented back when the Mahovlich brothers still were skating. Two hours before the puck dropped, there were like six cars parked there.
After the Kings-Knights game, there were a lot more. Savvy hockey fans, like the Penguins on a power play, are not to be denied when it comes to free parking. But there still was plenty of room for the SUVs of the checking line, emergency goalie and Zamboni driver.
It was no more than a leisurely 15-minute stroll from the Trop to T-Mobile. It'll take a bit longer if one stops for a cold one or to play Hockey Plinko, whatever that is, out front of Beerhaus at The Park.
But for one preseason game, concerns over the high price of parking one's car and the time it would take one to walk to the puck-dropping were easily circumvented.
One's old man would have been proud.
Hockey education
Golden Knights types have been raving about the hockey IQ of Las Vegas fans: How they cheer when they are supposed to, boo when they are supposed to, know when to tell the referee to have another doughnut, etc.
Just as they did when the Las Vegas Thunder of the old International Hockey League called the Thomas & Mack Center home. Just as they did when the Las Vegas Wranglers of the ECHL skated at Orleans Arena.
Local hockey fans seemed pretty knowledgeable about the game during the extended runs of the Thunder and Wranglers, too. But if administering a hockey education was necessary, our former minor league franchises taught those lessons long ago.
Phamtastic season
With one game remaining in the regular season, outfielder Tommy Pham of the St. Louis Cardinals by way of Durango High School is hitting .306 with 23 home runs and 73 RBIs. He also has swiped 25 bases.
Pham, one of the few players of Vietnamese descent to play in the big leagues, is 29. Though he remains in the Las Vegas baseball shadow cast by Bryce Harper and Kris Bryant and even Joey Gallo (39 homers for the Rangers this season), there's not as much shade as before.
Standing on the curb
Remember years ago when Rick Pitino was posturing as if he was interested in the UNLV basketball job, and his wife came to town to look at homes and whatnot, and then Rebels athletic director Charlie Cavagnaro's people left her standing on the curb at McCarran instead of entertaining her until her flight departed?
Had it been Rick instead of Joanne Pitino that was left standing on the airport curb, it now can be said that would have been the right call.
Contact Ron Kantowski at rkantowski@reviewjournal.com or 702-383-0352. Follow @ronkantowski on Twitter.
Ride the hockey express
Pickup locations for Regional Transportation Commission hockey express buses to and from T-Mobile Arena on Golden Knights game days:
— J.W. Marriott Las Vegas, 221 N. Rampart Blvd., Summerlin. Departs: 2 hours; 1 hour, 40 minutes; 1 hour, 20 minutes before game time. Length: 40 minutes.
— P.T.'s Ranch, 2430 E. Pebble Road, Henderson. Departs: 1 hour, 45 minutes; 1 hour, 25 minutes; 1 hour, 5 minutes before game time. Length: 25 minutes.
— Centennial Hills Transit Center and Park & Ride, 7313 Grand Montecito Parkway, Las Vegas. Departs: 2 hours, 5 minutes; 1 hour, 45 minutes; 1 hour, 25 minutes before game time. Length: 45 minutes.
— Born and Raised, 7260 S. Cimarron Road, Las Vegas. Departs: 1 hours, 50 minutes; 1 hour, 30 minutes; 1 hour, 10 minutes before game time. Length: 30 minutes.
Source: Golden Knights and Regional Transportation Commission of Southern Nevada.