Game pucks become a thing for Golden Knights fans, collectors
Updated March 30, 2018 - 6:16 pm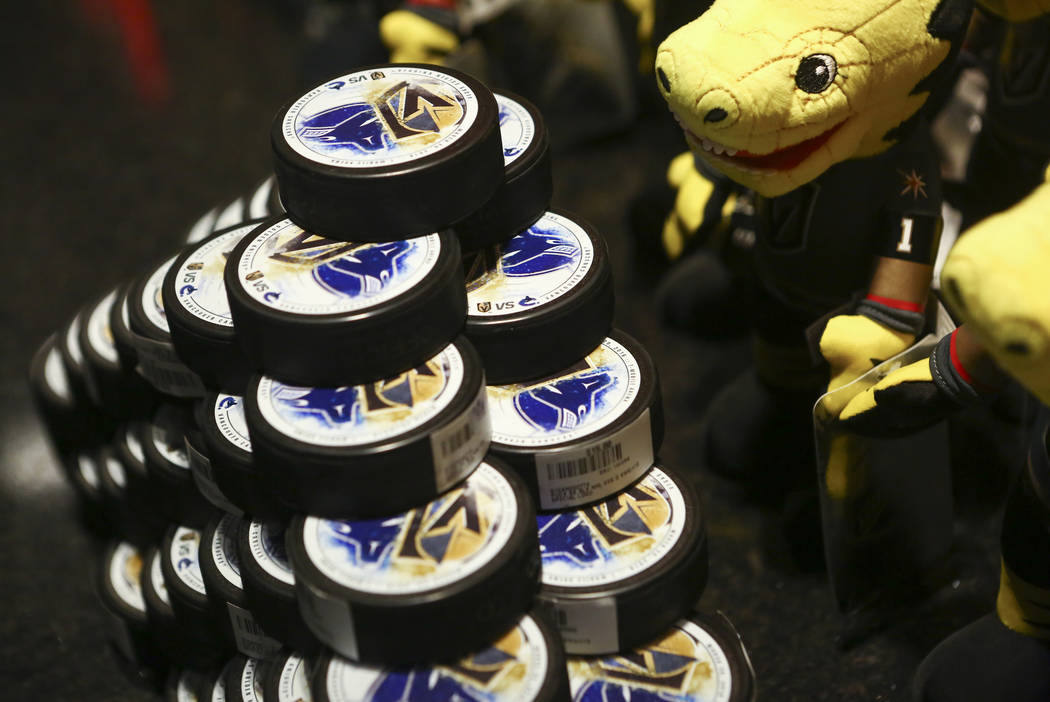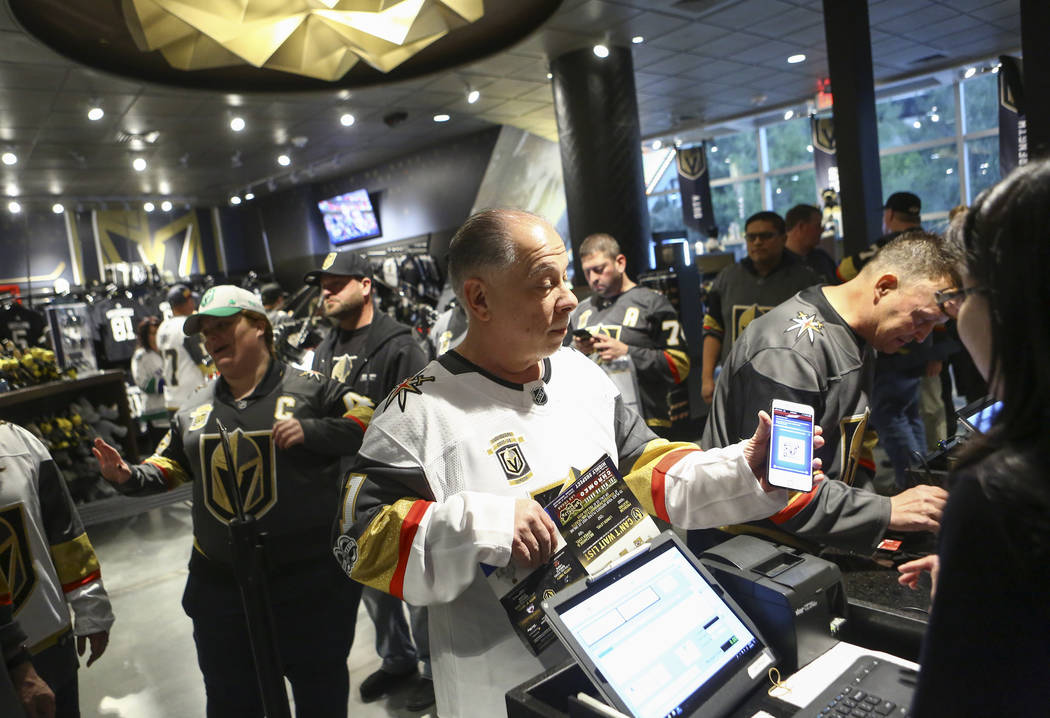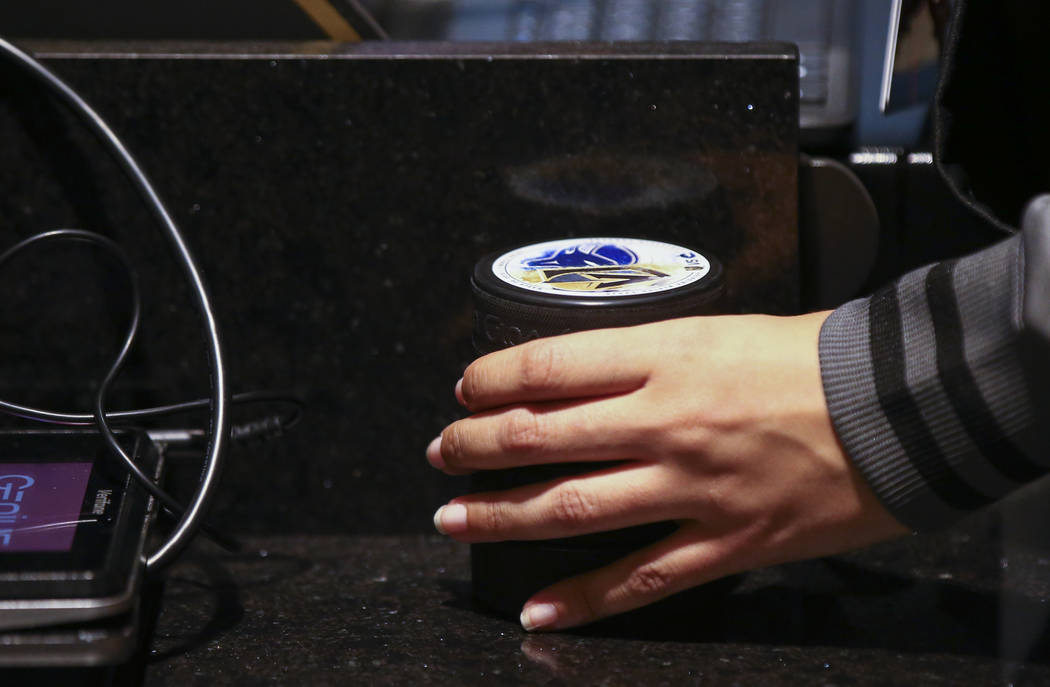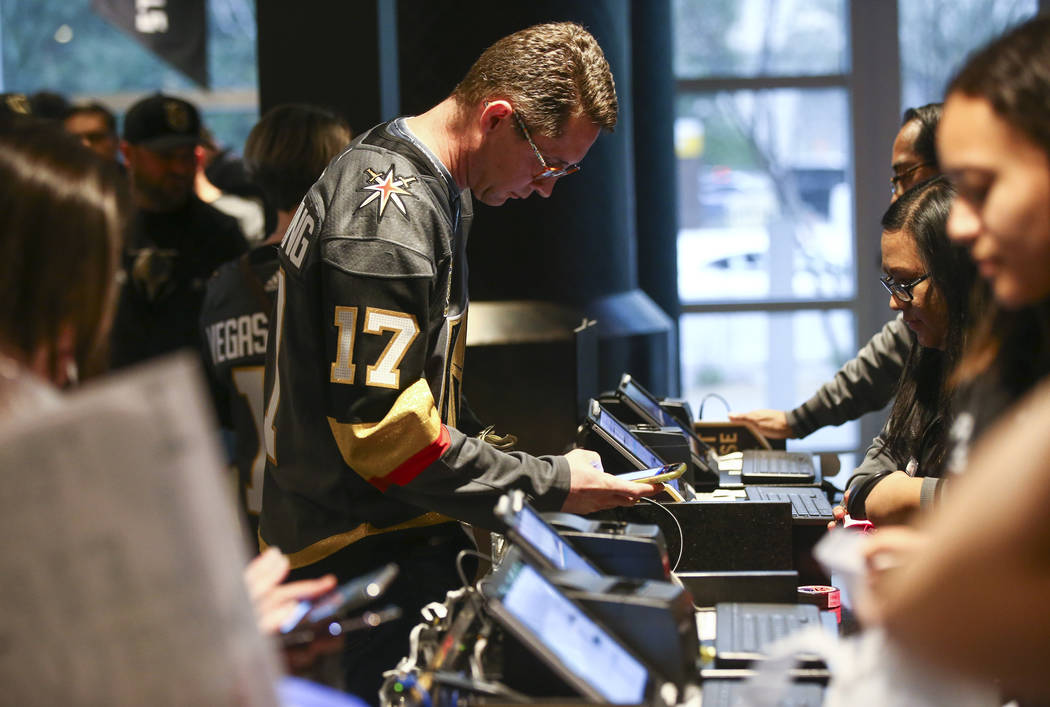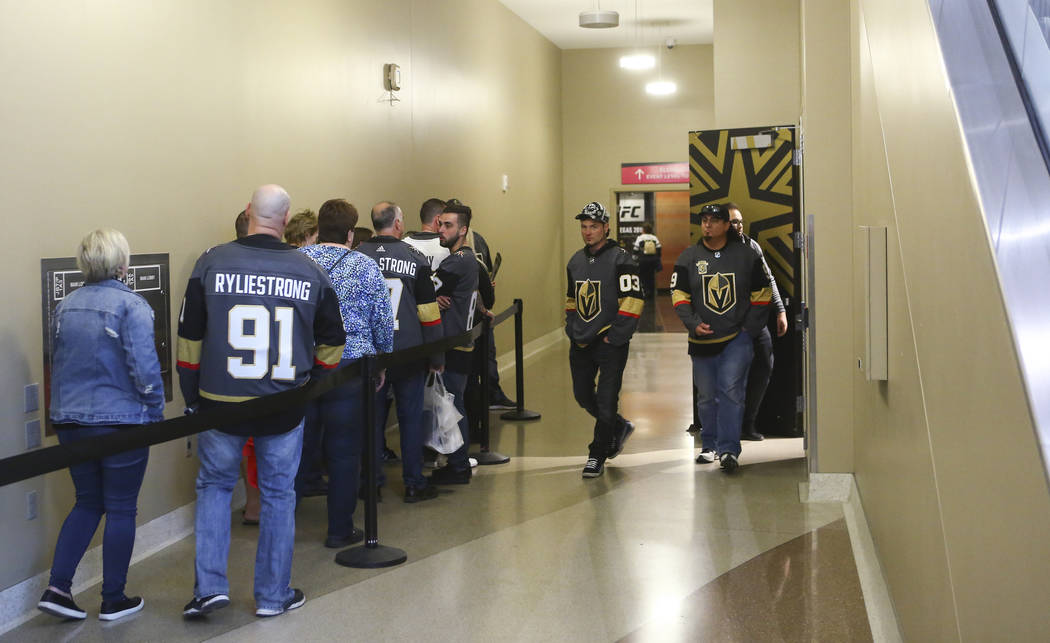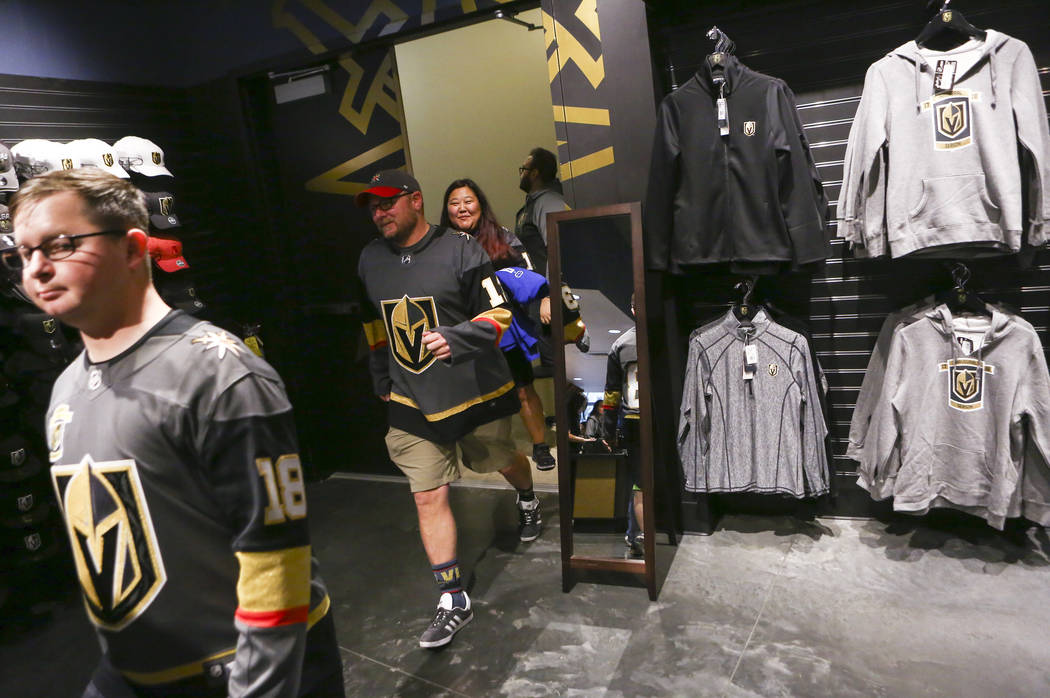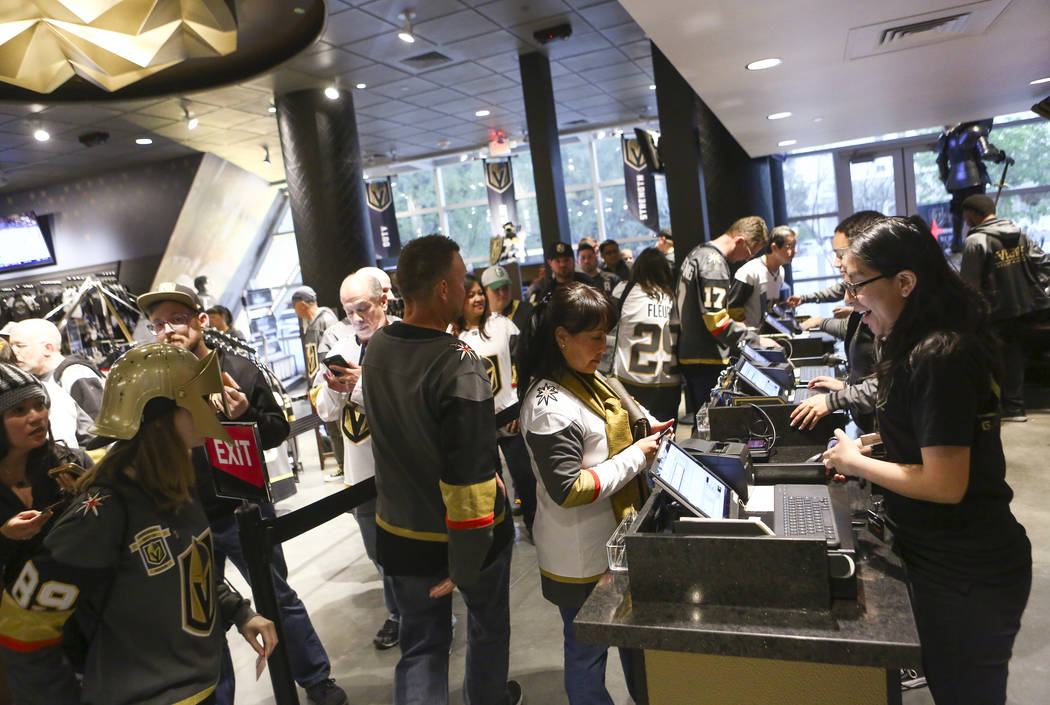 It is late Sunday morning when the doors at T-Mobile Arena open before a recent Golden Knights game against Calgary, and a stampede ensues at The Armory, the official team store.
This must have been what the Oklahoma Land Rush of 1889 was like.
Inside the team shop, 200 hockey pucks stamped with the logos of the teams and the date are stacked behind the checkout counter. They won't be there long. They're called limited edition pucks, and like everything else about the Golden Knights in their inaugural season, they've become a thing.
People line up an hour before the opening faceoff to collect them, or a souvenir poster, or just about anything else which might have emotional value, or monetary value on eBay after the game. But it's mostly the limited edition pucks they seek.
They cost $14.99. They sell for as much as $500 on the aftermarket websites.
On Friday, somebody was asking $600 for the Dec. 14 Knights vs. Pittsburgh Penguins limited edition puck. Plus $4.45 for shipping.
Other pucks producing a pretty penny: Knights vs. Coyotes, Opening Night ($420); Knights vs. Avalanche, Oct. 27 ($300); Knights vs. Ducks, Dec. 5 ($275); Knights vs. Flyers, Hurricanes, Lightning or just about anybody else ($200).
Sometimes one can find a bargain. The asking price for a puck featuring the Golden Knights and a snowman wearing a Happy Holidays scarf was only $23 with free shipping, probably because the Happy Holidays Snowmen won't be skating in the playoffs this season.
Getting posterized
The free posters are more reasonably priced, though somebody wanted $500 for one featuring Chance the mascot with a Buy it Now price of $1,500. There were no bids; there still were 9 days and 4 hours to make one.
Knights defenseman Deryk Engelland was the poster boy against the Flames, for whom he used to play. There was an inch-thick stack of Engelland posters on a table just inside the T-Mobile turnstiles. A young man wearing glasses and a Knights home jersey tried to abscond with about a half-inch worth.
He got busted.
One per customer.
Limited edition pucks are two per customer, and he already had purchased his allotment.
"My first game was the Edmonton game on Jan. 14," said Shane Biddle, the young man wearing spectacles and Knights home gray. "Within a week I had two full sets of posters, a full set of pucks up to that time, which was about 25, and now I have two full sets of the limited pucks and two full sets of the posters.
"I buy and sell (graffiti) art, so I prognosticate value for a living. I was able to delineate the value of these items really quickly. I stay on the cusp of what they are selling for, and I have five or six of the most valuable ones."
Biddle said he's technically in it for the money.
"I'm building a collection so I can sell it off and buy season tickets for next year," he said. "And I'm going to donate half of the proceeds to the Golden Knights foundation, just as part of the collecting and an appreciation for the team."
Knights fan Dina Sharp already has season tickets. So she collects the limited edition pucks mostly for fun. The Tennessee native and former U.S. Army noncommissioned officer said the pucks are to her and husband Luc what Cabbage Patch dolls were to Christmas shoppers in 1983.
"We have extras, so we give them to other people (for their sets) or we barter," she said.
More pucks stopping here
Starting Saturday, 100 limited edition pucks for each of the Knights' 2017-18 home games will be available at The Arsenal at City National Arena at the regular purchase price (one per customer) so fans can add to or complete their collections.
Knights chief marketing officer Brian Killingsworth said the demand for commemorative vulcanized rubber has forced his team to make adjustments at The Armory on game day, such as adding nightclub-style ropes to prevent the clerks inside from being overwhelmed like those selling stakes in the Oklahoma Territory.
Did the team anticipate the collecting of limited edition pucks becoming a phenomenon?
"No, I don't think we did," Killingsworth said. "But like pretty much everything else we've released, we've seen the community respond."
He probably would be the first to say that while the puck stops here, you'd better get yours while supplies last.
Contact Ron Kantowski at rkantowski@reviewjournal.com or 702-383-0352. Follow @ronkantowski on Twitter.