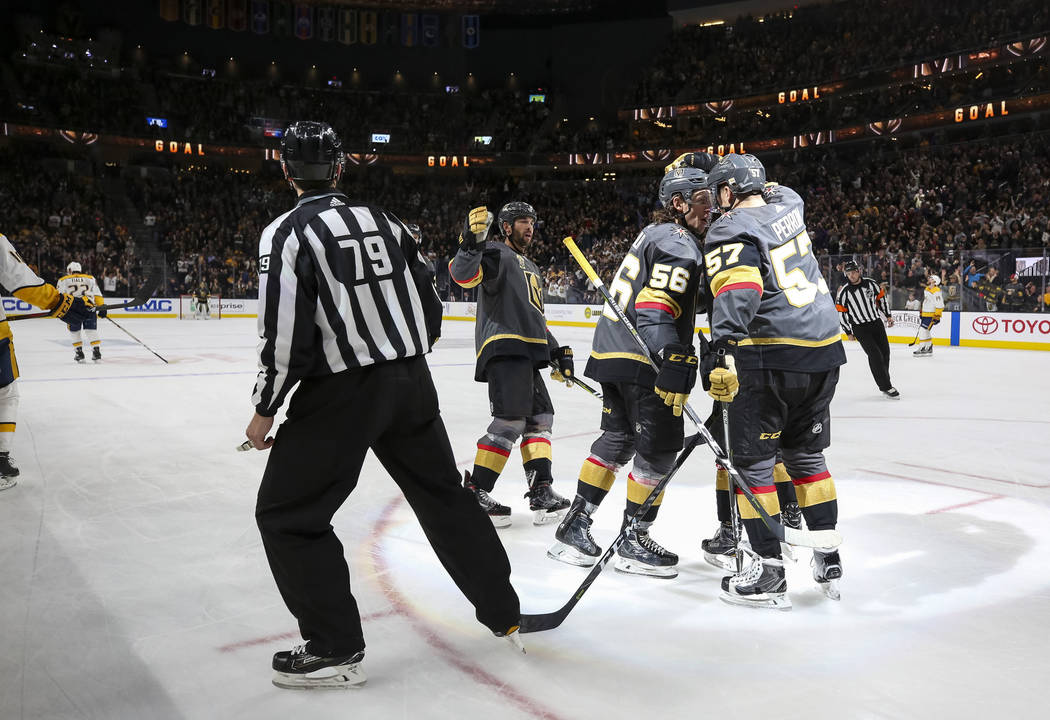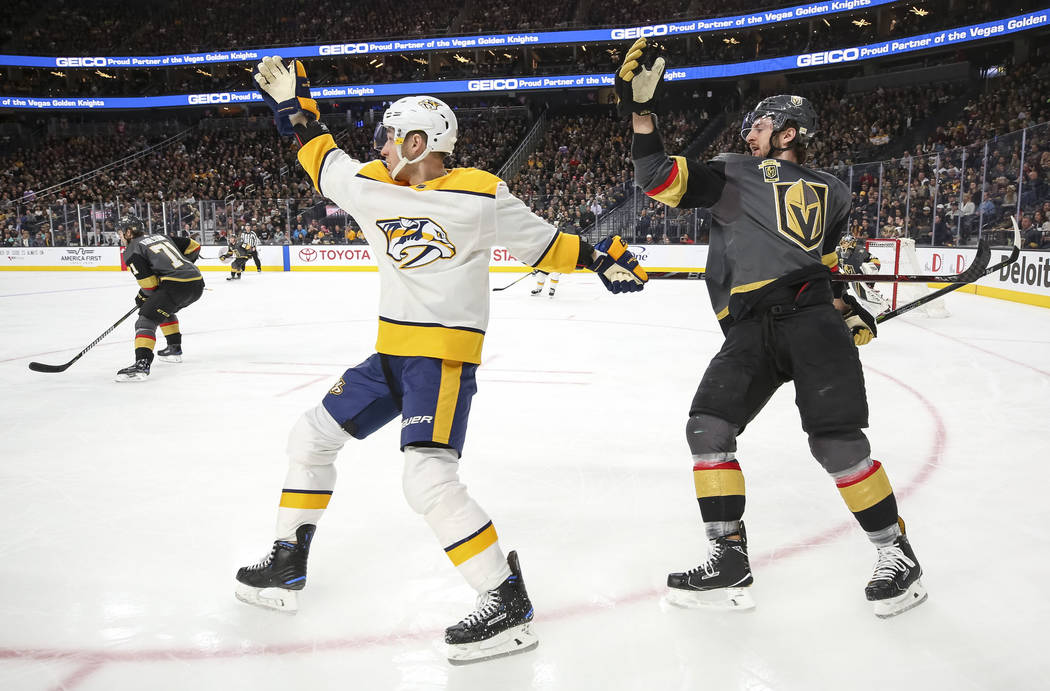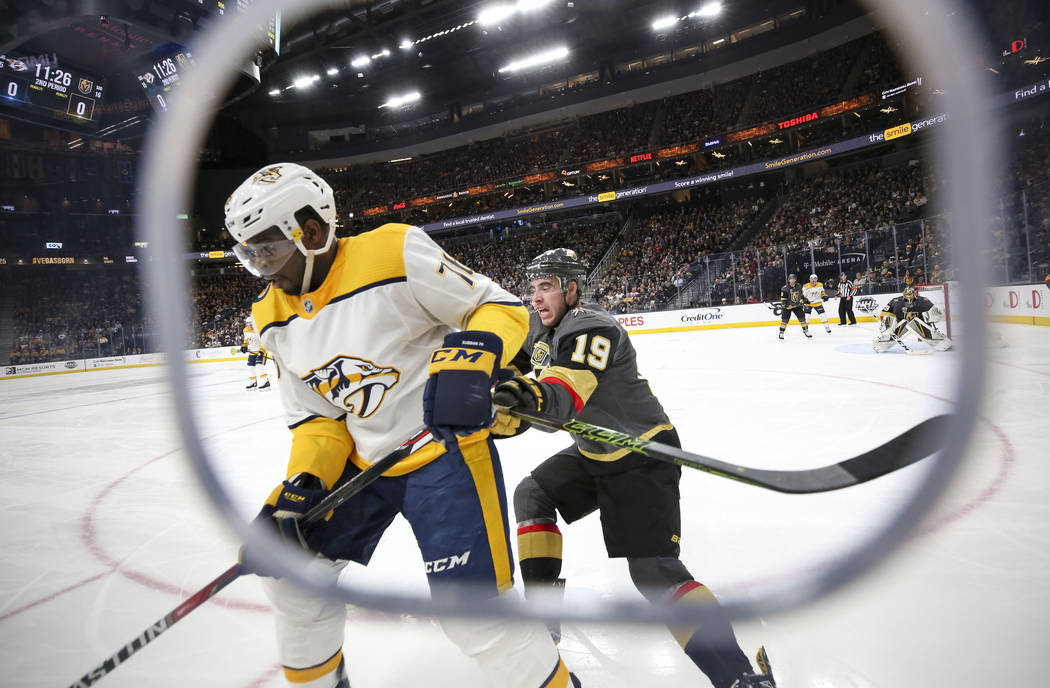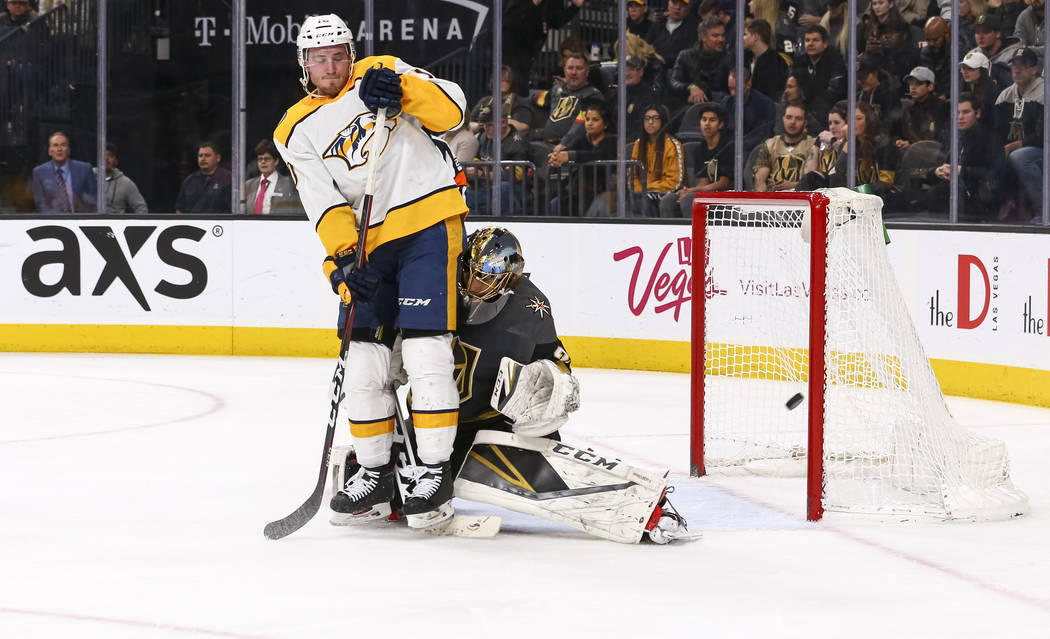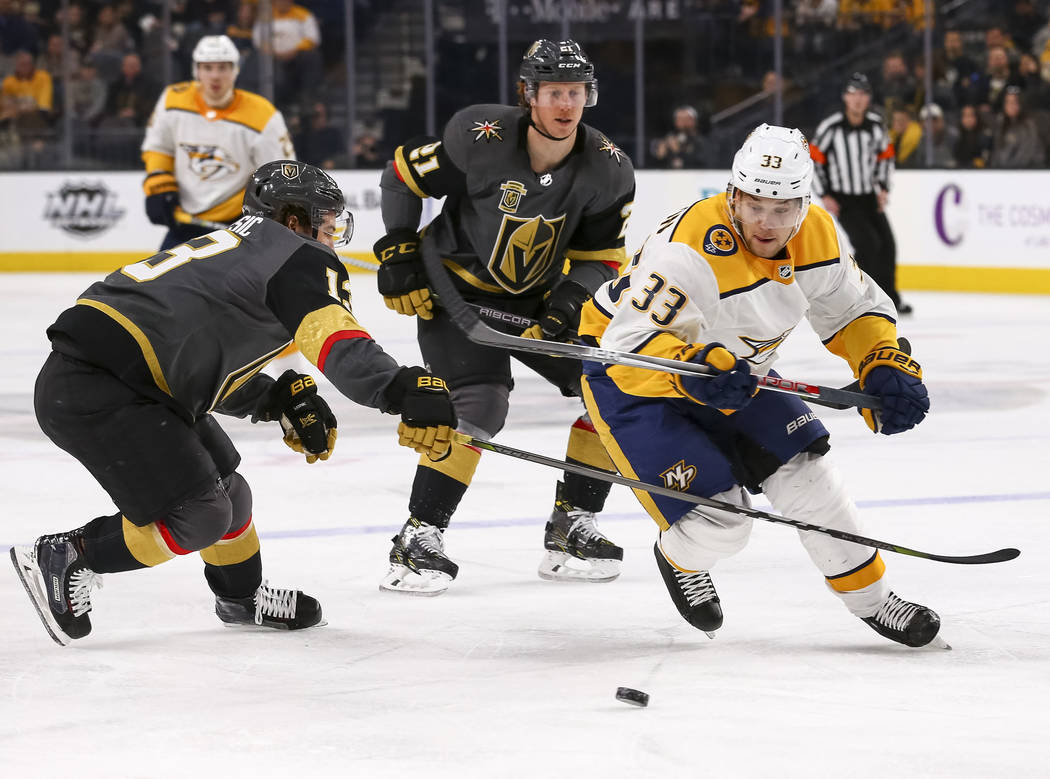 Getting six sports writers together for anything that doesn't include free beer or pizza is more difficult than lining up the squares on a Rubik's Cube. This explains why there are few optional meetings of newspaper sports departments, and why few Rubik's Cubes are rearranged into factory condition on deadline.
Just before the puck was dropped for the 38th time during the Golden Knights' inaugural season, a quorum of scribes gathered in the press box observation deck at T-Mobile Arena on Tuesday. This was not planned. This was more rare than Halley's Comet. It was the swallows returning to Capistrano, or the Bills making the playoffs. It was a phenomenon that Neil deGrasse Tyson would have trouble explaining.
It speaks to Miracle on Ice II, which is what one might call what these Golden Knights have accomplished.
In a retrospective of the year that just was, the Knights were deemed the second-best local sports story of 2017. The NFL's Raiders eventually coming to town was ranked No. 1.
Obviously, many absentee ballots were filled out before the Vegas pro hockey team embarked on this current winning streak, and before Las Vegas' pro football team in waiting was firing its coach while Chargers backup quarterback Kellen Clemens still was taking a knee in victory formation.
The Golden Knights are 27-9-2 and lead the NHL's Western Conference with 56 points.
People here not only can pronounce Marchessault, they're learning to spell it.
It's only January. There's still a lot of hockey to be played, as the analysts say. But enough hockey has been played to make a case for the Golden Knights being the greatest expansion team in sports history, as presumptuous as that might sound.
In measuring what the Knights have accomplished in comparison to the best of the first-year franchises in the other major American sports, it doesn't sound presumptuous at all.
The best expansion team in NHL history was the 1993-94 Florida Panthers, who finished 33-34-17. In baseball, the 1961 Los Angeles Angels went 70-91; in football, the 1995 Carolina Panthers were 7-9; in basketball, the 1966-67 Chicago Bulls went 33-48.
The Florida Panthers missed the playoffs by one point. The old Bulls qualified for the postseason, but were swept from the playoffs in the first round by the St. Louis Hawks of Zelmo Beatty, Bill Bridges, Lou Hudson and Lenny Wilkens.
With Tuesday's victory over Nashville, the Knights became the first major North American pro sports franchise since 1976 to win eight consecutive games during its inaugural season.
The Denver Nuggets also won eight straight in 1976, their first NBA season.
So if the Knights of goalie Marc-Andre Fleury and a bunch of forwards and defensemen disguised as interchangeable parts can keep it together as the "Original Six" cities and Buffalo freeze over, they might set the bar on expansion team success to Sergey Bubka level.
Even once-doubting Thomases are sticking a finger in left wing Jonathan Marchessault's side and changing their refrain, if not their entire tune.
"Everybody's waiting for the shoes to drop and for Vegas to become normal and start to lose some games, but that's not happening," NHL analyst Barry Melrose said on Brent Musburger's "My Guys in the Desert" show originating from the VSiN broadcast bubble at the South Point sports book the other day.
"No reason to believe this team is going to start to falter. They've just played too well against too many good teams and they've beaten just about everybody they've had to beat in the West, and beat them just about every time."
#VegasBorn highlights on @SportsCenter right now. And Barry Melrose just stated matter-of-factly that @GoldenKnights are going to make the playoffs. pic.twitter.com/iiCsGspjf0

— Patrick Everson (@Covers_Vegas) December 15, 2017
So there's that, and then there are intangibles that measure an expansion team's immediate success and impact. That an ownership group in Seattle was able to scrape together $650 million to explore reserving a ring in Gary Bettman's circus speaks ever so highly of what the Golden Knights have achieved right out of the box, Melrose said.
"I don't think Seattle would have been as quick to come into the NHL if (not for) the success Vegas is having," he said.
It's conceivable the sports department of the Seattle Times will hold a staff meeting at a Totems game, or whatever the new team will be called, in 2020-21. But at the unprecedented and unfathomable rate the Golden Knights are going, the scribes up there had better learn how to spell Marchessault.
Contact Ron Kantowski at rkantowski@reviewjournal.com or 702-383-0352. Follow @ronkantowski on Twitter.
First-year success
Top expansion teams in the major professional American sports:
— MLB: 1961 Los Angeles Angels, 70-91
— NFL: 1995 Carolina Panthers, 7-9
— NBA: 1966-67 Chicago Bulls, 33-48
— NHL: 1993-94 Florida Panthers, 33-34-17