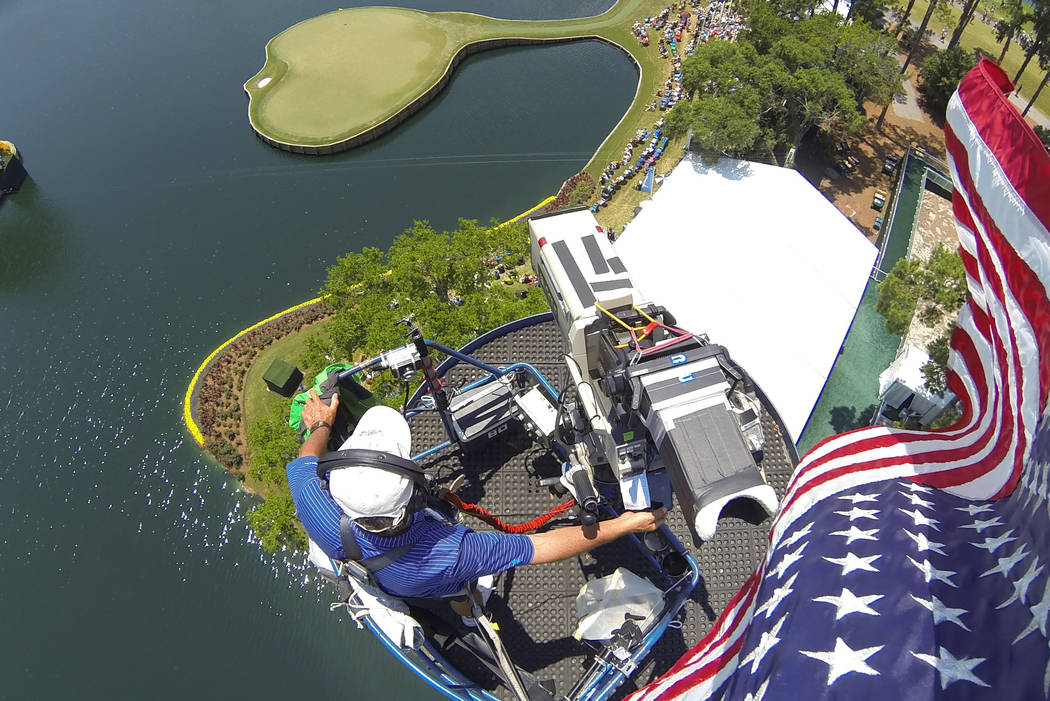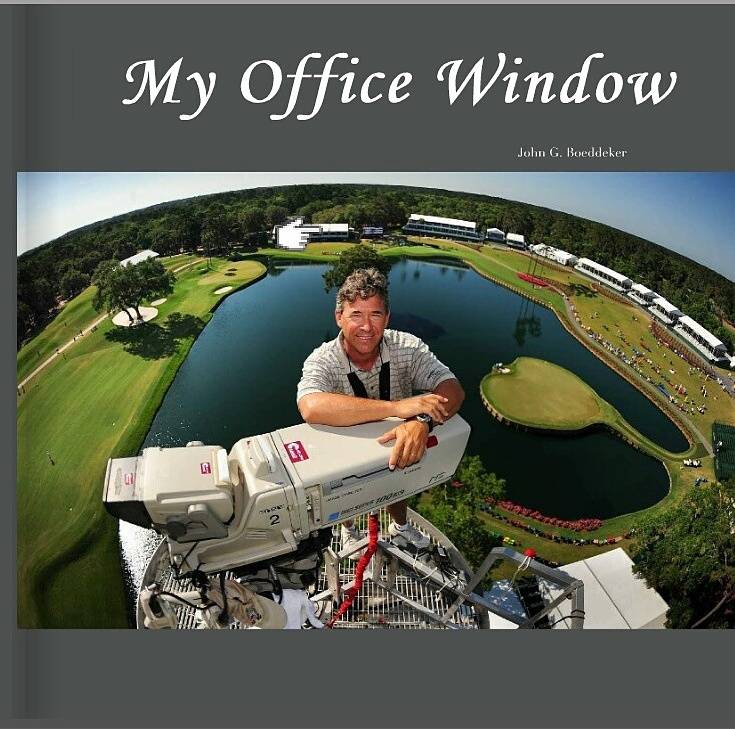 John Boeddeker is not above saying he has the best view of PGA Tour events such as the Shriners Hospitals for Children Open at TPC Summerlin.
In his case, that might prove difficult.
"It scared the hell out of me," the longtime NBC cameraman said about being elevated 120 feet over the golf course via crane to capture the tour from the loftiest of perspectives 26 years ago. "Now there's no place I'd rather be."
A few years ago, Boeddeker starting snapping cellphone photos of the spectacular panoramas and vistas he sees from the little basket atop the crane. He has put them into a coffee table book licensed by the PGA Tour called: "My Office Window" (www.myofficewindow.org).
"If I had to pick one, Pebble Beach," he says of his favorite view from above. "The panorama of the 18th fairway looking out at the bay, that's just striking. Until it gets cold.
"That one, and the 17th green at the Tournament Players Championship every year. There's no place I'd rather be. The beauty of the crowds, the colors, all that energy being focused on one hole."
As for the greatest golf moment witnessed from on high, he puts Tiger Woods' "Better than most" putt at the 2001 Players Championship at the top of the list. The scariest? Also at Sawgrass, when 50 mph gusts made the massive crane shimmy and shake, or so it seemed to Boeddeker.
"That freaked me out, but your mind really plays tricks on you when you get in that kind of situation."
Boeddeker, who alternates getting high (in a manner of speaking) with a few other Golf Channel cameramen, has a shock of salt-and-pepper hair, a smile wider than the No. 18 fairway at Harbour Town and the constitution of a camel.
"No. 1 question I get asked," he said about having to go to the bathroom while suspended 120 feet over a golf course.
"I go up with a bottle of water. I come down with a bottle of something else."
GREAT Golf Gift! … #PGATOUR licensed Coffee Table Book "My Office Window". See more at https://t.co/9NWza63Ibp. Perfect for that Golf Nut! pic.twitter.com/9k2bD8sLA2

— John G Boeddeker (@MyOfficeWindow) October 28, 2017
Ifs, ands, putts
Who knew there would be synergy between the Shriners Open and the Major Series of Putting going on concurrently behind Planet Hollywood Resort?
Redford Bobbitt, a former UNLV golfer whose surname is begging for a Roman numeral, finished first under the monorail tracks in a classification called Turbo Singles No. 2.
Over four days, Bobbitt and former Rebels teammate Taylor Montgomery, his best pal, pocketed around $100,000 by holing putts on a synthetic green. Some of that will be returned to backers but, as Bobbitt said, "The money is just crazy."
This weekend he's at TPC Summerlin, caddying for fellow Las Vegas resident Alex Cejka, among the Shriners' early leaders.
"If Alex wins on Sunday, maybe I'll buy myself a fake Rolex," Bobbitt said.
Ex-UNLV golfers compete at Major Series of Putting https://t.co/BCoJShhjXl via @reviewjournal

— Vegas Golf Insider (@LVGolfInsider) October 30, 2017
Hitting 'em straight
Why Wikipedia and its footnotes are more interesting than the PGA Tour media guide:
Whereas the golf guide lists interesting tidbits about Robert Garrigus — his favorite college team is the Oregon Ducks, and he uses a putter that is only 28 inches long — it mentions nothing of the substance abuse issues he overcame en route to starting the third round of the Shriners Open at TPC Summerlin near top of the leaderboard.
After winning his one and only PGA Tour title at the 2010 Children's Miracle Network Classic in Florida, the 39-year-old from Idaho admitted to having smoked marijuana while playing the minitours.
Lots of marijuana.
Sometimes even during his round.
"Oh, yeah, there were plenty of guys on the Nationwide Tour who smoked in the middle of the round," Garrigus told Golf Digest. "You could go in the Porta John and take your drags."
Garrigus has been hitting 'em straight for several years. Not only has addressing his addictions aided his game and focus, it also has enhanced his personal life.
He met his wife, Ami, while in rehab.
Forged by fire. Good fight Garrigus! Shedloski: The Reclamation Of Robert Garrigus: Golf Digest http://t.co/TkzAPa9 via @golfdigestmag

— RPM (@RPMunson) June 30, 2011
Contact Ron Kantowski at rkantowski@reviewjournal.com or 702-383-0352. Follow @ronkantowski on Twitter.