History-making Las Vegas Bowl kicker struggling after health scare
Updated November 3, 2018 - 2:00 pm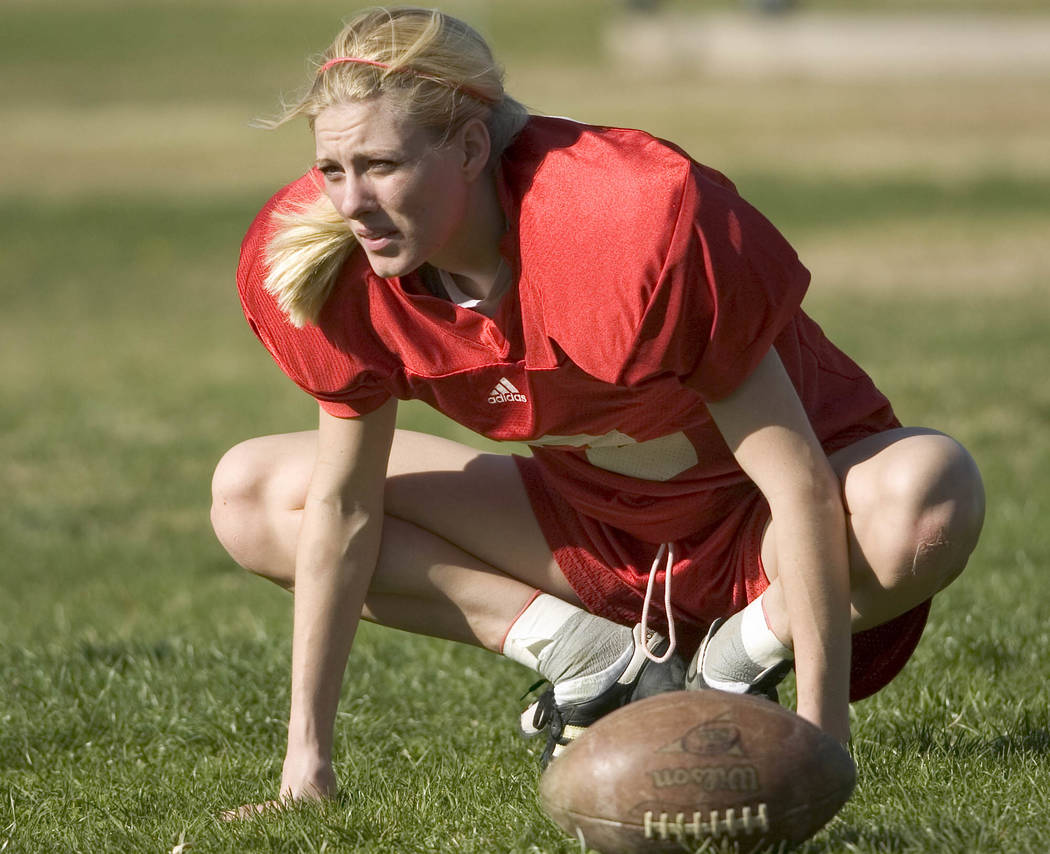 It was Christmas Day 2002. New Mexico had just scored a touchdown against UCLA at the Las Vegas Bowl.
It was noticed the kicker who Lobos coach Rocky Long had sent into the game to attempt the extra point had really long hair.
There was a reason for it. The New Mexico kicker was Katie Hnida — a young woman.
Her extra point was blocked, but her place in college football history was secure. Katie Hnida became the first woman to play in a Division I-A game. The next season she booted two extra points against Texas State. These were not blocked. Hnida made more history, becoming the first woman to score points in a Division I-A game.
She's 37 now and facing a mountain of medical bills after suffering an adverse reaction to antibiotics that caused her vital organs to shut down and had her fighting for life in a hospital.
Published reports said it was touch-and-go for awhile.
A GoFundMe account to help offset Hnida's $155,000 in medical bills not covered by insurance has raised more than $55,000 in pledges. Her parents were only seeking $20,000.
Her recovery "will be measured in months, not days," wrote a family member on social media.
"She was an awesome young lady — she was not so much interested in making history as making the kick," former Las Vegas Bowl director Tina Kunzer-Murphy recalled of Katie Hnida trotting onto the field against UCLA, her blond ponytail cascading from under her helmet.
"She made the game a lot more fun. She is a trailblazer."
Former New Mexico kicker Katie Hnida still has a long recovery ahead of her after an adverse reaction to a prescribed medicine. https://t.co/jMdTHIwyV5

— USA TODAY Sports (@usatodaysports) November 1, 2018
Gym scandal hits home
Although she was well received at New Mexico where her effort to blaze a trail was celebrated, Katie Hnida said she was sexually harassed and assaulted by teammates at Colorado when she tried out for the football team. Her kicking skills were berated by former Buffaloes coach Gary Barnett.
Around the same time, female gymnasts were being assaulted by their team doctor.
During a news conference this week in Los Angeles, Las Vegas sisters Tasha Schwikert-Warren and Jordan Cobbs filed racketeering charges against USA Gymnastics and the team's former doctor Larry Nassar, who is in prison for sexually assaulting Team USA gymnasts.
Schwikert-Warren, who was inducted into the Southern Nevada Sports Hall of Fame in 2011 and is married to former UNLV basketball player Mike Moser, and Cobbs said they were among those assaulted.
During the 2004 Olympic gymnastics team trials at the Arrowhead Pond, as it was then known, reporters interviewed Pamela Anderson on a loading dock. When the "Baywatch" star learned that former silver medalist Mohini Bhardwaj was in debt and could not afford training expenses, Anderson became her benefactor.
We stood there on the loading dock, asking Pam Anderson questions, woefully oblivious that her philanthropy was nowhere near the day's biggest story.
Former Olympian Tasha Schwikert and her sister, Jordan Schwikert, file RICO lawsuits against USA Gymnastics, the USOC and Larry Nassar: https://t.co/VCBDqafsKo pic.twitter.com/Uw3x9HrnF3

— Christopher Weber (@WeberCM) October 29, 2018
Tennis, anyone?
The Red Rock Pro Open begins Sunday, and tournament director Mike Copenhaver says a talented field of female tennis pros — none of which the average tennis fan probably has heard — will be pounding the fuzzy ball at Red Rock Country Club.
But if CoCo Vandeweghe wasn't former basketball star Kiki's niece, I might have said the same about her. And though she lost in the 2013 Red Rock Open finals and had a meltdown at center court, CoCo Vandeweghe went on to play in the 2017 Australian Open and U.S. Open semifinals and reached No. 9 in the world rankings.
So if you go out to Red Rock for the tennis, there's a chance you'll be watching a future star or a meltdown at center court, either of which can be entertaining.
Top seed @BelindaBencic leads the way into Las Vegas next week! Check out the complete list of competitors through link below…https://t.co/BAXZsrEQVU pic.twitter.com/PoHYjxrYWT

— Red Rock Tennis (@RedRockTennis) October 30, 2018
0:01
NASCAR driver Kyle Busch surprised youngsters by knocking on their doors and giving them leftover Halloween treats, which consisted of M&M's and Mars candy derivatives — which just so happen to be Busch's sponsors.
It was a cool thing to do and no doubt helped the Las Vegan cultivate some new fans. But it's still probably a good thing Mark Martin didn't do so something similar when he was driving the Viagra-sponsored car.
We gave away all our @mmschocolate and made some new friends along the way! #HappyHalloween pic.twitter.com/hQ1XM3kkKr

— Kyle Busch (@KyleBusch) October 31, 2018
Contact Ron Kantowski at rkantowski@reviewjournal.com or 702-383-0352. Follow @ronkantowski on Twitter.
Katie Hnida file
— Born: May 17, 1981 (age: 37)
— High school: Chatfield (Littleton, Colo.)
— College: Colorado, New Mexico. Became the first woman to play in a Division I-A football game when her extra point was blocked by UCLA in the 2002 Las Vegas Bowl. Made two extra points for New Mexico in 2003.
— Post-playing career: Public speaker, advocate for survivors of rape and female violence.