Humboldt hockey crash survivors reunite in Las Vegas
Updated June 19, 2018 - 11:15 pm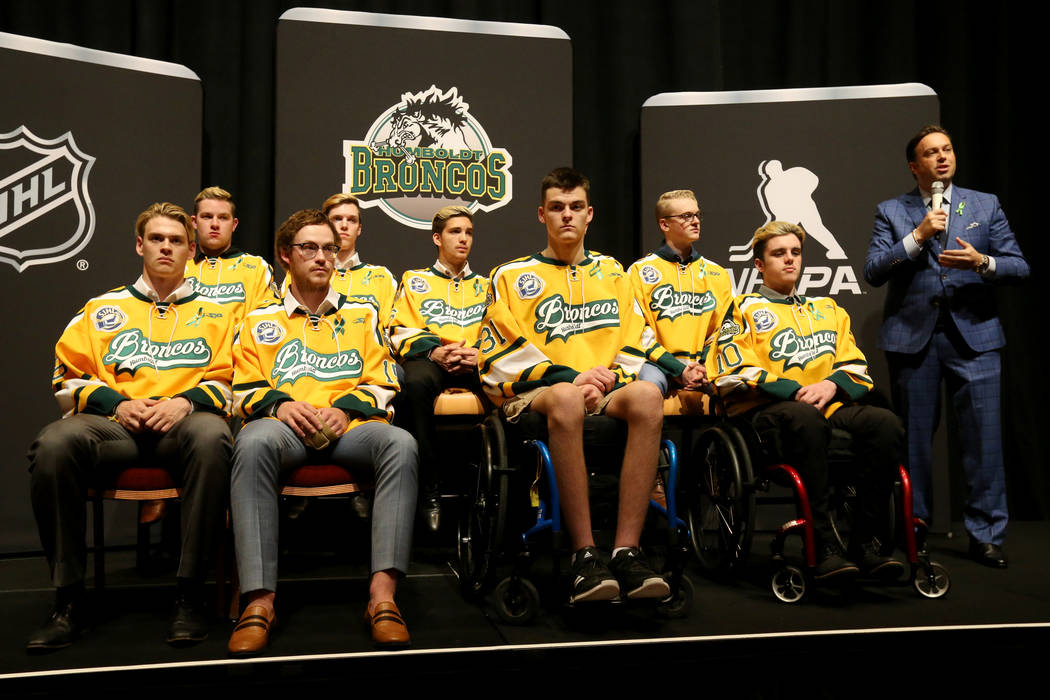 They were introduced as a unit and then individually, and many of the surviving members of the Humboldt Broncos hockey team who made their way to the Ballroom 5 stage at Encore on Tuesday afternoon spoke cursory words to the NHL media.
Two were in wheelchairs. One had a jagged scar from his hairline to the bridge of his nose.
The others bore emotional scars not easily seen.
There were 13 survivors, 10 of whom are in Las Vegas for the NHL Awards Show courtesy of the NHL and the NHL Players' Association. Each of the 10 wore a golden hockey sweater with "Broncos" written in script across the front and his name on back.
It was the first time they had been together since the catastrophic crash on April 6 when the bus they were riding to a Junior A playoff game in Canada collided with a semitrailer carrying peat moss on a forlorn highway in rural Saskatchewan.
Sixteen were killed. Thirteen were injured and irrevocably scarred.
Three spoke to the media after it was announced that the Stanley Cup would be stopping in Humboldt on Aug. 24. Chandler Stephenson, a forward for the Stanley Cup-champion Washington Capitals, is from Saskatoon, and bringing the iconic trophy home to share with the Bronco family and people of Humboldt was his idea.
There were smiles among the survivors at the mention of the Cup and of finally being reunited after the unspeakable tragedy.
Time for healing
"It gives you something to look forward to," said Kaleb Dahlgren, one of the team's alternate captains who suffered skull and spinal fractures. "You always want to be with the guys, and usually after a season, you have a whole week to spend time together.
"We didn't have that …"
Forward Tyler Smith suffered nerve damage and other injuries to his left side, including a broken collarbone and shoulder blade. He was on a breathing tube for several days. He called the Las Vegas reunion the "best thing ever."
"It's important to try to get together as much as we can to heal," he said, sporting eyeglasses and an impressive playoff beard for a 19-year-old.
"We can cry together, we can laugh together, we can do everything together and just kind of heal in our way. I think it's a blessing to be here together."
Added Ryan Straschnitzki, who is paralyzed from the waist down and was being pushed around by Dahlgren: "It's been fantastic. These guys are such great guys to be around. It warms my heart."
The Humboldt players will be recognized during Wednesday's awards show. They will be joined by survivors and first responders of the Route 91 Harvest festival mass shooting and members of the hockey team at Stoneman Douglas High School in Parkland, Florida, which won a state championship 11 days after 14 students and three staff members were fatally shot in February.
'Great day to be a Bronco'
Darcy Haugan, 42, the Humboldt coach who was among those killed in the crash, is a finalist for the Willie O'Ree Community Hero Award, named for the first black player to play in the NHL.
Smith said one of Haugan's favorite expressions was: "It's a great day to be a Bronco."
"A lot of guys will take that with us for the rest of our lives," Smith said. "We're all going to be Broncos forever. No matter what day it is, it's a great day to be a Bronco."
The Humboldt players were taken to a private salon adjacent to the ballroom, where several of the NHL stars who will be feted at the awards gala greeted them.
"It's great to see them here," Edmonton Oilers superstar Connor McDavid said. "Just think about how far they've come from only a short time ago. To see them here is really uplifting for all of us."
The Humboldt players were seated around a large table, and there weren't enough chairs or space with the wheelchairs. So Tyler Smith plopped down on the knee of right wing Blake Berschiminsky.
He sat there for a moment, leaning ever so slightly on his teammate, while the other surviving Broncos did the same in ways less obvious.
Contact Ron Kantowski at rkantowski@reviewjournal.com or 702-383-0352. Follow @ronkantowski on Twitter.