Kerri Walsh Jennings brings new sand volleyball tour to Las Vegas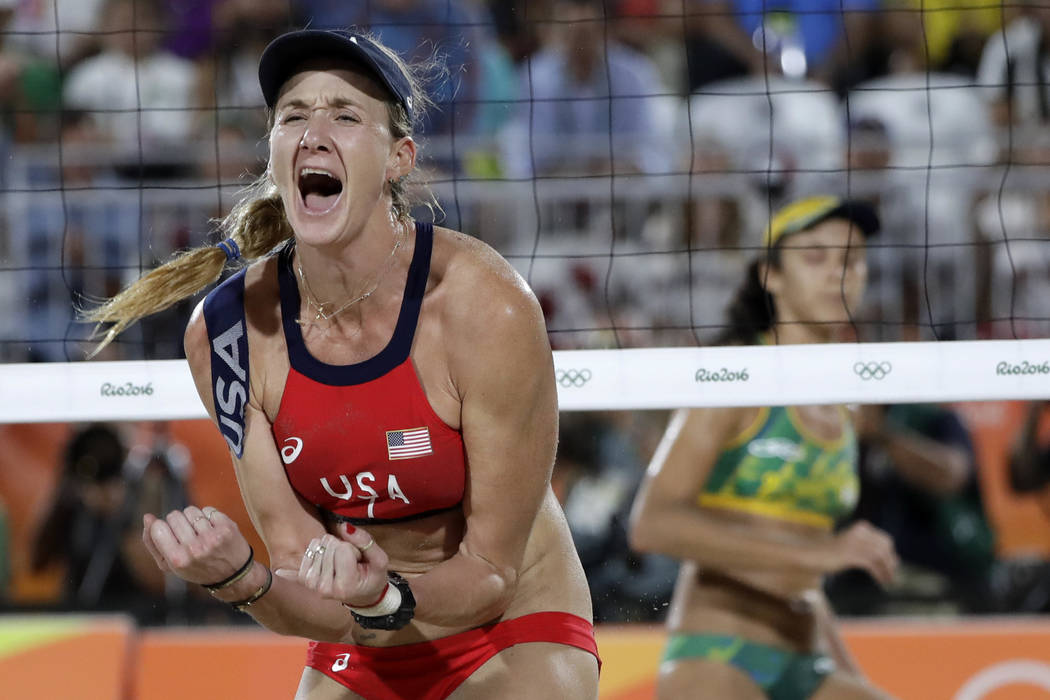 It was 2006 at Caesars Palace, and Casey Jennings was talking about how he went from being a midfielder for the Clark High soccer team to being a bronzed beach volleyball god. A bronzed beach volleyball goddess sidled up and gave him a kiss.
It was Kerri Walsh Jennings. They were newlyweds then, or close to it.
Casey Jennings played for Brigham Young's 1999 national championship volleyball team. Kerri Walsh Jennings played on two national championship teams at Stanford. She also won three gold medals in the Olympics and a bronze, and is pro volleyball's career leader in victories and earnings.
Now she and Casey have three children and are an old married couple, though they totally don't act like one.
They also are partners in a new pro tour called p1440 (for the number of seconds in a day) which makes its Las Vegas debut starting Wednesday at a man-made sand volleyball court at Las Vegas Festival Grounds. Players at the Las Vegas Open will receive qualifying points for the 2020 Tokyo Olympics.
"Our sport is growing like gangbusters — investors love us, demographics love us — but at the top of the pyramid, it's become more like a hobby than a profession," Walsh Jennings said about breaking away from the established AVP Tour. "The No. 1 athlete (in pro beach volleyball) last year made $38,000. Team USA's standing in the world is going down. These professionals have to have two and three jobs to support their love of the game.
"So we were established to create new opportunities, to elevate the marketing and create stars. There's so many compelling stories and athletes out there who have fallen under the radar because beach volleyball only has a limited focus."
The Las Vegas Open offers a purse of $300,000 and is a part of a first-year mini-tour along with tournaments and fitness lifestyle events in San Jose, San Diego and Huntington Beach in California. For tickets or more information, visit the tour website at p1440.com.
Be like Clayton
Usually, it's a good thing if one is young and mentioned in context with Clayton Kershaw, who became the second pitcher this season to yield a home run to Milwaukee counterpart Brandon Woodruff in the Brewers' 6-4 victory over the Dodgers in Game 1 of the National League Championship Series Friday night.
The first to serve Woodruff a gopher ball was Sierra Vista High's Nick Kingham, who did it on July 13 with one notable difference: Kingham pitched well that day, striking out a career-high nine batters and picking up the win in Pittsburgh's 7-3 victory.
Kingham, 26, went 5-7 for the Pirates with a 5.21 ERA while allowing 79 hits and striking out 69 in 76 innings.
Brandon Woodruff (1) off RHP Nick Kingham (13) – 102.4 mph, 28 degrees (382 ft Home Run)
91.5 mph Four-Seamer#Brewers @ #Pirates (T6) pic.twitter.com/fTAdhpcb1Z

— MLBBarrelAlert (@MLBBarrelAlert) July 14, 2018
Banging drums, baseballs
One of the recent nominees to the Rock and Roll Hall of Fame had a brief connection to the Las Vegas 51s.
Todd Rundgren, whose anti-work anthem "Bang the Drum All Day" is often played between innings at ballparks major and minor as well as at Green Bay's Lambeau Field after Packers' touchdowns, is the father of former 51s infielder Rex Rundgren, who batted .185 in 40 games for the 51s in 2008.
"I learned everything I know about baseball after he was drafted," the musical Rundgren said of the slick-fielding one during a 2008 trip to Cashman Field to watch his son play ball and hit a home run.
It was quite a talented family — Rex Rundgren and actress Liv Tyler (daughter of Aerosmith lead singer Steven Tyler) grew up in the same home and consider each other brother and sister, though they are not related by blood.
Did you know that Tulsa INF Rex Rundgren's dad is Todd Rundgren – of rock fame for "bang on the drum all day" – and his mom was a model!

— NW Arkansas Naturals (@nwanaturals) May 19, 2009
A pinch of Tony
Tony La Russa was chatting about an upcoming fund-raising gala for his Animal Rescue Foundation Nov. 8 to 11 at Aria when his short-lived playing career with the Chicago Cubs was noted.
The Hall of Fame manager mentioned being inserted as a pinch-runner for fellow Hall of Famer Ron Santo in 1973 and scoring the winning run on a bases-loaded walk to Rick Monday.
"Was it against the Expos on Opening Day?" a reporter asked, having vaguely recalled the events in question.
I had skipped school, and Mom wrote the traditional day after Opening Day note that claimed her son wasn't feeling well and to please excuse his absence just this once.
I was 16. Tony La Russa was 28.
It would be the last major league game in which he appeared.
On this date in 2014, Greg Maddux, Frank Thomas, Tom Glavine, Tony La Russa, Bobby Cox, and Joe Torre were inducted into the Baseball Hall of Fame. #Cubs #Braves #WhiteSox #Cardinals pic.twitter.com/SfUSldSxyB

— Gummy Arts (@gummyarts) July 27, 2018
Contact Ron Kantowski at rkantowski@reviewjournal.com or 702-383-0352. Follow @ronkantowski on Twitter.