Las Vegan, NASCAR reporter Jamie Little announces pregnancy — VIDEO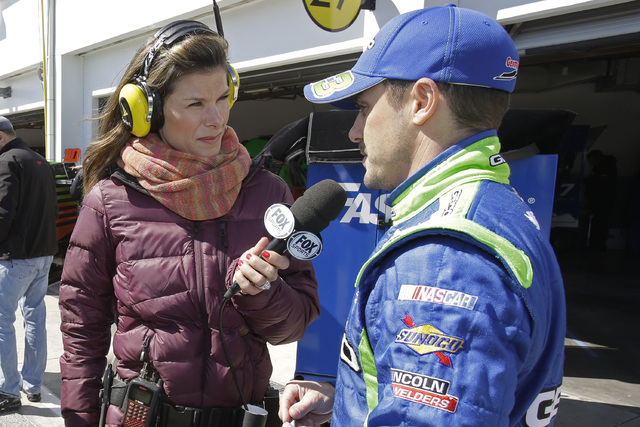 It's not decreed by A.J. and Mario and the other racing gods that people who are involved in auto racing should cross paths at regular intervals. But there I was, chit-chatting with Jamie Little, the most congenial of the pit road reporters (though Dr. Jerry Punch is a pretty nice guy, too), who attended Green Valley High School. And there she was, saying how the Joe Gibbs Racing squadron has been the story of the season.
Kyle Busch is having a fantastic season, she said. Busch attended Durango High School. Auto racing people say he has been a more excellent driver than Richard Petty and "Rain Man" from the movies combined the past couple of seasons.
Jamie Little watches Kyle drive like the dickens week in and week out from a close distance. So when she says he's the guy to beat, you can probably take it to the bank or the NASCAR hauler or wherever.
She also said she was pregnant again.
Little and her husband, Cody Selman, who also is a racing person — he'll be changing tires on Sage Karam's ride at the Indy 500 in a couple of weeks — are expecting their second child in October. It's going to be a girl this time.
So watch out, Danica. (Danica being Danica Patrick, whose sister, Brooke, is married to Cody Selman's brother, Chase.)
"I made it official on Twitter on Mother's Day," Little said. "We tried for like a year and a half and didn't know if we'd be able to have a baby and then suddenly, boom, two days after the Daytona 500 this year, we find out we were pregnant.
"We're having a girl this time, and the timing is perfect. When I was with ESPN, I had to travel to every race on the circuit. But now I just do the first half with Fox. I'm going to be home a few months before and a few months after (the baby is born), so it's going to work out great."
Jamie and Cody's son, Carter, is 3½ and has seen all three Indy 500s for which he has been eligible. He's already riding a dirt bike.
So Helio Castroneves had better watch out as well.
BUSCH FEELS THE BURN(OUT)
Kyle Busch was so delighted to have finally broken through for his first Sprint Cup win at Kansas Speedway that he put a little something extra into the traditional victory burnout.
Actually, he put a lot extra into it.
This might have been the grand mal of burnouts. One probably smelled the tire smoke at Kauffman Stadium.
Busch spun his wheels with so much gusto that the right rear tire exploded and tore apart the quarter panel of his No. 18 Toyota, compromising postrace tech inspection.
"We certainly don't like to see it," NASCAR vice president Scott Miller said on SiriusXM Radio. "But I believe that Kyle was very happy because he had really, really struggled at that racetrack. I think he just got a little overzealous there with the celebration."
Busch was not penalized for spinning his wheels like Blood, Sweat & Tears.
GREEN-WHITE-CHECKERED
• Only three of the first 11 NASCAR races — Las Vegas, Talladega and last week's stop at Kansas — have equaled or surpassed last year's TV ratings. But the overnight number at Kansas, a middling 1.8, deserves an asterisk because last year's May race there was delayed two hours by rain and thus pulled only a 1.5. The overnights for the Kobalt 400 at LVMS and for the recent crashfest in Alabama were a more robust 4.1 and 3.8.
• AMA Supercross officials said Sam Boyd Stadium workers deserve a step on the podium for their part in dredging the course into racing shape after thunderstorms turned it into a mud bog before Saturday's season finale. Course workers stripped down to their underwear to wade through a swimming hole in the high-banked turn and pump out more than 3 feet of water. Even more amazing is that despite the chilly and wet weather, the announced crowd was 36,714 — a throng the UNLV football team would strip down to its underwear for, even if the field wasn't flooded.
• It will be Gaming Industry Night at the Las Vegas Motor Speedway Bullring on Saturday when the NASCAR Whelen All-American Series returns to the asphalt after taking a break for Mother's Day. Gaming industry employees can gain free admission by showing their IDs. Gates open at 5 p.m., with racing at 7.
Las Vegas Review-Journal sports columnist Ron Kantowski can be reached at rkantowski@reviewjournal.com or 702-383-0352. His motor sports notebook runs on Friday. Follow him on Twitter: @ronkantowski