Las Vegan Tim Dahlberg to receive Press Association's highest honor
Updated September 28, 2018 - 10:48 am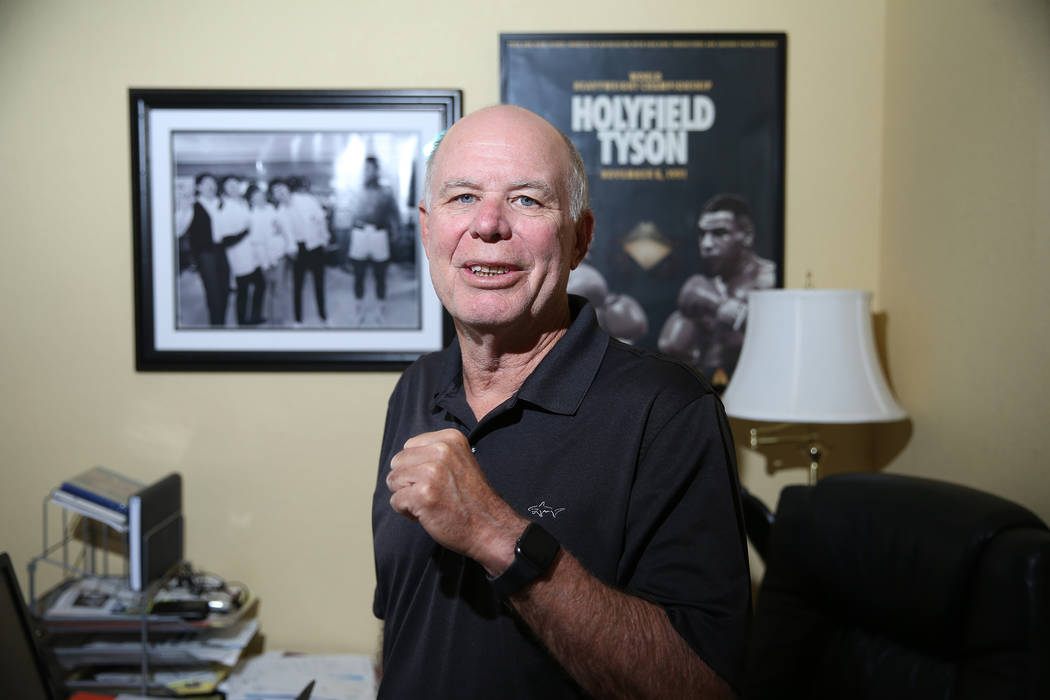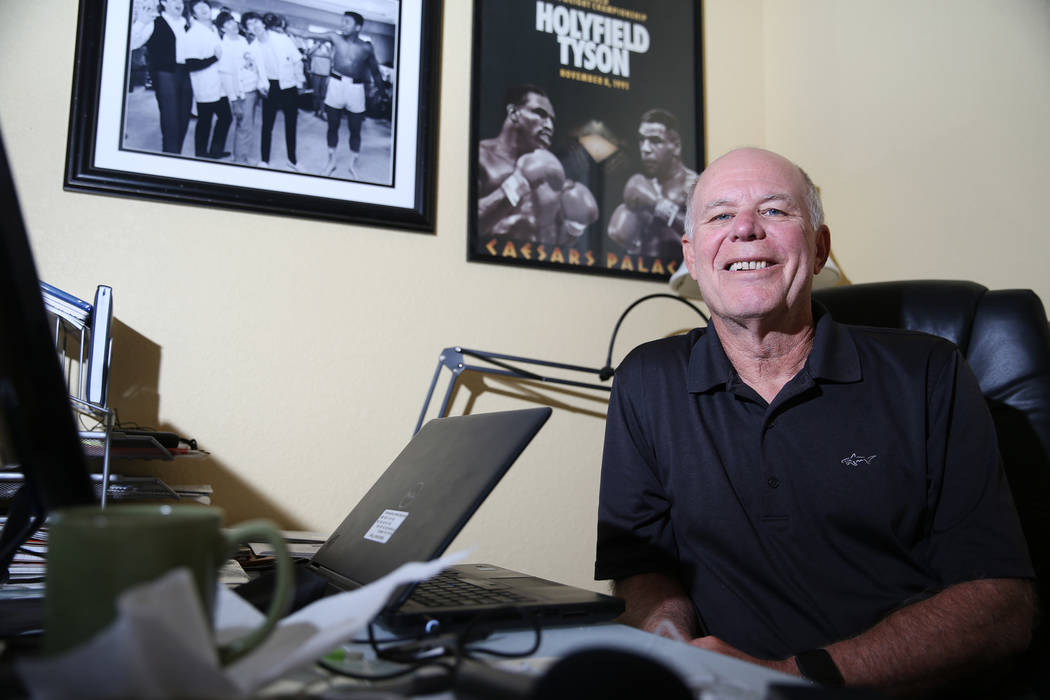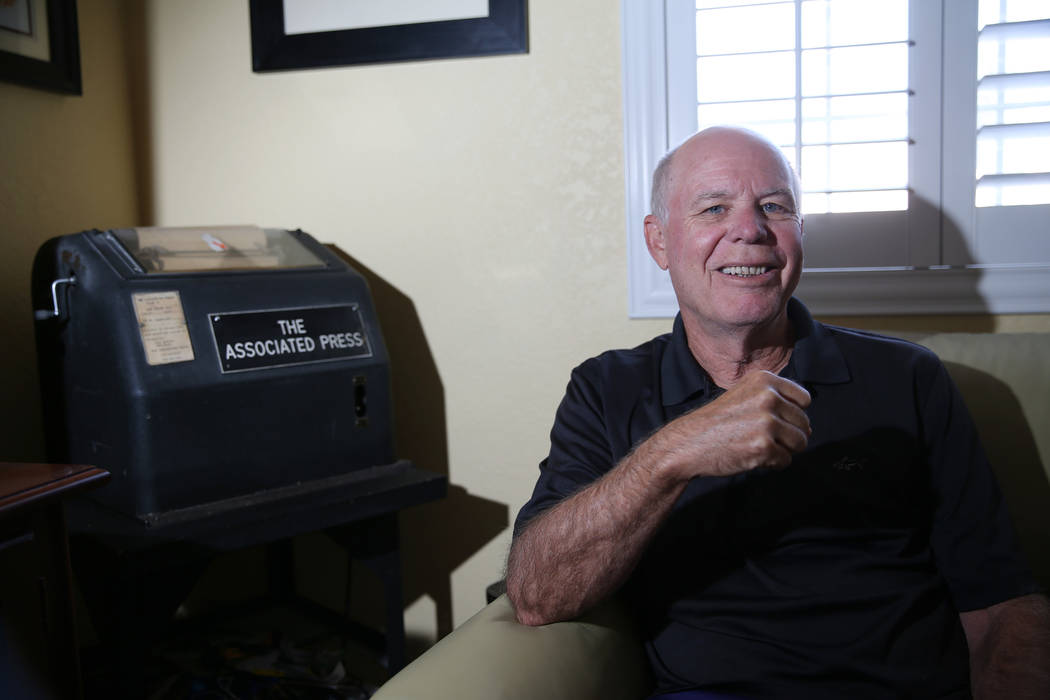 When he was 10 years old he had a paper route, which didn't make Tim Dahlberg much different than a lot of kids his age in those days.
He would read the syndicated column of Jim Murray, the esteemed Los Angeles sports writer, as he folded his copies of the Review-Journal to be delivered.
So perhaps it was ordained in a bold headline font that Tim Dahlberg would have his own career as an esteemed sports writer. It's not close to being finished, but it will be recognized and lauded Saturday when the longtime Las Vegan and Associated Press national sports columnist is inducted into the Nevada Newspaper Hall of Fame by the Nevada Press Association.
The prediction is that if the awards ceremony runs long, Dahlberg will make sure everybody gets home by deadline.
Even if there's so much territory to cover.
Been there, seen that
Hundreds of world championship fights. Dozens of major golf tournaments. Fifteen Olympics. Multiple World Series. Multiple Super Bowls. Three in-depth interviews with Dodgers broadcaster Vin Scully, one of his few sports idols.
A veritable cornucopia of everything else.
Dahlberg has witnessed and chronicled so many major sporting events that he doesn't have a bucket list anymore.
"I've been places I'd never thought I'd be, done things I never thought I'd do, seen things I never thought I'd see — all because of being a journalist," Dahlberg, 64, said.
It didn't begin at ringside or in the press box. After serving an internship at the Sparks Tribune while still a UNR student, Dahlberg in 1976 was named late night police reporter at the RJ. He was 23. Like Jack Nicholson in the movies, he thought that was as good as it got.
"A lot of stuff goes on in Las Vegas (late at night)," Dahlberg said with a knowing chuckle.
He also would report on labor and politics and wherever he was needed. On Nov. 21, 1980, he was the only reporter in the newsroom when the old MGM Grand went up in flames.
"It was awful. When I got there, the porte cochere was still on fire," Dahlberg said about becoming lead writer on the inferno that killed 85. "To show how long ago it was, I parked in front of Caesars (Palace) and ran over. Now you'd have to validate somewhere."
He started his AP career around the same time, working out of a glass-enclosed cubicle adjacent to the RJ newsroom. When the bell on the teletype machine signalled a big story was brewing, it was music to Tim Dahlberg's ears.
"If you got five dings, you'd better run for cover, because there was a war going on," he said.
Fightin' words
With the AP, he was assigned to the boxing matches that had captivated him long before he began reporting on them. The first bout he witnessed as a boxing fan still resonates: Sonny Liston vs. Leotis Martin at the International Hotel, which became the Hilton and is now the Westgate.
"Howard Cosell was announcing for 'Wide World of Sports' and there was a heavyweight who turned out to be pretty good who knocked out a guy in the first round on the undercard," Dahlberg recalled. "His name was George Foreman."
Dahlberg would write a book about boxing in his hometown, and the office in his home is festooned with keepsakes of blockbuster fights he has covered. There's a framed LeRoy Neiman painting of Muhammad Ali and the AP photo of Ali hamming it up with the Beatles before the first Liston fight. They compete for wall space with a handwritten thank-you note from Vin Scully and a portion of its occupant's writing awards.
A ponderous AP teletype machine is anchored to a corner where it now sits in silent repose.
As Dahlberg prepares to do his national podcast, wife Donna shows another reporter to the door. She and Tim will mark their 42nd wedding anniversary next month. Oldest son Brian is 39; he was 4 when his dad introduced him to Steve Garvey before the first pro baseball game at Cashman Field in 1983. Their other son Eric, 35, was born three days after the ballgame which his overdue mother attended.
But this was not a day to wax nostalgic. Tim Dahlberg doesn't live in the past.
"Just as somebody who was fair and accurate," he said about how he would want to be remembered should retirement ever beckon.
Period. End of story.
Contact Ron Kantowski at rkantowski@reviewjournal.com or 702-383-0352. Follow @ronkantowski on Twitter.