Las Vegas moves giant step closer to landing NBA team
Updated July 31, 2018 - 7:22 pm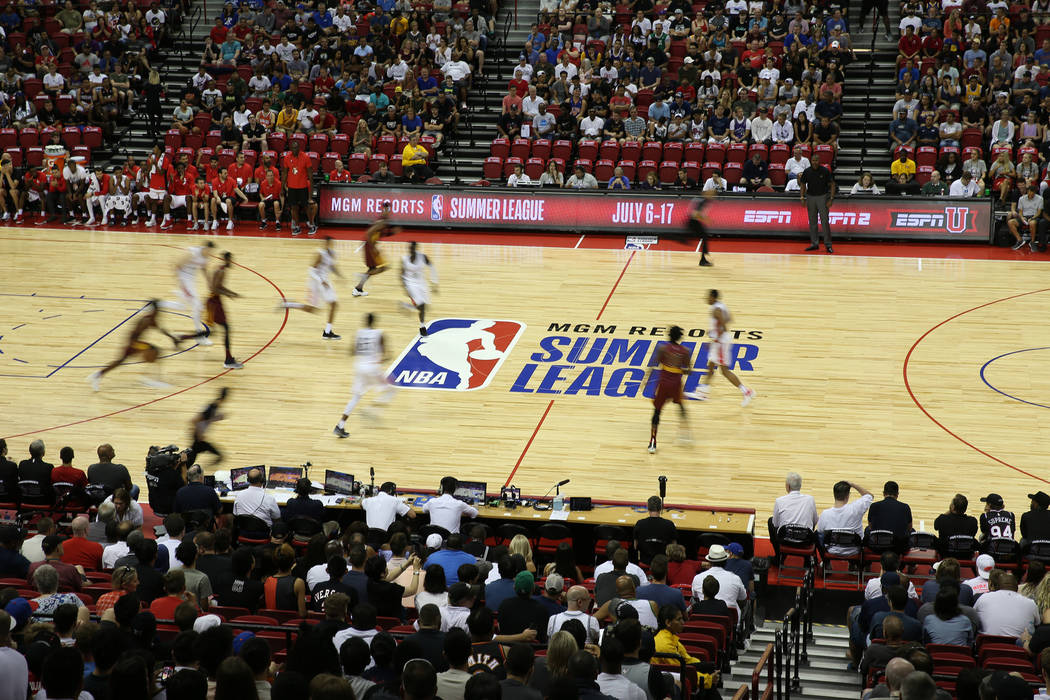 So how does Las Vegas Pelicans sound, anyway?
Maybe it doesn't exactly roll off the tongue. But it seems more fitting than Utah Jazz. Or when one thinks about it, Los Angeles Lakers, who left the Land of 10,000 Lakes when the City of Angels beckoned with cherubic smiles and harps made of gold.
If you squint really hard, have had too much to drink or flunked ornithology, a pelican could easily be confused with a flamingo. Flamingos — or at least an iconic hotel-casino named for one — are part of the Las Vegas landscape.
Conversely, I have been to Utah, listened to the music there. Let the record show that toe-tapping jazz isn't exactly indigenous to the Beehive State. Donny Osmond and his siblings will be happy to confirm.
The reason to bring all of this up is that the MGM Grand and the NBA on Tuesday announced yet another partnership. This one will have the MGM becoming the "Official Data Partner of the NBA" or something to that effect.
What does it all mean?
More logo
For starters, you'll be seeing a lot more of Jerry West's silhouette affixed to stuff at the MGM and sister properties such as Bellagio, Mandalay Bay and The Mirage.
We may finally learn what constitutes an NBA assist, as assist is an official basketball statistic and statistics are official data.
It will mean that NBA commissioner Adam Silver will look like a star when the rest of the pro leagues fall in line and publicly embrace the connection between sports and legal betting after doing it behind the scenes for years. Nobody has done more to increase interest in pro sports, and to protect the integrity of the games, than Las Vegas and its oddsmakers.
It's now time for Roger Goodell and his hypocritical brethren to shed the plain brown wrappers and admit it.
It also means that Las Vegas has moved a giant step closer to landing an NBA franchise.
A Bob Lanier-sized step.
And that's a pretty big step, given the Hall of Fame center for the Detroit Pistons wore size 22 Converse All-Stars.
If I were a Pelicans season ticket holder or a ballboy at Smoothie King Center, the New Orleans arena that is 19 years old and soon will require a face-lift (and the public funds that would help finance one), I would be very concerned.
Not-so-strange bedfellows
The NBA and MGM Grand are so entwined in bed — Summer League, WNBA and now, official data providers and disseminators — that when Adam Silver and Jim Murren finally emerge from under the covers, one fully expects the commissioner to be puffing on a cigarette wearing a smoking jacket with the MGM Lion embroidered over the heart, and the CEO holding the keys to an NBA franchise.
What a blissful arrangement this is turning out to be.
Maybe it won't be the Pelicans who relocate to Las Vegas. But it could be them, especially now that the two men most responsible for keeping the team in New Orleans amid the flotsam and jetsam of Hurricane Katrina are retired in the case of one, and no longer frequenting the owner's box in the case of the other.
It was Adam Silver's predecessor David Stern who prevented former owner George Shinn from packing up and moving to the Silicon Valley or someplace similar. It was Stern who found a buyer who promised to keep the team be-bopping like Charlie Parker and Dizzy Gillespie right where it was.
Tom Benson, who also owned the NFL's Saints, died in March. The NBA team he purchased for $338 million in 2012 may be worth three times that today.
The Pelicans aren't for sale. Not yet, anyway. But if Benson's widow, Gayle, is looking to unload the team and turn a tidy profit, Adam Silver might be able to introduce her to his guys in the desert.
In fact, I'd bet Al Hirt's trumpet on it.
The Pelicans' lease at Smoothie King Center doesn't expire until 2024, but a good lawyer probably could thread a bounce pass through any legal full-court press before the first TV timeout. Especially with Silver's blessing.
But if it's not the Pelicans that soon will be loafing on defense at T-Mobile Arena, then it will be somebody else.
In May, Jim Murren said he expected Las Vegas to receive an NBA team within three to five years. That was after the MGM Grand was vetted for WNBA ownership and before it became the Official Data Partner of the NBA.
If the handwriting was on the wall before, now it is up on the transparent glass backboard for all to see.
Contact Ron Kantowski at rkantowski@reviewjournal.com or 702-383-0352. Follow @ronkantowski on Twitter.