Las Vegas resident Mitch Glasser helps Israel to first World Baseball Classic berth
October 5, 2016 - 11:59 pm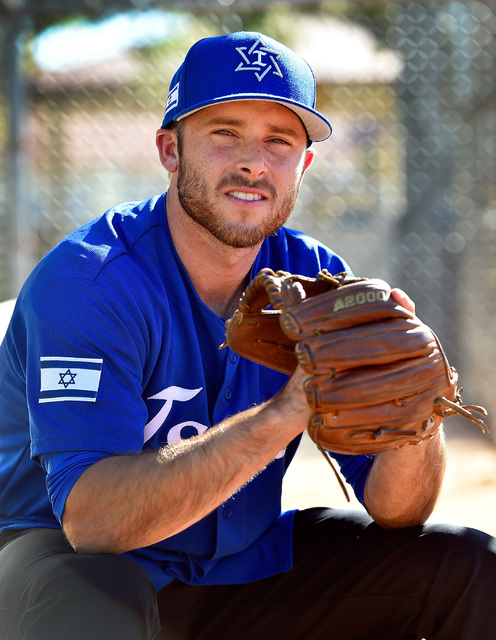 There's this thing called The Baseball Dream, and sometimes it dies hard, and sometimes it will have you chasing it to faraway lands. It can have a Fellini-like quality. Sometimes, if you let it play out and take you where it will, it can even help you get in touch with your spiritual side.
Mitch Glasser is a substitute social studies teacher at Green Valley High School who was born and raised in Chicago. He was actively involved in his Jewish community; he went to the same high school, Latin High on Chicago's near North Side, that produced Nancy Reagan and former Byrds front man Roger McGuinn and Bob Balaban, the character actor who played Russell Dalrymple, the fictional president of NBC, in "Seinfeld."
Mitch Glasser played baseball in high school and at a tiny college in St. Paul, Minnesota, called Macalester. In 2012, he was drafted by the White Sox, his favorite team, in the 39th round, the 1,191th player selected of 1,238.
He went 1-for-11 for the White Sox Rookie League team at Bristol of the Appalachian League before being released. The parent club gave him a job as a video instructor for their farm club in Kannapolis, North Carolina.
The Kannapolis manager was Pete Rose Jr., who, no doubt having chased the dream to utmost lengths himself, told Mitch Glasser he shouldn't stop playing. Not yet, anyway. And so Glasser went to Australia to fielder grounders for the Melbourne Aces, and then the past two seasons he played for the independent Joplin Blasters of Missouri. He played all nine positions in one game for the Blasters, a la Campy Campaneris.
Then on Sept. 25, he played second base with the Star of David on his cap and Israel in his heart, and stitched across his chest. On that Sunday night, he fielded ground balls behind Jason Marquis, who spent 15 seasons as a pitcher for the Braves, Cardinals, Cubs, Rockies, Nationals, Diamondbacks, Twins, Padres and Reds.
Glasser fielded the first two grounders of the game and the last one, as Israel defeated Great Britain 9-1 to qualify for its first World Baseball Classic at MCU Park, the home of the Brooklyn Cyclones, the New York Mets' affiliate in the New York-Penn League.
History was made in the shadow of the Cyclone roller-coaster. A couple of thousand baseball fans, who, like Glasser, may have been actively involved in their Jewish communities, whooped it up.
"We definitely had the home-field advantage," said Glasser, who went 1-for-4 with a double against the Brits, whose pitching coach was Trevor Hoffman.
Glasser, 26, was one of 13 Team Israel players who once were property of major league baseball clubs, and one of several who have ties to Las Vegas — former Las Vegas 51s Josh Satin, Ike Davis and Josh Zeid were on the roster, as was Mike Meyers, an outfielder from Silverado High and a Red Sox farmhand. Dean Kremer, the first native of Israel to be drafted by a big league club (Dodgers), briefly pitched for UNLV. Backup catcher Nick Rickles also recently moved to the valley, Glasser said.
"We had a great team, a lot of former big leaguers — it was amazing to see how those guys go about their business," Glasser said. "But the coolest thing was just being around 28 other Jewish ballplayers. We had different levels of Judaism, but we all came from similar families.
"I went to Jewish day school in Chicago for 11 years so I grew up with Judaism being a large part of my identity."
So much so that he has made two sojourns to the Holy Land. During one, he was exposed to Baseball Le-Kulam, which is Modern Hebrew for "Baseball for All." As in all-inclusive. Glasser said Israeli Jews and Israeli Arabs play together during the instructional camp, and there never has been a beanball or an international incident.
So next up for Team Israel is a date with the talented South Koreans in Seoul on Feb. 7. Glasser said he's not sure if he'll be making the trip, because Jerry Weinstein, the Colorado Rockies' director of minor league development and the Israel skipper, has indicated he will reach out to major leaguers of Jewish ancestry to play against other major leaguers.
Said Mitch Glasser on Tuesday after social studies class let out: "If they say 'Sorry, Mitch, we're bringing in Ian Kinsler to play second base,' I will totally understand."
Las Vegas Review-Journal sports columnist Ron Kantowski can be reached at rkantowski@reviewjournal.com or 702-383-0352. Follow him on Twitter: @ronkantowski