Meet the man behind the mask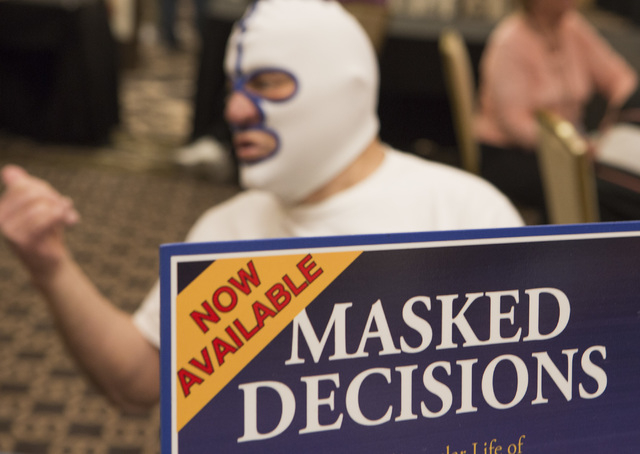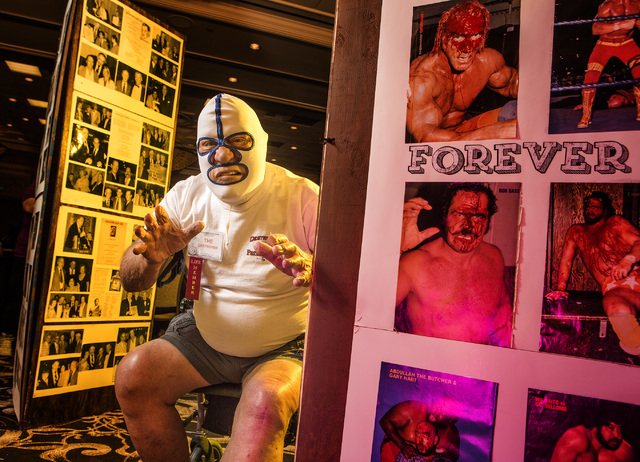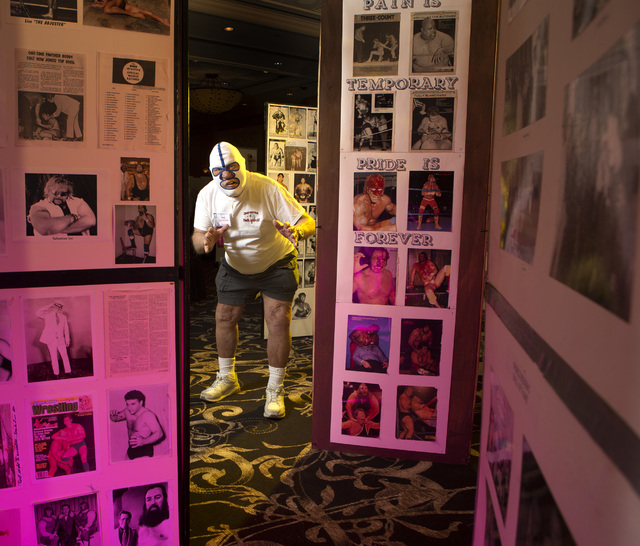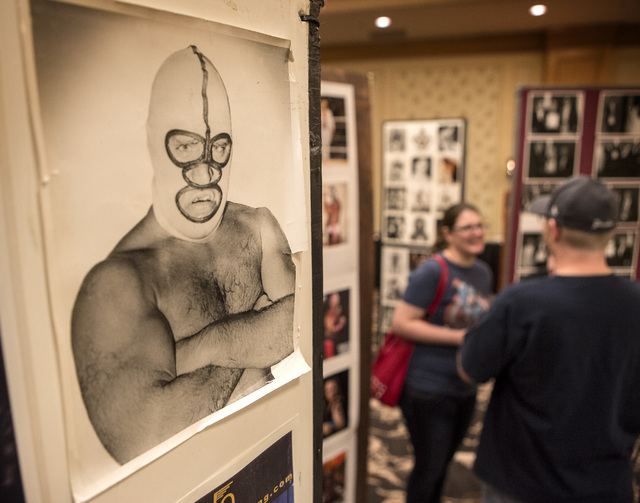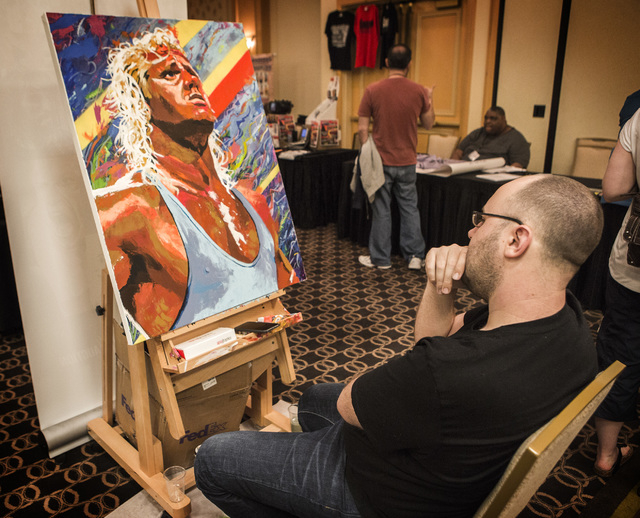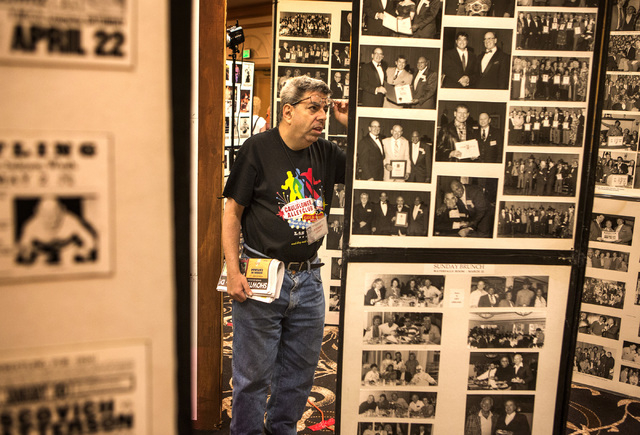 It was the final day of the Cauliflower Alley Club convention for old pro wrestlers at the Gold Coast, and "The Destroyer/Doctor X" was running late. That's just how it is with masked men. With the exception of Batman and the Lone Ranger, they rarely show up on time.
In the walkway between the merchandise and autograph booths and glossy black-and-white photograph displays of the former turnbuckle smashers, a man from Kansas City named Rob Schamberger — "The Artist of Champions," it says on his business card — was painting a portrait of Curt Hennig, aka Mr. Perfect, who was found dead in 2003 at age 44.
Schamberger makes his living painting wrestlers. He said he probably would just give this one to Mr. Perfect's family, though.
In a square space formed by tables in the middle of the meeting room, the former grappler Bill White had started a cribbage tournament. White said pro wrestlers would play cribbage at the civic centers and armories and high school gymnasiums to pass the time before and between matches.
White, who is 70 and grew up in South Philadelphia, also danced on the old "American Bandstand" show. He could do the Swim and the Mashed Potato. He got to Rate-A-Record with Dick Clark.
He said he still had all of his original body parts, which is unusual among Cauliflower Alley Club members.
Around 11 a.m., there was a small commotion at the door.
In walked 84-year-old Dick Beyer, aka The Destroyer," aka Doctor X. He was growling a little bit, but that's just the way he talks. He was using a walker; otherwise he looked well. He was wearing shorts and a white wrestling mask with blue accents.
Children rushed to greet him — most kids love the masked marvels of the wrestling ring.
The mask is like Santa Claus' beard, Beyer would say after we sat down to talk. At first, the kids are a little afraid of it. But once they reach a certain age, they love it and pro wrestling in general. Eventually they outgrow it. Most of 'em anyway.
I once had a pal named Eric who didn't outgrow pro wrestling. Not totally. He was the center on our high school football team. When I was away at college, he took a job at a corn milling plant. Something blew up, a furnace or something, and Eric suffered disfiguring facial burns. I guess he more or less become a recluse.
He had to wear a mask to reduce the scarring. He made his mask look just like Doctor X's, stitching a big red X on the forehead. After that, Eric began to leave the house and to live again.
I thought Dick Beyer might like to hear that story.
He said he had been a football player, too. He was captain of Syracuse's 1953 Orange Bowl team that got skunked by Alabama. Beyer played guard; Jim Ringo, the Pro Football Hall of Famer who would star for Lombardi's Packers, played center.
Beyer would become an assistant at Syracuse under Hall of Fame coach Ben Schwartzwalder. He coached Jim Brown, the greatest running back he had ever seen. Until he coached Ernie Davis, the first African-American to win the Heisman Trophy.
Before he put on a wrestling mask, Beyer was a high school wrestling, football and swimming coach in upstate New York. He married two women named Wilma; he and the second Wilma, a former high school nurse, have been married 33 years.
When he was The Destroyer in Japan, Dick Beyer took up golf. He owns a park golf course — Destroyer Park Golf, short fairways in a small space — in Akron, N.Y. He has managed his wrestling money wisely, having put three kids through college despite not receiving a royalty check from Debbie Harry.
There's a picture on the Internet of Blondie singing while wearing a T-shirt with Doctor X's picture on the front. That's how big Dick Beyer was.
He said he once beat Dick "The Bruiser" for the title but usually lost to him, and that one night, in Calumet City, Ill., The Bruiser introduced him to his stripper girlfriend. Bruiser wound up marrying that girl, Doctor X said.
The good Doctor kept telling wrestling stories until another hulking form edged by on his way to where Bill White was playing cribbage.
It was Larry Hennig, Mr. Perfect's father.
"Remember that guy?" growled The Destroyer/Doctor X. "That guy used to really kick my ass."
Where, I asked, thinking it might have been Kansas City, or Calumet City, Ill., on even the Hammond (Ind.) Civic Center, where we watched the AWA pros apply figure-four leg locks and toss the occasional folding chair when we were 11 or 12.
"All over," Beyer said, rubbing a broad shoulder as if it still hurt.
It probably still did.
The man in the mask kept telling wrestling stories until I noticed fans were lining up to meet him and to hear some of the stories he was telling me.
We shook hands. Take care, Doctor X. He thanked me for sharing that story about my friend Eric.
Under the mask, you could see that Dick Beyer's blue eyes were smiling.
Las Vegas Review-Journal sports columnist Ron Kantowski can be reached at rkantowski@reviewjournal.com or 702-383-0352. Follow him on Twitter: @ronkantowski.