NASCAR's Kurt Busch, Knights' Deryk Engelland trade places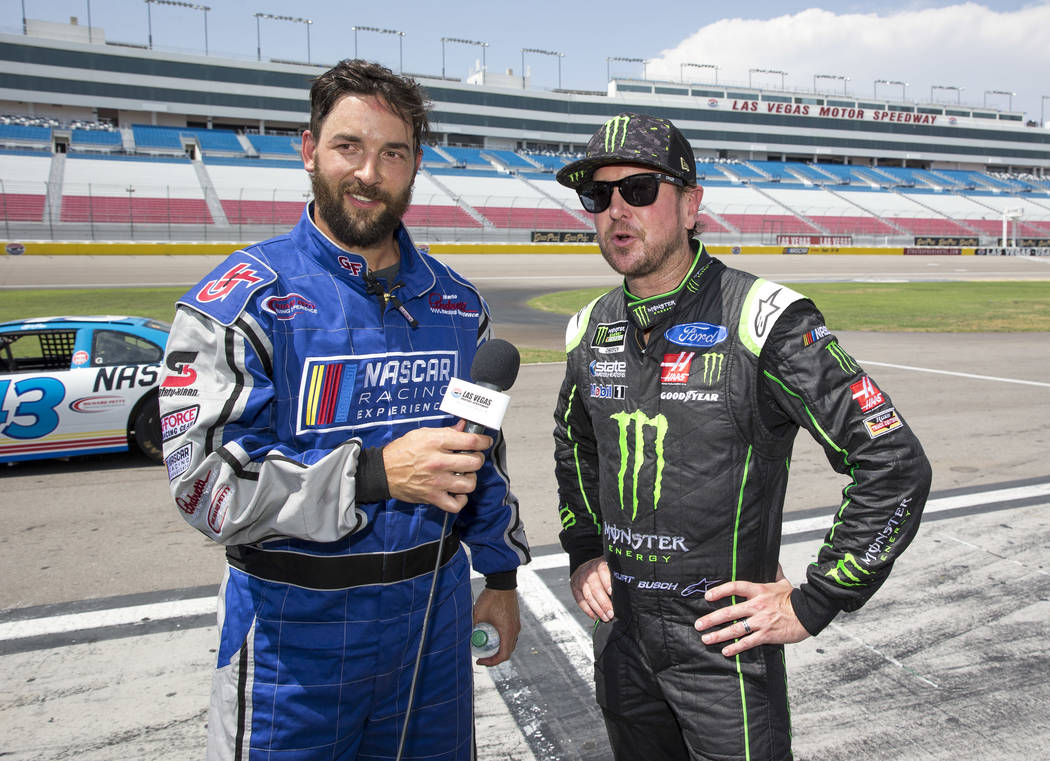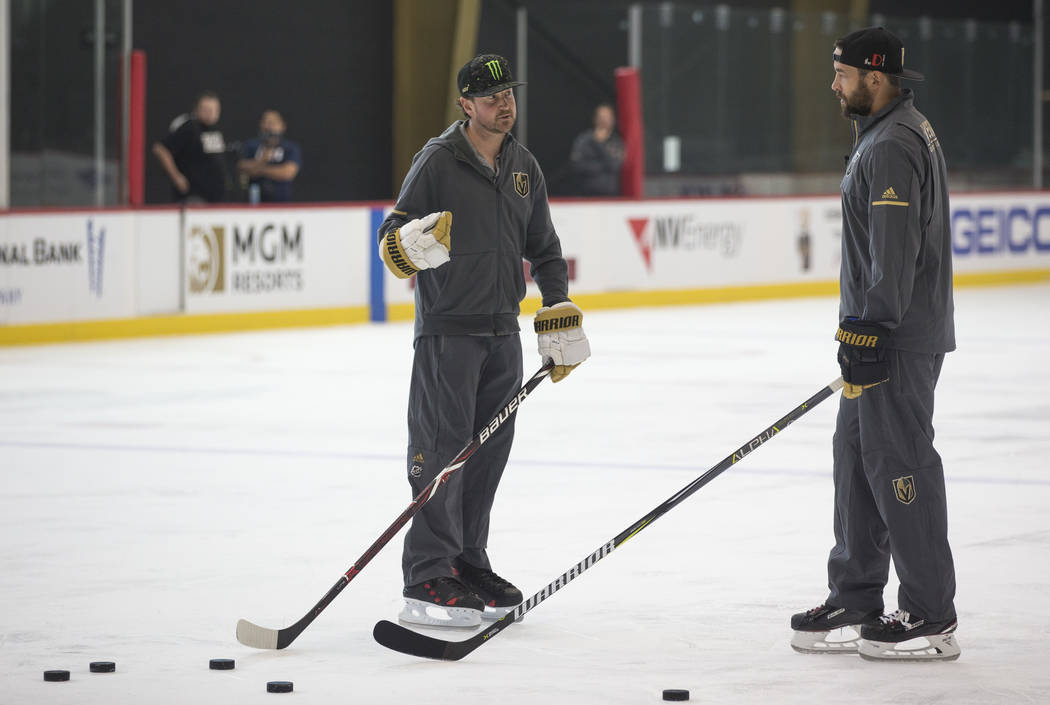 For a few hours Monday, Kurt Busch and Deryk Engelland made like Dan Aykroyd and Eddie Murphy in the movies.
They traded places.
Only the NASCAR star from Las Vegas and the Golden Knights defenseman who makes his home here weren't trying to help Randolph and Mortimer Duke corner the orange crop market. They were trading places to remind the public that Las Vegas Motor Speedway will host the first race of the NASCAR playoffs on Sept. 16.
This is where we in the media are supposed to say plenty of great seats remain for the South Point 400, and for the Truck and Xfinity Series races on Sept. 14 and 15. And that children 12 and under get in free on Friday and Saturday and for $10 on Sunday with a ticketed adult.
Slip sliding away
Busch took a commercial flight from Michigan, where he finished sixth in Sunday's Cup Series race at Michigan Speedway — which more or less is where the driver of the No. 41 Stewart-Haas Racing Ford (for a little while longer, anyway) usually finishes based on his ranking of fourth in season points.
He only fell once as Engelland and Knights broadcaster Shane Hnidy, who skated in the NHL for 12 seasons, showed him some of the finer points of ice hockey at City National Arena, or at least how not to look like Adrian on her first date with Rocky Balboa.
"Let's hope Deryk doesn't do the same thing out at the track," said LVMS media director Jeff Motley, a quote that would be awarded the No. 1 star at day's end .
Busch, rumored to be joining Chip Ganassi Racing for the 2019 season, told a reporter he had been on skates only a few times, and one was at Rockefeller Center in New York City and involved a woman and a winter holiday.
Not exactly the same as killing a penalty against the Rangers.
But by the end of the hour, the Las Vegas lead-foot was displaying better balance and his ankles weren't turning nearly as much as his race car on the road circuit at Watkins Glen. Busch even scored an empty-net goal by roofing a wrist shot that ticked the underside of the crossbar.
Afterward, he was asked would he rather stuff his race car into the retaining wall at 190 mph or get stuffed into the Plexiglas by Dustin Byfuglien of the Winnipeg Jets at a much slower speed.
"I love my roll cage, I love my seat and helmet and all my safety (devices); I feel pretty secure in there," Busch said, adding that he was looking forward to rattling Engelland's cage on the track, as Dale Earnhardt Sr. once did to him when he was a rookie.
'You're driving, live …'
Upon arriving at LVMS, the racer and hockey player were greeted by South Point personalities Brent Musburger, who was looking, live, at a 1.5-mile oval that appeared to be melting under an oppressive sun; and oddsmaker Jimmy Vaccaro, who put the over/under on race day temperature at 95 degrees, touching off a mad dash to Cannery on Craig Road to get down on the over.
Engelland appeared to be driving on an unfrozen pond his first couple of laps but gradually worked up a fair amount of speed. Timing and scoring had him at 155 mph during his ride-along with Busch, but timing and scoring has been known to bring out the generous speed gun when celebrities are making the rounds.
"To be able to do that at 200 mph with 40 other cars for three hours — I did five laps and my arms are a little sore from that," said the 36-year-old Engelland, who scored five goals with a career-high 18 assists during the Knights' remarkable debut season while emerging as Vegas' inspirational leader.
When asked about what he drives around town, he said he has a couple of SUVs, a Jeep Cherokee, a Kia courtesy of Findlay Kia … and a Maserati.
A Maserati? Whoa. That's a pretty fast ride for a stay-at-home defenseman.
"Maybe 100 … ish," he said with a sheepish smile when asked how fast he has driven the Italian sports car. "Not nearly as fast as out here."
Monday was the first day of school, and Deryk Engelland said after lunch he might have to skate back to town to pick up his kids.
It was suggested he take one of the SUVs or the Kia rather than the Maserati. He agreed that probably was a good idea.
Contact Ron Kantowski at rkantowski@reviewjournal.com or 702-383-0352. Follow @ronkantowski on Twitter.