KANSAS CITY, MO. — It's a good thing the conditions were unseasonably reasonable — sunny, breezy, around 50 degrees at kickoff — for pro football played outdoors in the Heartland two weeks before Christmas.
Had this been Buffalo, the Raiders probably would have gotten their collective tongues stuck on a frozen pole.
They lost 26-15 to a Chiefs team that had dropped four in a row and six of its past seven, and it wasn't that close. Instead of a playoff berth, the Raiders might now have to settle for an official Red Ryder, carbine action, 200-shot, range model air rifle, with a compass in the stock and this thing that tells time.
There's still time for this Christmas story to have a happy ending — there's always time when one is aligned with the Division of Mediocrity, aka the AFC West. But at 6-7, the Raiders no longer control their playoff destiny.
Their postseason hopes are suddenly looking more fragile than the leg lamp of Ralphie Parker's old man.
High hopes scuttled
"Missed opportunity," Raiders coach Jack Del Rio said about the Raiders' failure to grab a share of first place in the Division of Mediocrity. "We obviously came in with high hopes. Everything that we wanted to accomplish in our season was in front of us. It was a big day, a big moment, and we did not play well."
During the first 2017 renewal of this storied rivalry on a Thursday night in October, the Raiders wrote one of its most amazing chapters. They gained a bazillion yards before scoring a touchdown on the second of two untimed downs to pull out a 31-30 victory.
There could have been two dozen untimed downs in this one and it wouldn't have made a difference.
Here were the Raiders playing for first place, and here were their possessions through three quarters against a Kansas City defense that was ranked 30th among 32 pro football teams when the day began: Punt, punt, punt, interception, punt, punt, fumble, punt.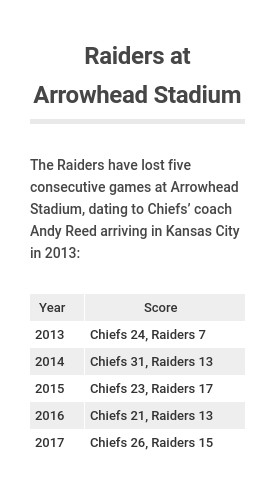 "Four punts and an interception in the first half, offensively. Not the start we envisioned," Del Rio said.
Here were the Chiefs' first eight possessions, not counting the one when time expired before halftime: Field goal, touchdown, field goal, field goal, field goal, punt (finally), interception, touchdown.
Here were the Chiefs, also playing for first place, taking a 26-0 lead.
It was as if the Raiders and Derek Carr were playing in a blizzard in Buffalo while the Chiefs and Alex Smith were matriculating down the field, Hank Stram style, on Waikiki Beach during Pro Bowl week.
Carr: My bad
Carr said you could blame the loss on him, which is what Carr usually says when the Raiders don't win. Only this time, it wasn't about being a stand-up guy and a good teammate.
"We gotta play better and you can put it all on me," he said before giving one- and two-word answers during his mandatory postgame news conference.
"What weren't you able to do today?" he was asked.
"Win."
"Can you talk about the execution, the lack of execution, in a big game?"
"It sucked."
Carr's responses would get less terse, but no more insightful. His record at Arrowhead Stadium fell to 0-4. There was none of the magic he showed in that crazy victory over the Chiefs at Oakland Coliseum. When the Raiders were able to get guys open down the field, Carr missed them, or he didn't see them. He also was sacked three times.
He was asked if this was the worst game he remembers the Raiders playing.
"No. My rookie year we were terrible."
Carr completed 24 of 41 passes for 211 yards, a touchdown and two interceptions, with much of the output coming in the fourth quarter after the Chiefs took their foot off the gas and the Raiders recovered an onside kick. By then, a majority of fans on the shady side of Arrowhead had left for a pulled pork sandwich at Arthur Bryant's.
"Don't you blame one coach, one player," Carr said again. "It's all my fault."
It wasn't entirely his fault, but a lot of it was, and as the sun set on Arrowhead Stadium, the temperature dropped in a hurry. Had Derek Carr tried to put his tongue on the goal post, it's likely it would have gotten stuck.
Contact Ron Kantowski at rkantowski@reviewjournal.com or 702-383-0352. Follow @ronkantowski on Twitter.