Raiders donate $35K to help Las Vegas Valley students
Updated September 25, 2018 - 5:54 pm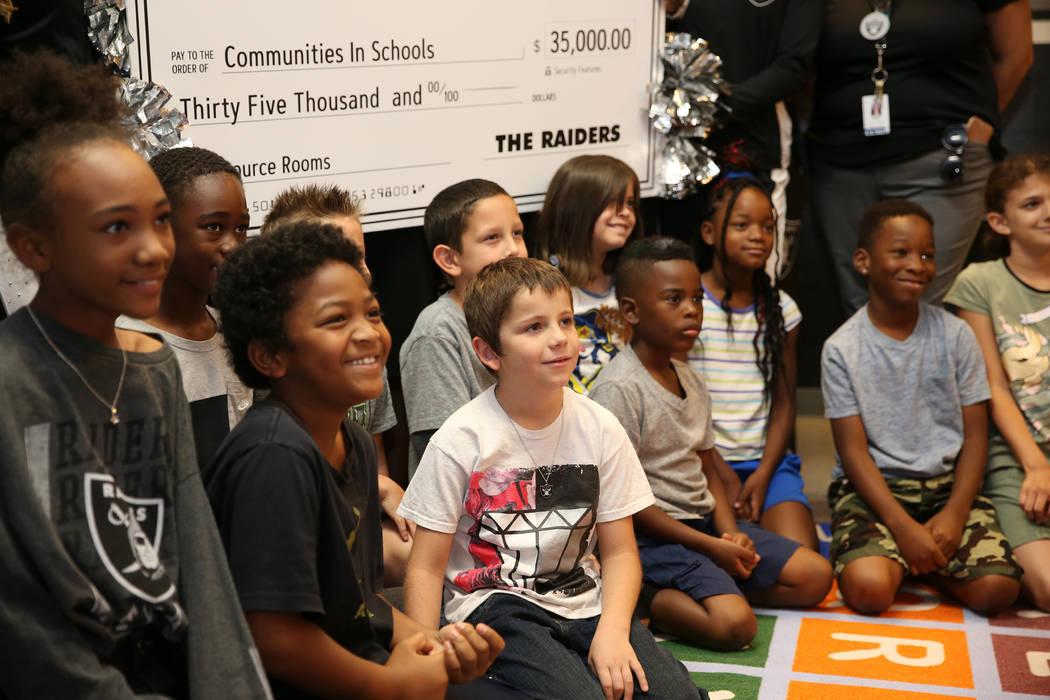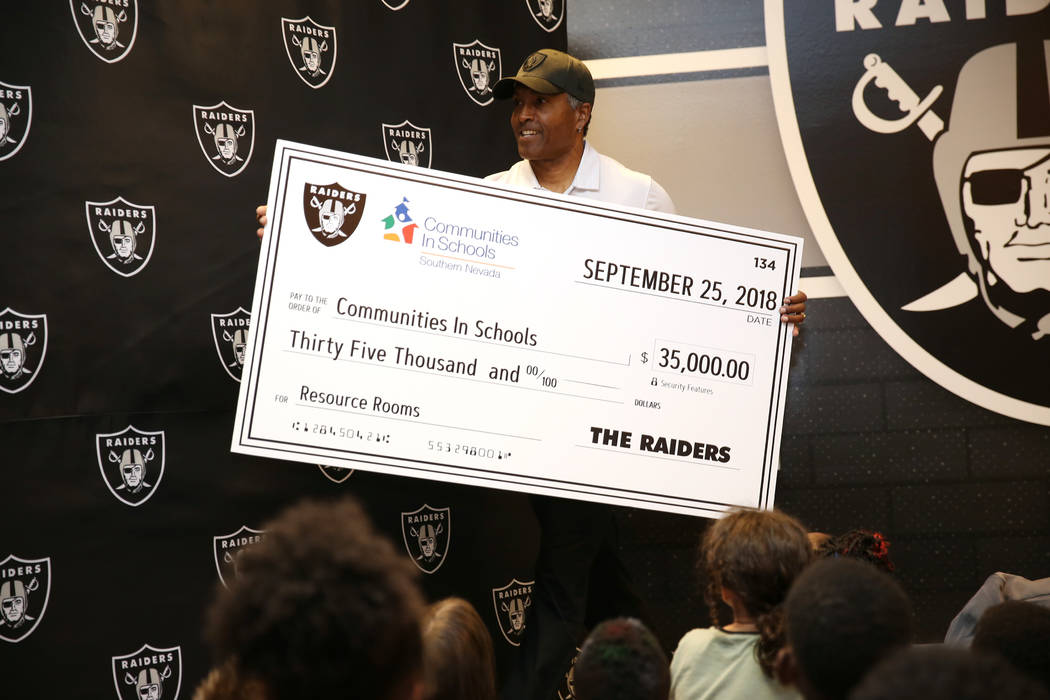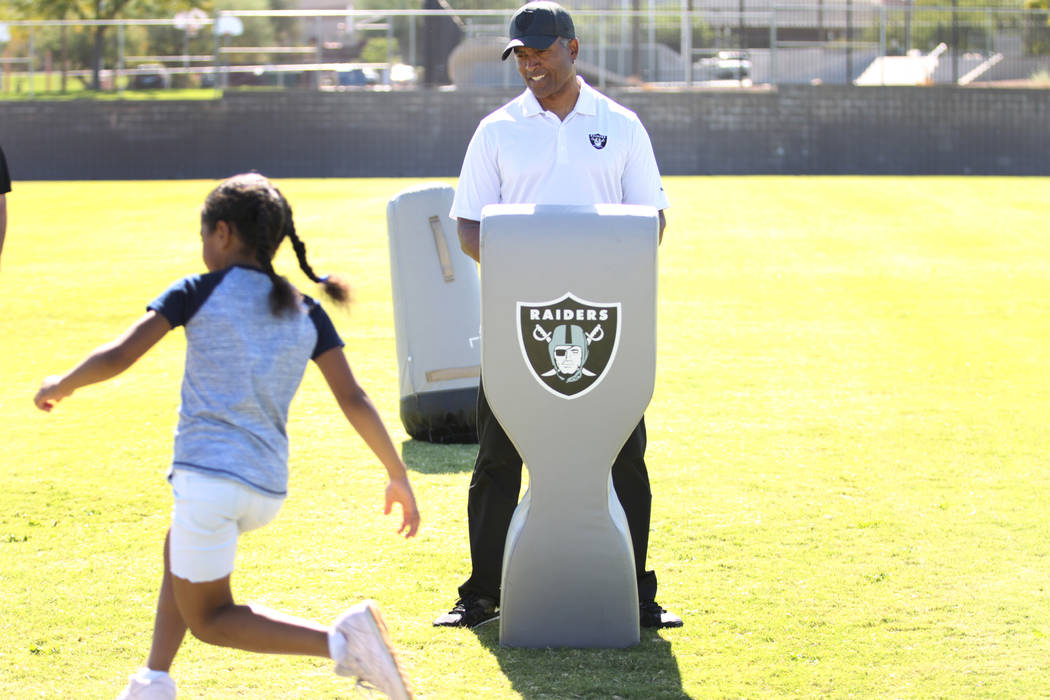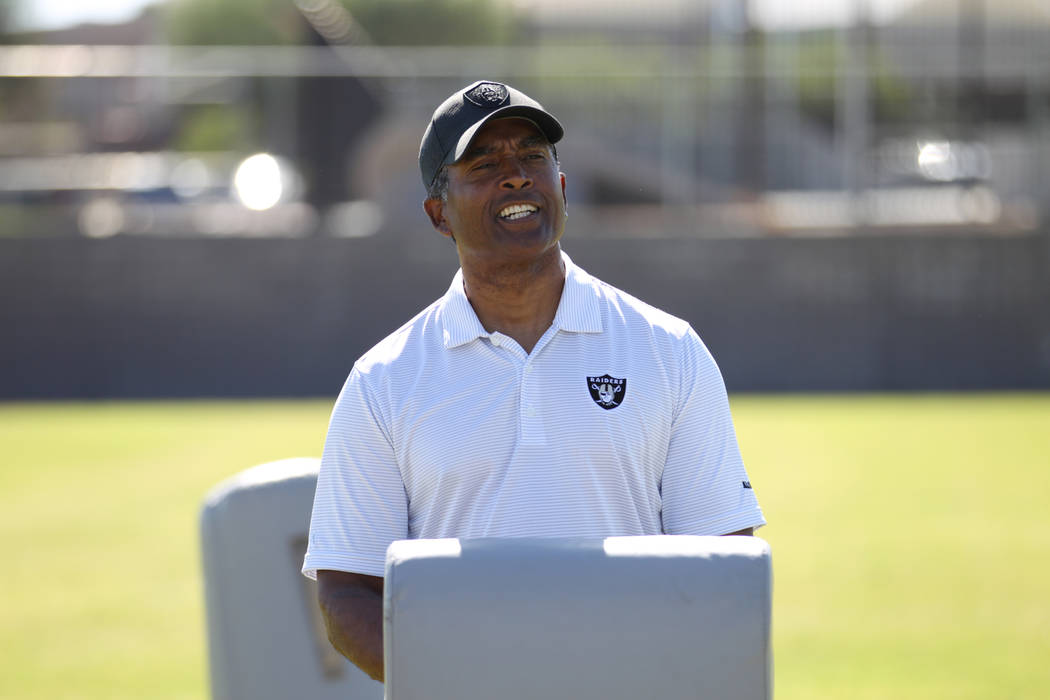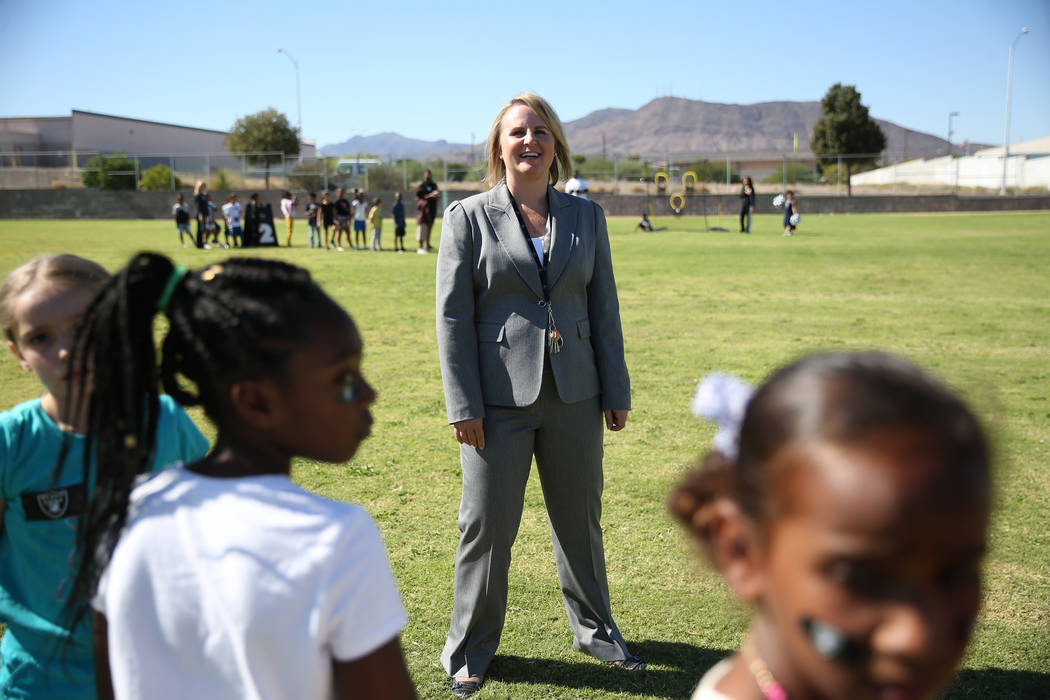 They are winless. The pass rush is non­existent. The high-priced coach and his front office are at odds. The high-priced quarterback is throwing interceptions at the worst time. They couldn't beat Basic High in the fourth quarter. And when they move to Las Vegas in 2020, there might not be a place to park.
But sometimes perspective is called for with the Raiders.
On Tuesday, the NFL franchise wrote a check for $35,000 so students at Robert Taylor Elementary School in Henderson and four schools to be named later don't have to go to school hungry and can brush their teeth.
The Raiders — and Communities In Schools of Southern Nevada — made principal Kim Basham cry.
In a good way.
"When I came to Robert Taylor two years ago, my vision, my mission, my goal was to secure wraparound services for our students," she said, standing in front of a giant silver and black Raiders shield in the new resource room that also will house the school's accelerated reading program.
Almost 95 percent of students at the school are on a free or reduced-cost lunch program. At Taylor, it's not so much about reading, writing and arithmetic. It's mostly about just surviving to the next day when the school bell rings.
"They struggle with things like shoes and clothes and socks and underwear and those basic things," Basham said.
Emotional day
Taylor is the first Henderson school to partner with CIS of Southern Nevada. Even though Basham established attendance incentives, absenteeism increased during the 2016-17 school year, with more than 20 percent of the 670 students missing more than 18 days of classes.
The school received a one-star rating from the state. Whether it's recruiting outside linebackers or attendance ratings, one star is rarely desired.
But with the Raiders writing the check, the tables and shelves in the resource center are now well stocked with the necessary things: shoes, jeans, T-shirts, underwear, backpacks, books, nutrition bars, crayons, books, personal hygiene items.
"It's a dream come true for me. It's a dream come true for the school. All of my staff has stuck with me the past two years to help see this become a reality," said Basham, choking back tears.
"Having the Raiders as a partner with Communities In Schools exceeded my expectations. It goes beyond the room with (logos) on the wall, to people behind the scenes giving to our kids in the community. So we're very grateful and very blessed."
Backpacks wanted
Leo Gray, who played wide receiver for UNLV when Tony Knap was coach and had a stint with the Raiders — "the third minicamp we had, Al Davis called me into the office and asked if I had ever played defense," he said — felt some of those same emotions.
Gray was among the Raiders representatives at the resource room dedication.
He shared an anecdote about backpacks and taking the necessary things for granted.
"I was at a school west of here. I train kids (in athletics), and when I was training one of the kids, and he's going up and down the stairs, a group of younger kids walk in, first day of school," Gray said.
"One kid didn't have a backpack. I said, 'Where's your backpack?' and he said, "I don't have one.' That makes it so important, when you see things like that and you come to a program like this, communities and schools having a partnership with the Raiders. It's something that's much needed."
Eleven Taylor students were kneeling on the floor when the check was passed, and then they went outside for physical education. On this day, that involved blocking dummies and other silver and black accoutrements.
Basham remained behind in the resource center with the necessary things, contemplating a switch in allegiance.
"I grew up in Colorado watching John Elway and the Broncos," she said. "Am I a Raiders fan?"
She chuckled before answering her own question, sort of like pugnacious Raiders running back Marshawn Lynch on the rare occasion he has something to say.
"Absolutely," Basham said. "For life."
Contact Ron Kantowski at rkantowski@reviewjournal.com or 702-383-0352. Follow @ronkantowski on Twitter.
Community In Schools
The story of Communities In Schools began in the 1970s when founder Bill Milliken, then a youth advocate in New York City, came up with the idea of bringing community resources inside a public school building — where they are accessible, coordinated and accountable.
In the span of 30 years, Communities In Schools has become the nation's leading dropout prevention organization. The model positions a coordinator inside schools to assess needs and deliver necessary resources that remove barriers to success.