Simon Keith Foundation honors heart transplant recipient
Updated October 6, 2018 - 4:50 pm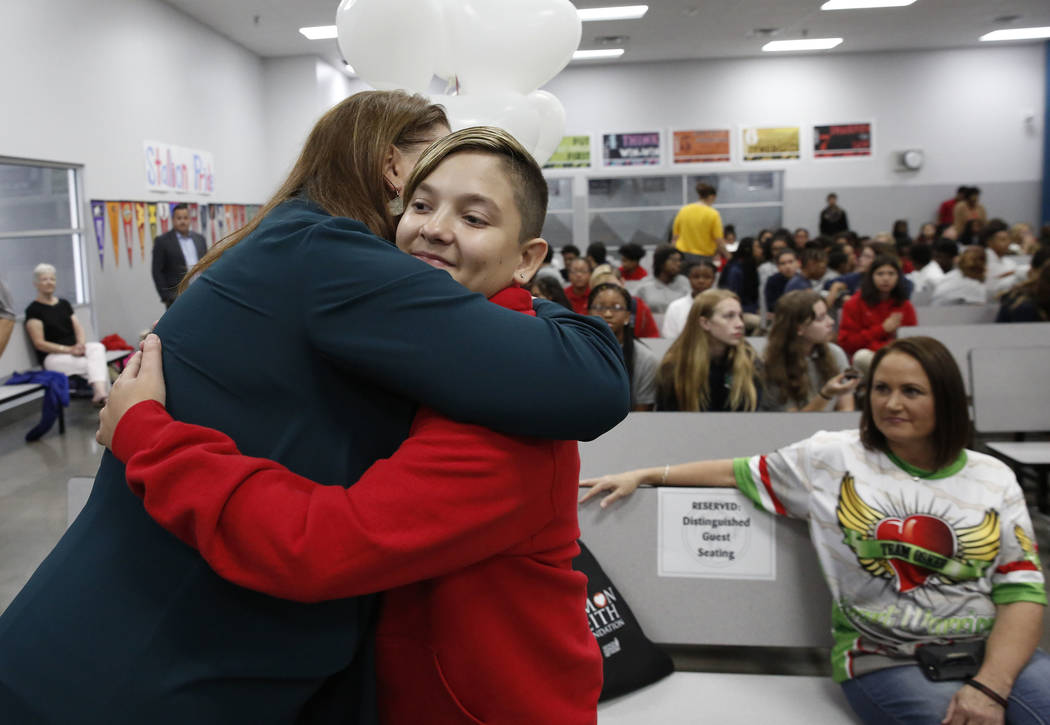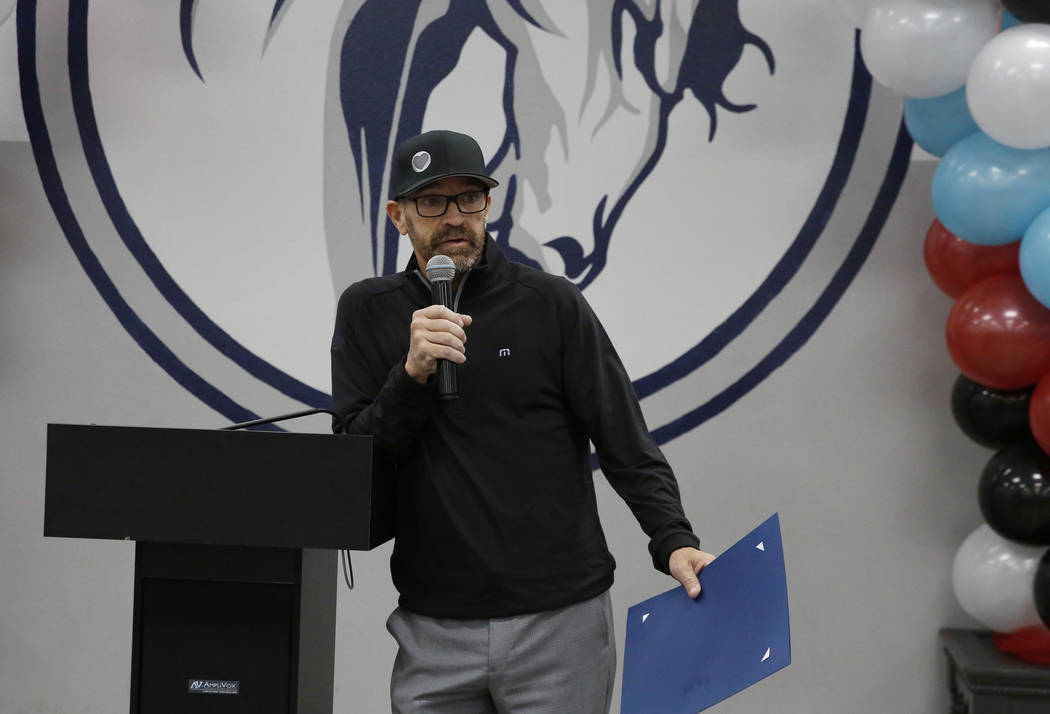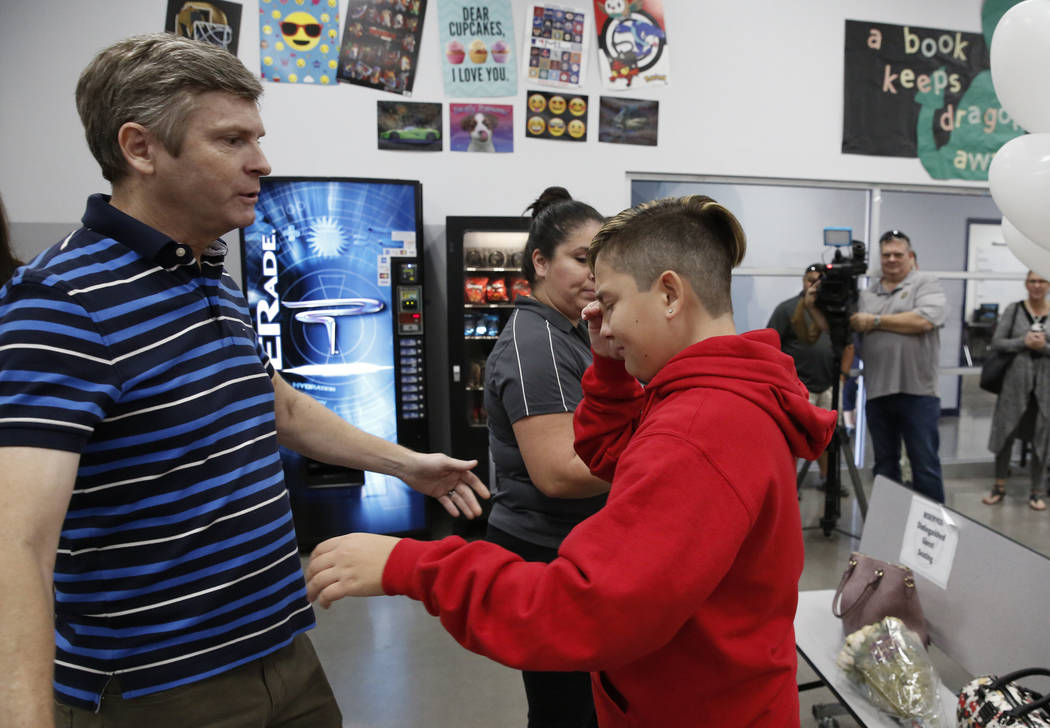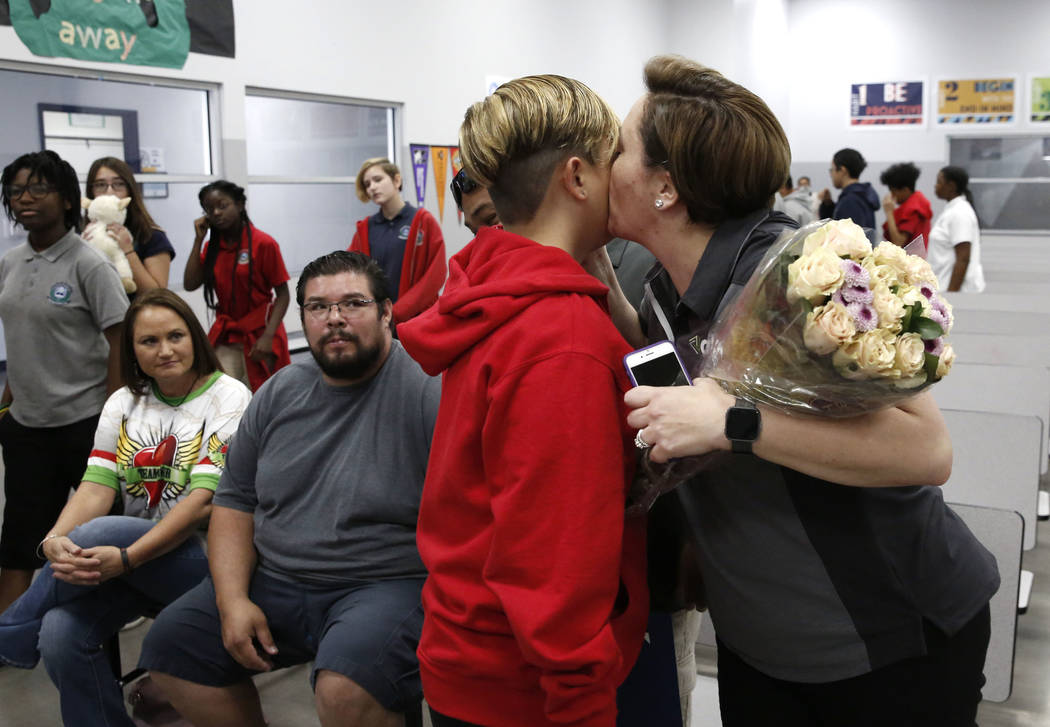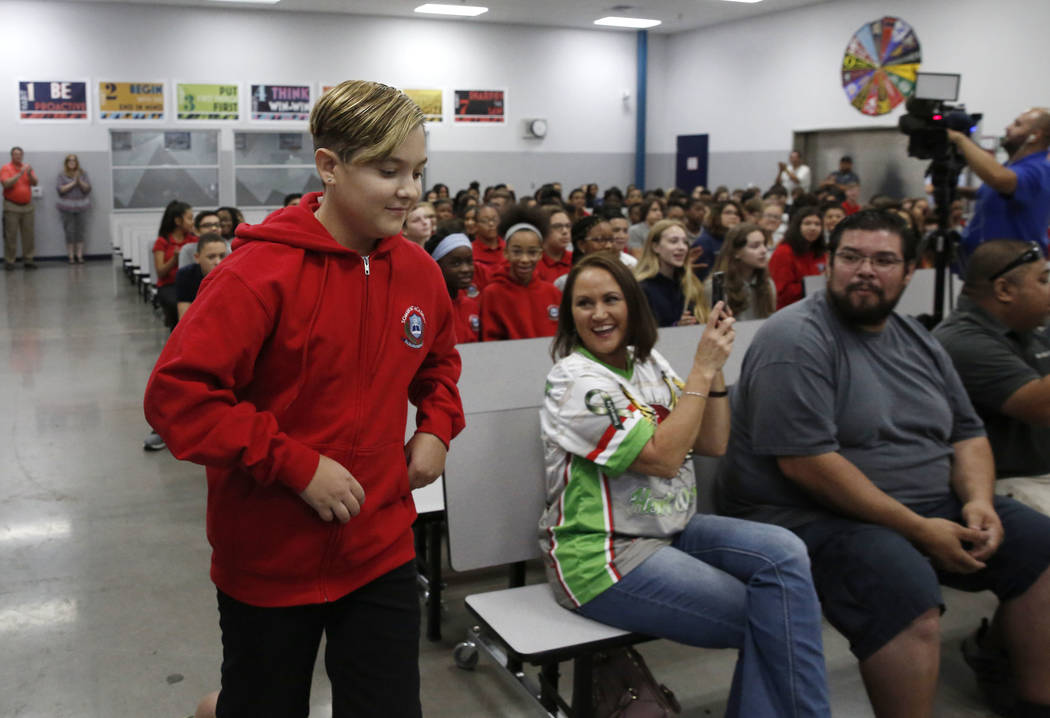 In the five years since his foundation was founded to create awareness in organ donation, Simon Keith has raised more than a million dollars for youngsters in need of transplants.
It goes without saying the generosity of his benefactors provides an invaluable and lifesaving resource.
But emotionally it's still mostly about the smiles and expressions of gratitude witnessed Thursday morning at Somerset Academy in North Las Vegas.
"These kids we recognize is without a doubt the best thing we get to do at the foundation," said Keith, a 53-year-old former UNLV soccer star and one of the world's longest surviving heart transplant recipients. "These kids are so tough, so resilient what they have to go through."
The tough and resilient one recognized this year was 13-year-old Osker Gamboa, an eighth-grader at Somerset.
"He was 9 years old when he was diagnosed with hypertrophic cardiomyopathy," said his mother, Kim Blas, about 11 syllables a parent never wants to hear about a child. "We were pretty broken when we found out."
In April 2017, when he was 11, Osker received a heart transplant. He doesn't get pulled out of PE class anymore.
"First of all, I want to thank the donor family," his mother said, fighting back tears. "It's super important they know Osker is doing good things (to honor) their loved one. He couldn't have a better life. At the same time, when we received that call, we were mourning for the loss of a loved one."
Blas said the support provided by Keith and the foundation when Osker encountered health issues symptomatic of such a delicate procedure was immeasurable.
So, too, was the drum kit.
"When Osker was having a hard time and struggling and going through the day-to-day doctor's appointments — the poking, the prodding, the exams, the resting — they gifted him with a drum set. He wanted to play the drums," Blas said.
"Not only do I believe it was a way for him to (deal with) his frustrations — that he got to beat on the drums — but it also took his mind away from things. The Simon Keith Foundation was instrumental in relieving some of that daily stress of going through the transplant process."
The entire eighth-grade class at Somerset convened to applaud her son at a surprise assembly during which Osker also wiped away tears. "When I saw Simon, I kind of got suspicious," he said afterward with a rosy-cheeked grin.
Appreciative and thankful beyond words, Osker Gamboa held a balloon while the eighth grade gathered around him for a class photo that most kids only take for granted.
Irish hurling explained
With UFC superstar Conor McGregor's legions of Irish fans still regrouping from an evening of fisticuffs, roundhouse kicks and whiskey drinking, it seems like the ideal time to point out the differences in the two types of Irish hurling.
The first usually occurs when too many shots of Jameson (or McGregor's own Proper 12 brand) are consumed in one sitting. This is the kind of Irish hurling practiced by American frat boys on St. Patrick's Day.
The other form is an ancient game of Gaelic and Irish origin played with sticks and a ball. Hurling is a physical sport. But like most Irish games, protective padding is not permitted (other than a rudimentary helmet).
Top hurlers over the years — and that's putting it mildly, considering there have been around 4,000 years of hurling — include Christy Ring of Cork, Henry Shefflin of Kilkenny, Mick Mackey of Limerick, Nickey Rackard of Wexford and Jimmy Doyle of Tipperary.
Never heard of those lads?
That's OK. Most proper Irishmen have never heard of Murderers' Row, either.
"Irish hurling is definitely one of the most electrifying sports to watch," Cormac Davidson, a fan of Irish hurling (the second kind) and McGregor, said at Wednesday's UFC 229 open workouts at Park Theater at Park MGM. "The best part about it is none of those guys get paid a cent for what they do."
Perhaps new helmets are called for.
As for the other form of Irish hurling and whether Davidson and his pals planned to partake, it was far too early in the day to predict.
Contact Ron Kantowski at rkantowski@reviewjournal.com or 702-383-0352. Follow @ronkantowski on Twitter.
Organ donors
Former UNLV soccer star Simon Keith said it is now possible to become an organ donor in three easy steps:
1. Open health app on a cellphone.
2. Tap medical ID.
3. Tap sign up with donate life.
Another way to become a donor is to visit the Nevada Donor Network website at nvdonor.org.