St. Louis Blues, today's Knights were built in similar ways
By now, you've probably seen the asterisk.
Or the parentheses, which is how one TV graphic listed the 1967-68 St. Louis Blues in context with the Golden Knights and making it to the Stanley Cup Final as an expansion team.
At first blush, mentioning those Blues with these Knights might seem like heresy, or at least more audacious than Stu "The Grim Reaper" Grimson becoming a practicing attorney after serving his last game misconduct.
There were only 12 teams then, and six — St. Louis, Philadelphia, Los Angeles, Minnesota, Pittsburgh and California/Oakland were new. They played amongst themselves in a separate division. So one was assured of going to the Stanley Cup Final.
Not the same as emerging from a field of 31 teams, as the expansion Knights have done.
Having to beat only two of the other underlings in playoff interludes before skating for the Cup guaranteed one of the new teams would be successful, or at least an interesting story, much in the same manner a preferential expansion draft was designed to give the Knights a chance to succeed.
In 1967, the six existing teams protected a goalie and 11 skaters from being selected by one of the upstarts.
Fifty years later, established teams were allowed to protect seven forwards, three defenseman and a goalie, or a goalie and eight skaters regardless of position, from master hockey craftsman George McPhee.
So good players were available in both expansion drafts.
Singing the Blues
The Blues struggled in their first season, finishing 27-31-16 and in third place in the newly minted West Division. Lynn Patrick stepped down as coach in November and was replaced by the legendary Scotty Bowman, a transaction foretelling of St. Louis' early success and invoking comparisons of the Blues of 50 years ago and the Knights of today.
Both featured Hall of Fame goaltending.
The Knights have Marc-Andre Fleury, who at 32 was thought to be too long in the missing tooth to be protected by the Pittsburgh Penguins. The Blues had Glenn Hall, who at 35 was left off the Chicago Blackhawks' safe list for the same reason.
Vegas' leading scorer is Lars William Karlsson, aka "Wild Bill," who had totaled just 50 points in 183 previous NHL games. His St. Louis counterpart was Gordon Arthur "Red" Berenson, aka "The Red Baron," who had accumulated only 46 points in 185 games before expansion.
The Knights have Jonathan Marchessault on left wing; the Blues had Frank St. Marseille on right wing.
The Knights have shifty Nate Schmidt and rugged Deryk Engelland on the blue line; the Blues had Jimmy Roberts and the Plager brothers, Barclay and Bob.
Up in the T-Mobile Arena luxury boxes, Knights principal owner Bill Foley paid a record $500 million NHL membership fee. Sid Salomon Jr., son Sid Salomon III, and Robert Wolfson paid $2 million for the Blues, $4 million to Chicago's Bill Wirtz to own St. Louis Arena and $2.5 million to renovate it.
St. Louis Arena did not have luxury boxes. It barely had indoor plumbing when the Blues came into existence.
So that is where the similarities end.
Closer than recalled
There also is a notion among current hockey fans that the Blues, unlike the Knights, had no business in the Stanley Cup final, and that is why they were swept in four games by the vaunted Montreal Canadiens.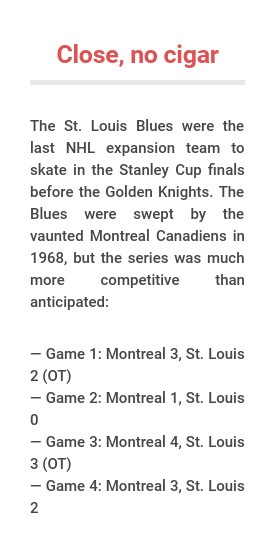 The record book suggests the opposite.
All four games were decided by one goal, including two in overtime.
Glenn Hall limited the Canadiens to 11 goals. The inventor of the butterfly style of playing goal, he was named winner of the Conn Smythe Trophy as MVP of the playoffs in a losing effort.
You could see the same thing happening with Fleury if the Knights don't write the final chapter to "Miracle on Ice II" before shipping it off to the Hollywood screenwriters.
Should the Knights win it all, TV hockey guru Barry Melrose — who was 11 when St. Louis lost to Montreal in 1968 — said it would be the greatest story in NHL history.
Humble Glenn Hall, 86 and still living on his farm in Alberta at last report, most likely would agree. He also might say that if he had to do it over, he'd probably try to protect the five hole a little better against Bobby Orr and the Bruins two years later.
More Golden Knights: Follow all of our Golden Knights coverage online at reviewjournal.com/GoldenKnights and @HockeyinVegas on Twitter.
Contact Ron Kantowski at rkantowski@reviewjournal.com or 702-383-0352. Follow @ronkantowski on Twitter.