Sunrise Mountain runner lends fallen rival a helping hand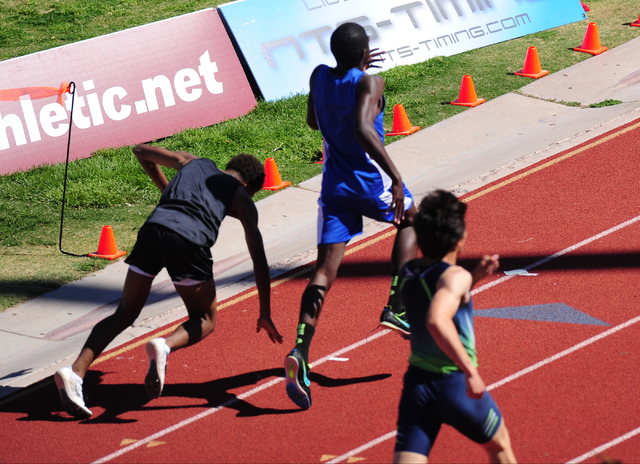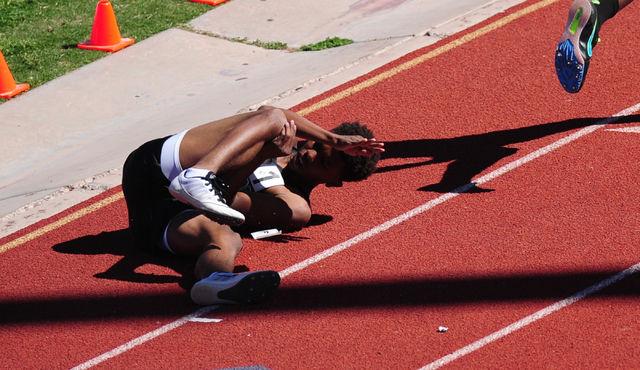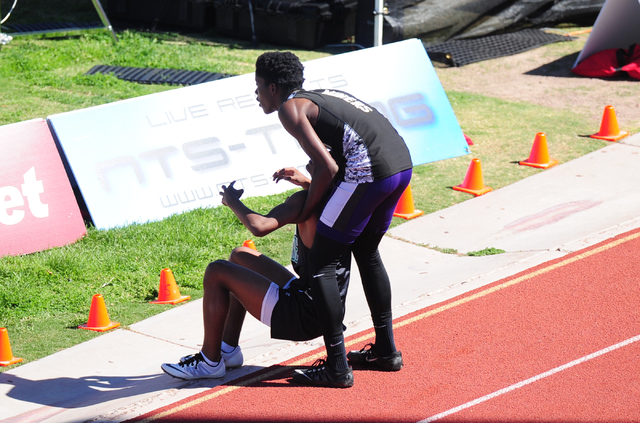 If you can find the official timing and scoring sheet from Saturday's Skyhawk Invitational track and field meet at Silverado High School, and if you scroll down to the seventh heat of the boys' 400-meter dash — and you don't dally too much over the discus results — you will find three letters next to the finely printed name of Walker, S., Sunrise Mountain.
DNF.
This is the abbreviation for Did Not Finish. Walker, S., is Steven Walker, a sophomore on the Sunrise Mountain track team. He did not finish the seventh heat of the 400 meters.
Walker's best events are the hurdles. He's only 16, and so he's still literally finding his stride in the 400 meters, among the most challenging of the running events. One must possess speed and endurance to run the quarter mile (or thereabouts); it has been written that one also must possess a bag full of guts to run the 400.
So because Steven Walker is still young and still finding his stride — and because the Skyhawk Invitational was open only to the fast runners — there was a good chance he probably wasn't going to score points, anyway.
But this was no ordinary DNF.
As the fast runners headed for the tape, Walker saw ankles begin to bow. In a split second, somebody would be down. It was a hard tumble. It was Christian Jackson of Palo Verde High, running in Lane 1, who took the tumble.
Steven Walker thought somebody should do something.
He stepped outside his lane, disqualifying himself. He crossed lanes to where the Palo Verde runner had gone down in a heap. He helped him up; together they crossed the finish line.
People in the stands cheered, and it was pretty loud, for there were a lot of people in the stands.
The public address announcer, an English teacher named Neil McElroy, said into the microphone that Walker helping Jackson across the finish line was "the moment of the meet."
"You don't see that much," McElroy continued, and you really don't, because I recall the Olympics in Los Angeles where Mary Decker and Zola Budd got spiked feet and bare feet tangled, and Decker tripped and fell and appeared to be in great distress — and none of the other runners stopped to help.
Neil McElroy called out Steven Walker by name, and the people in the stands cheered again.
"All I saw was him fall. I thought he blacked out," Walker would say about lending a rival a helping hand and a shoulder to lean on. "So I just stopped. I disqualified myself and just picked him up and (helped) him finish the race.
"I dragged him across the line. I told him, 'You did a good job.' "
And that's when he heard the crowd began to cheer, because Steven Walker had done a good job, too.
"It's good sportsmanship," said Maurice Senters, the Sunrise Mountain coach. "You would hope that more kids would do stuff like that. He takes what he learned at home, and at school, and applied it to life. It was a selfless act … a proud moment."
Sometimes with today's kids you don't hear about selfless acts so much. You mostly hear about selfish ones; or worse, you hear about when they fall in with the wrong crowd and mess up, or when they just mess up on their own.
When we chatted at school Wednesday morning — the halls at Sunrise Mountain are spotless, which is either a testament to the students there or the custodians — Steven Walker was wearing a necktie. You don't see that with today's kids very much, either, except for maybe on prom night.
His coach said that was mostly Steven's mom. The tie was purple and white and black, the Sunrise Mountain colors. Senters said when Monique Bogan, Steven's mother, had heard what her son had done at the track meet, she came out to practice to ask if it were true.
Steven Walker said he gets mostly A's and B's in school. His coach had requested a pass so he could be excused from honors geometry class to talk to a reporter.
When we were done, the spotless halls still were quiet. There still was time to discuss the congruence of isosceles triangles or whatever. Maurice Senters told Steven Walker to get back to class, young man, and learn something.
As the young man with the purple, white and black necktie politely excused himself, the grown-ups in the room shot each other a knowing glance. He already had learned something much more important than the congruence of isosceles triangles.
Las Vegas Review-Journal sports columnist Ron Kantowski can be reached at rkantowski@reviewjournal.com or 702-383-0352. Follow him on Twitter: @ronkantowski