Gordon: Lady Rebels wow record crowd with dominant outing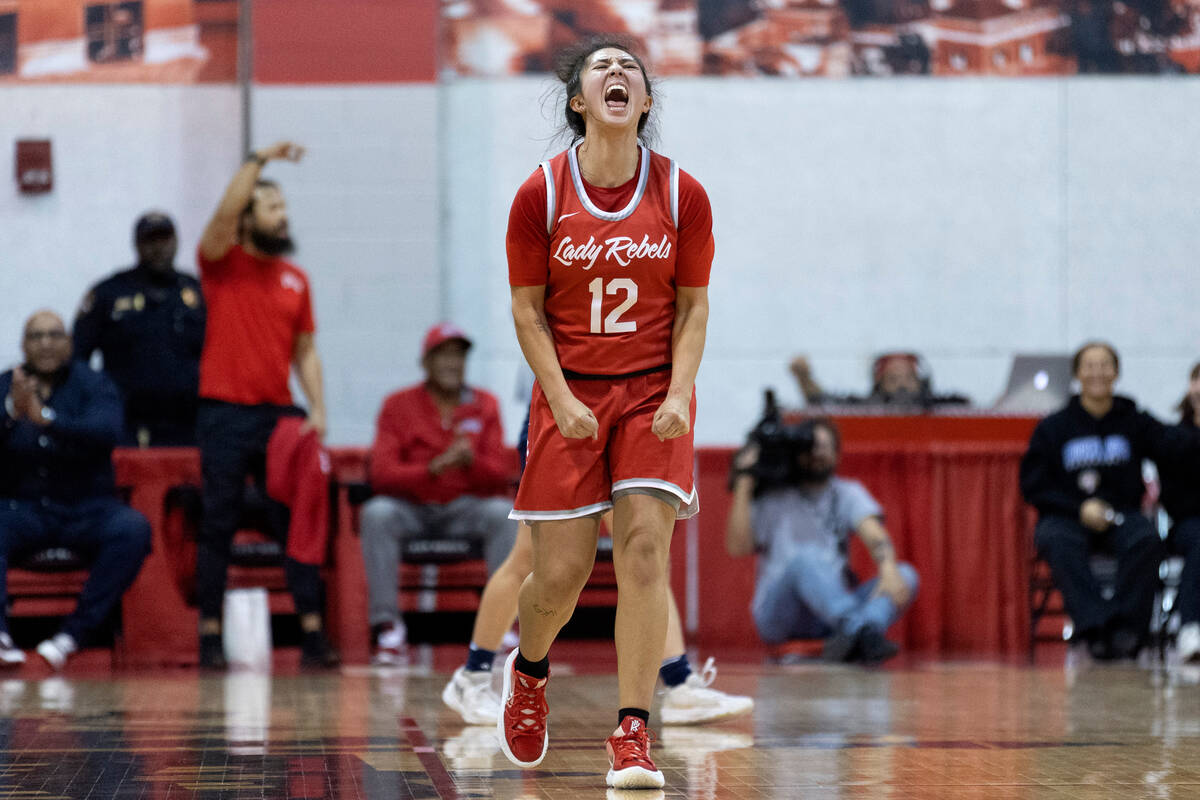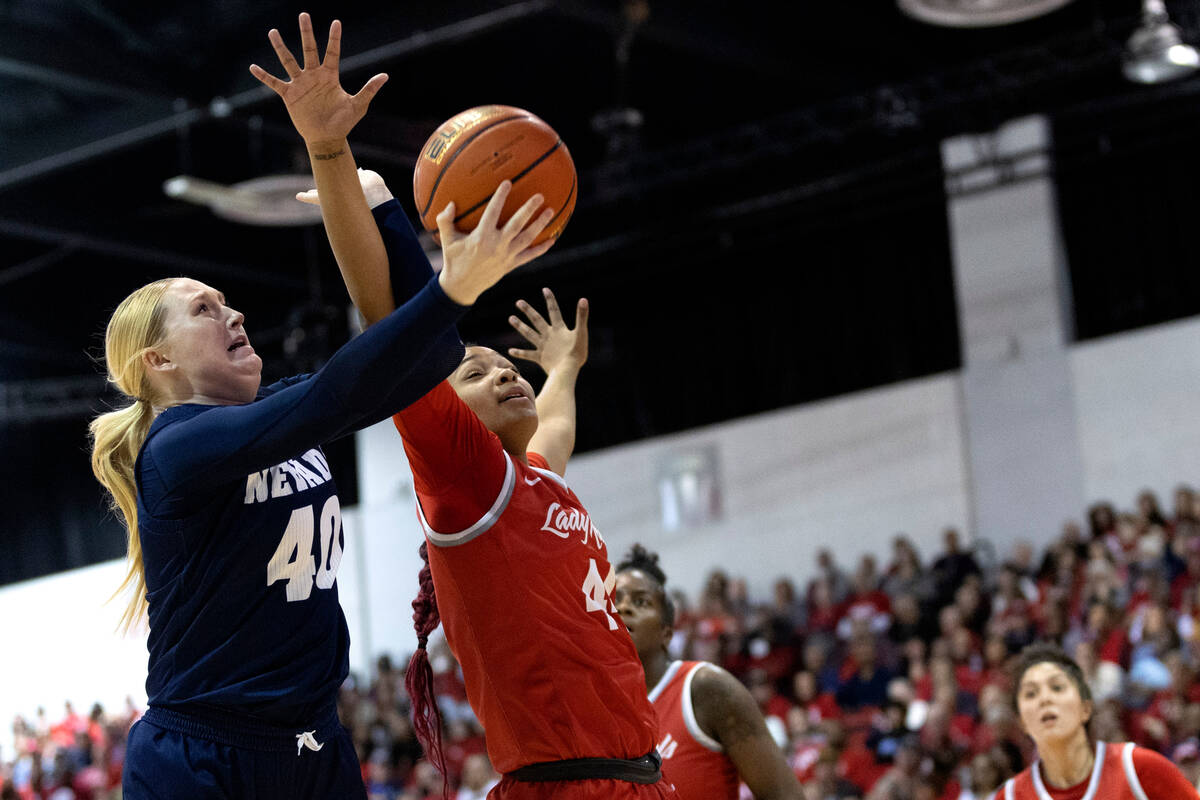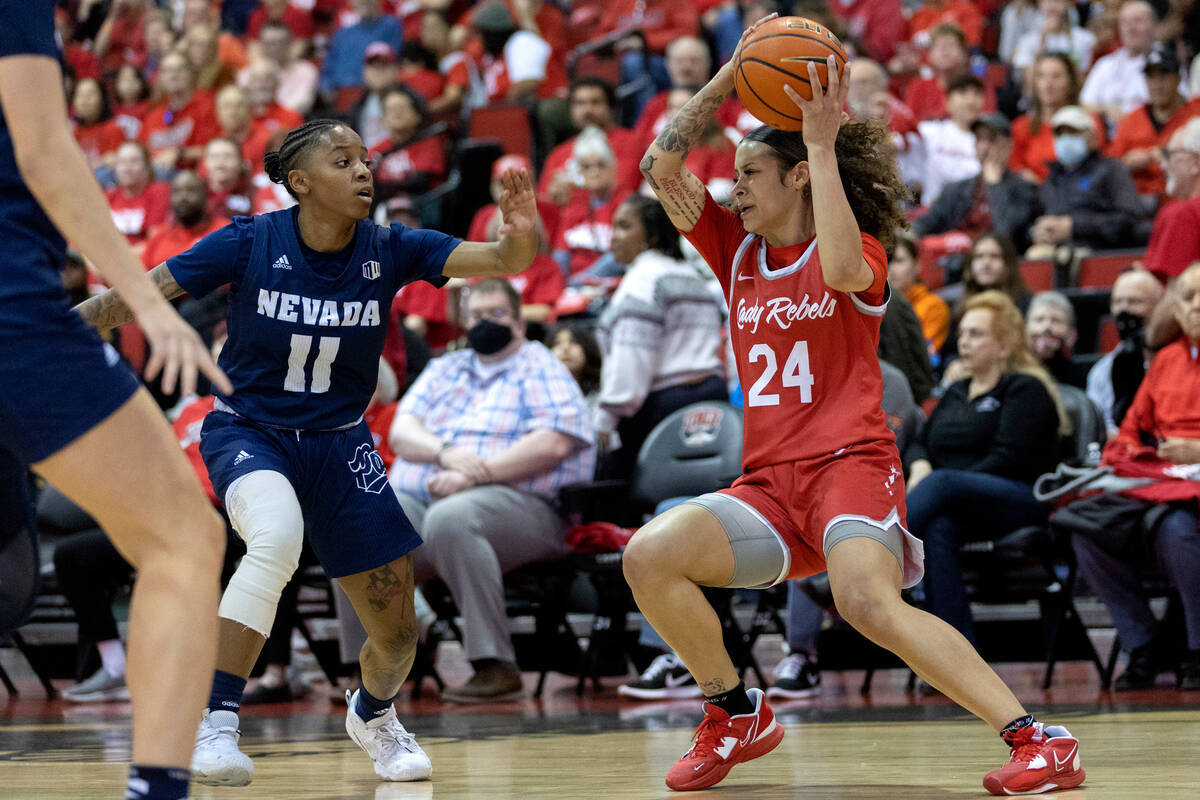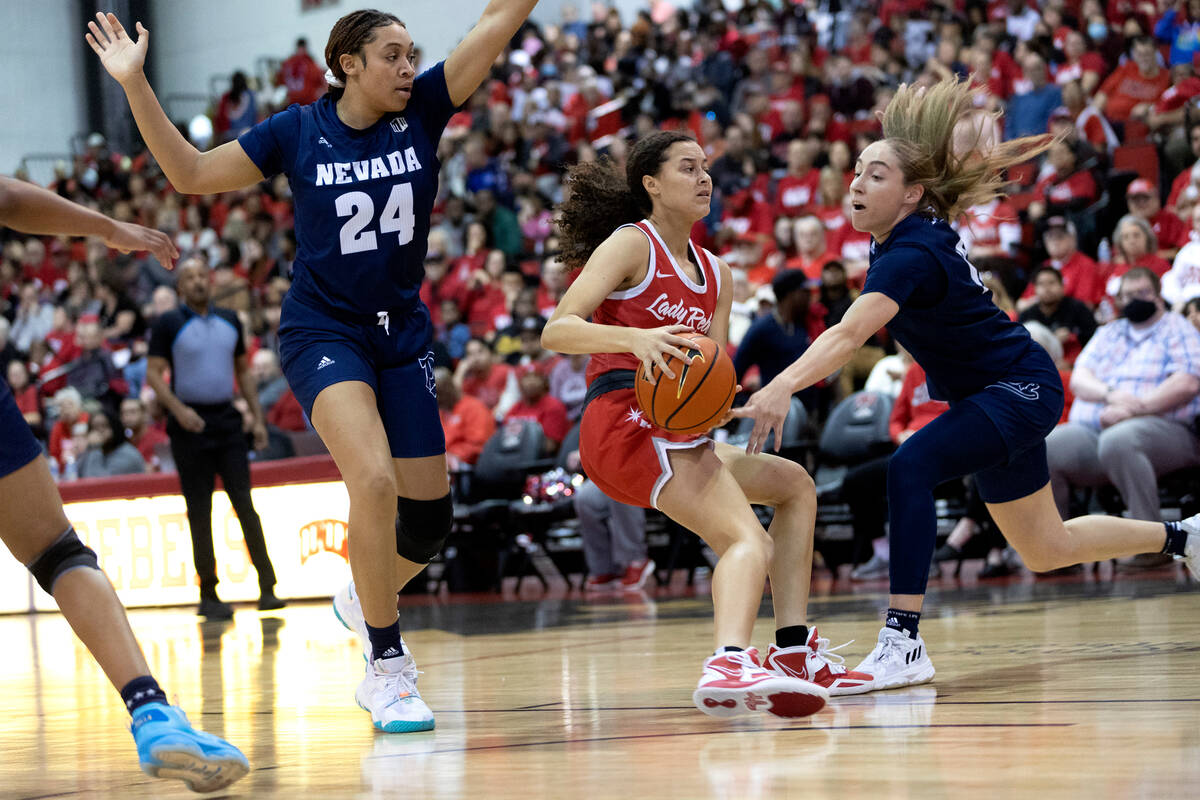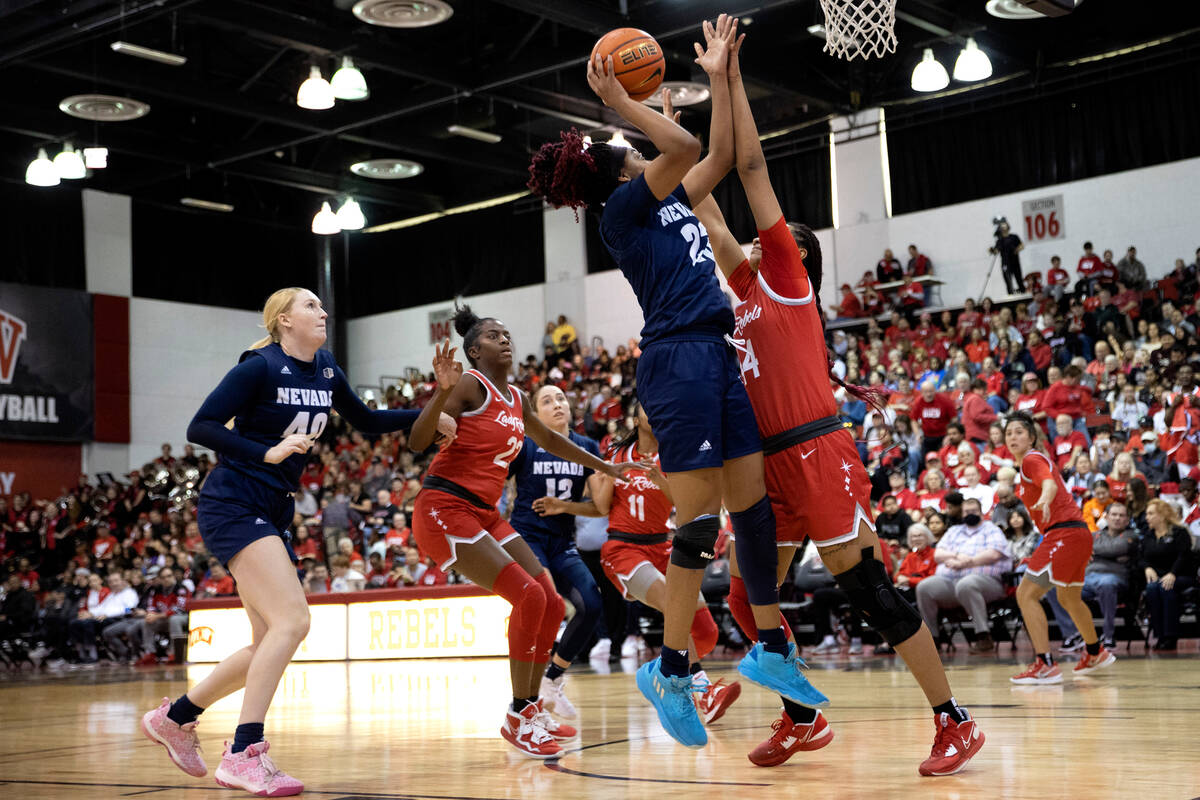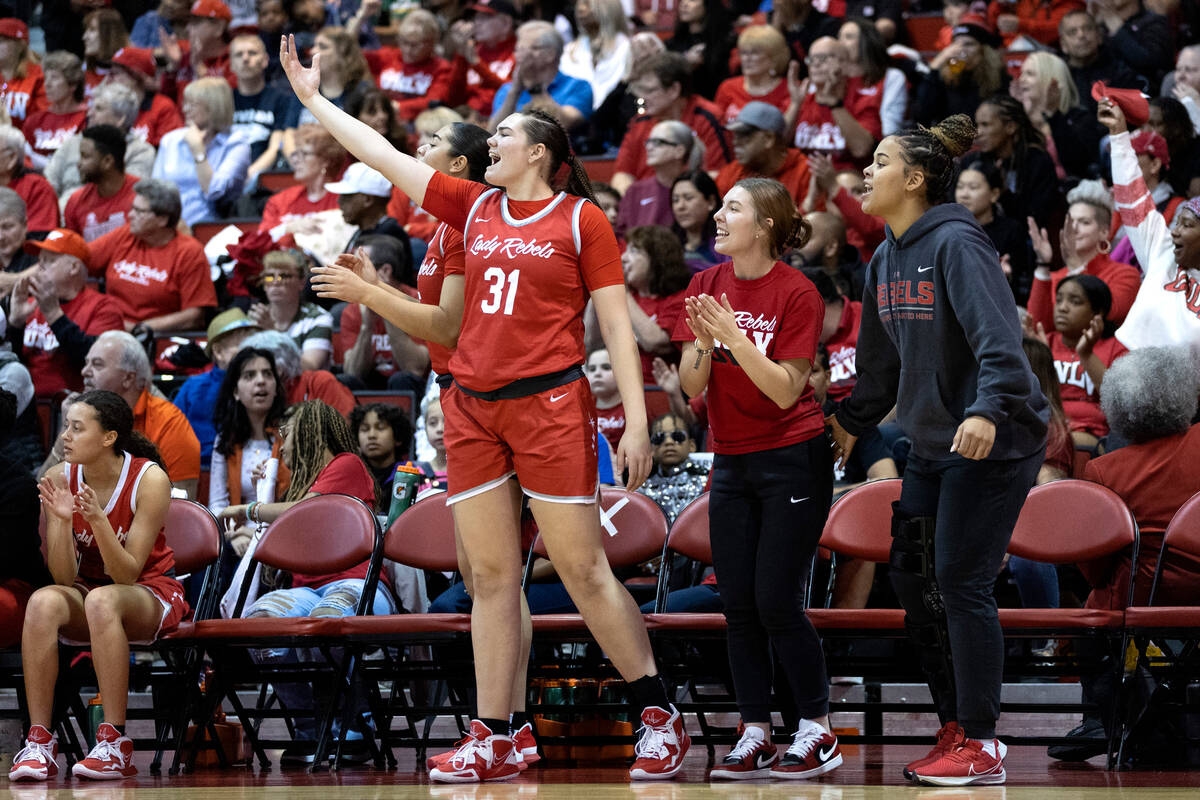 Amid the lively postgame celebration Saturday inside Cox Pavilion, UNLV senior guard Essence Booker meandered around the basketball court and was approached by a teary-eyed man she hadn't before met, who shared a sentiment she won't soon forget.
"He said he's been (coming to Lady Rebels games) since the 1970s and he'd never seen something like that," said Booker, a Las Vegas native and Spring Valley graduate. "So to share that with those people in the crowd was crazy."
Booker, the Lady Rebels and 2,500 of their closest friends enjoyed an 80-57 victory over archenemy UNR — marking their first-ever sellout at Cox Pavilion, which opened in 2001.
Several spectators were turned away at the door and forced to watch from the concourse. They too saw UNLV improve to 20-2, 13-0 at home and 10-0 in Mountain West play.
The league's reigning player of the year, junior post and Desert Oasis alum Desi-Rae Young, tallied 23 points, 12 rebounds and four steals. Fellow forward Alyssa Brown supplied 10 points and 12 rebounds. All five starters scored in double figures, and all 2,500 spectators saw precisely what the program has become under coach Lindy La Rocque.
The best in the Mountain West and one of the best mid-majors in the country.
"What a tremendous crowd. They were loud. They were into it. They showed up early. Hopefully everybody got a free T-shirt, and they wear it and come back with it," said La Rocque, a former Durango and Stanford standout. "Our team deserves this, and I think they showed that. We didn't put some chump performance together. … We have a great product that we're really proud of, and we feel like we deserve that support."
Plenty to cheer for
That they do and that they do.
They got it Saturday for four quarters and then some.
The venue was packed before play began — and for several minutes after the final buzzer sounded, allowing Lady Rebels players and coaches to mingle with family and friends.
But only after destroying their rivals from Reno, who couldn't contain Young in the paint or close out effectively to the 3-point line, behind which UNLV shot a hearty 42.9 percent.
An opening 10-3 Wolf Pack run was countered by a 15-6 spurt from the Lady Rebels, who wouldn't look back and led at one juncture by 25.
"Coach Lindy, having her here, she's just set a tone for years after us, and I think she's done a really great job of that," Young said. "To see everybody in their red and just being really supportive, we love that."
Indeed, La Rocque's Lady Rebels employ a brand of a basketball that's easy to support. One predicated on ball and player movement, and a sturdy, cohesive halfcourt defense with the occasional full-court pressure.
That, coupled with a joyful, enthusiastic crowd, spells trouble for Mountain West visitors.
"It's hard to come to one game and not come back. To not enjoy it. To not meet your favorite player after the game and tell them, 'No, I'm not going to come back and see you,'" La Rocque said. "That's how we connect with our community, and I'm just really thankful for the way Vegas showed up for us."
Even better
The Lady Rebels leave next week for games at New Mexico and Air Force before returning Feb. 9 to play Fresno State at Cox, where they hope the support sustains.
They'll play four more home games in Mountain West play before pivoting to the Thomas & Mack Center for the conference tournament. They're as comfortable there, too, as they are at Cox, as evidenced by last year's tournament title.
This year's team is even better, steeled by their experience, guided by a fifth-year point guard, buoyed by a dominant interior presence and led by one of the best young coaches in the country.
"For Lindy to start something like that and honestly get on people's nerves trying to get people out here, she's not afraid to be the bad guy," Booker said with a smile. "It started with her, and we enjoyed the crowd today."
And the crowd enjoyed the Lady Rebels.
Contact Sam Gordon at sgordon@reviewjournal.com. Follow @BySamGordon on Twitter.