Gordon: Undefeated champ shrugs at being underdog in megafight
Updated July 21, 2023 - 10:23 am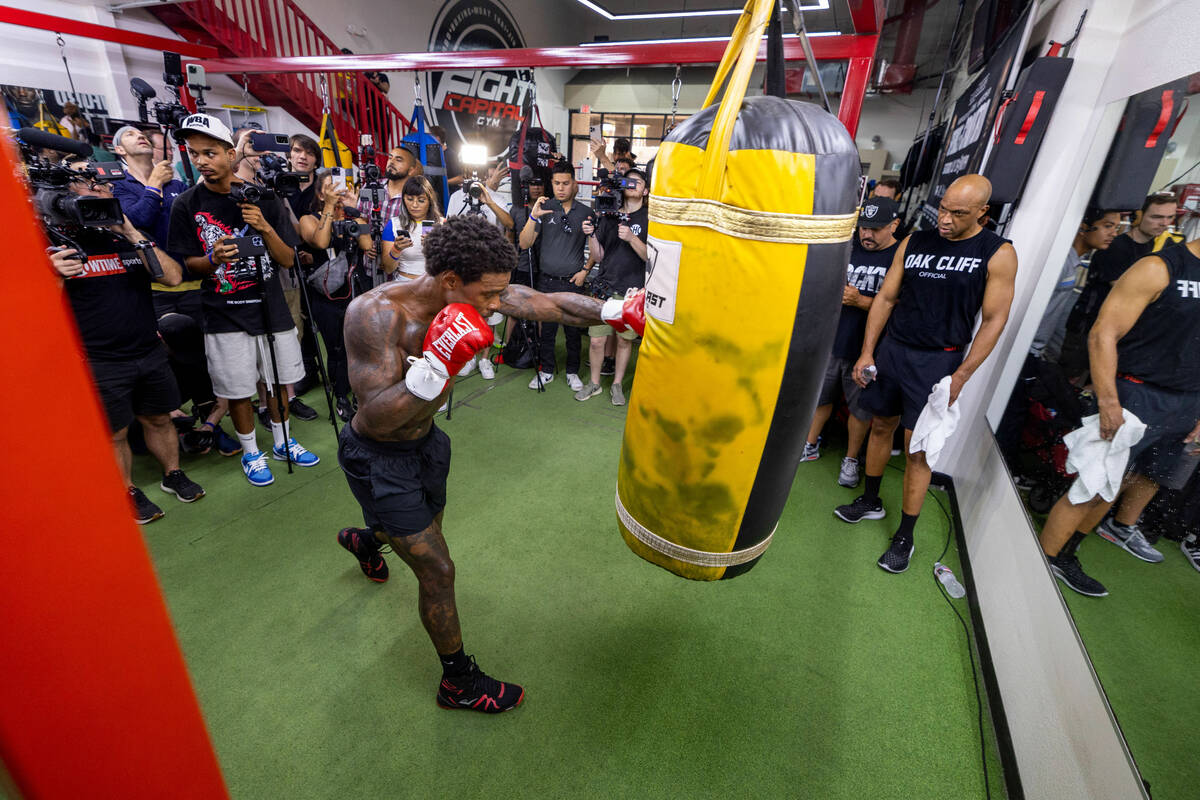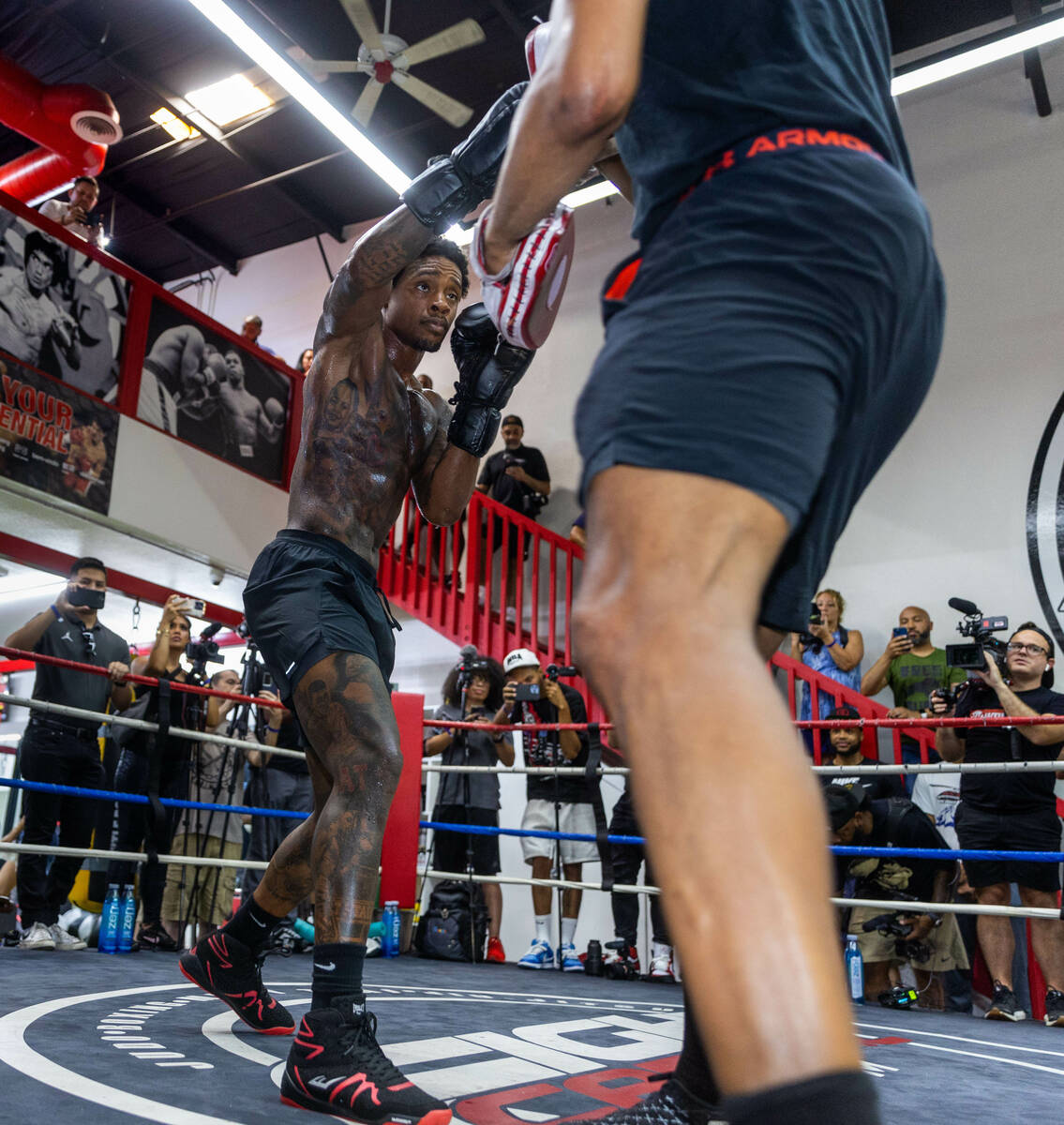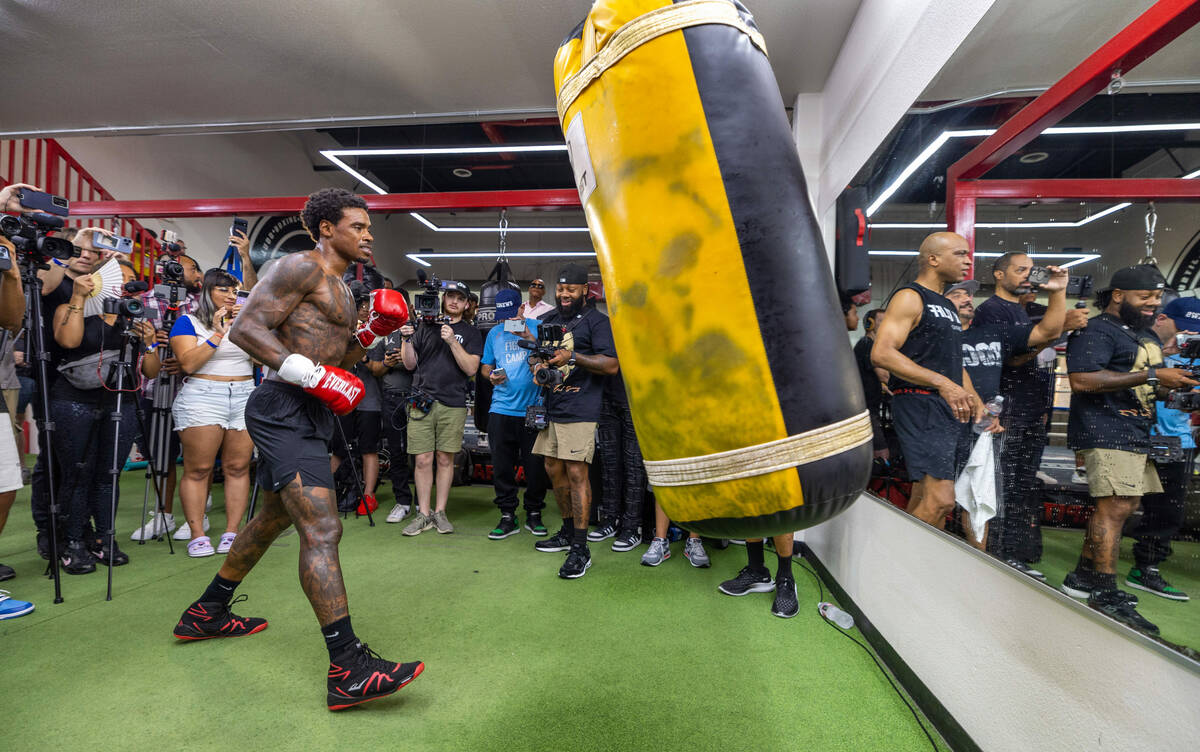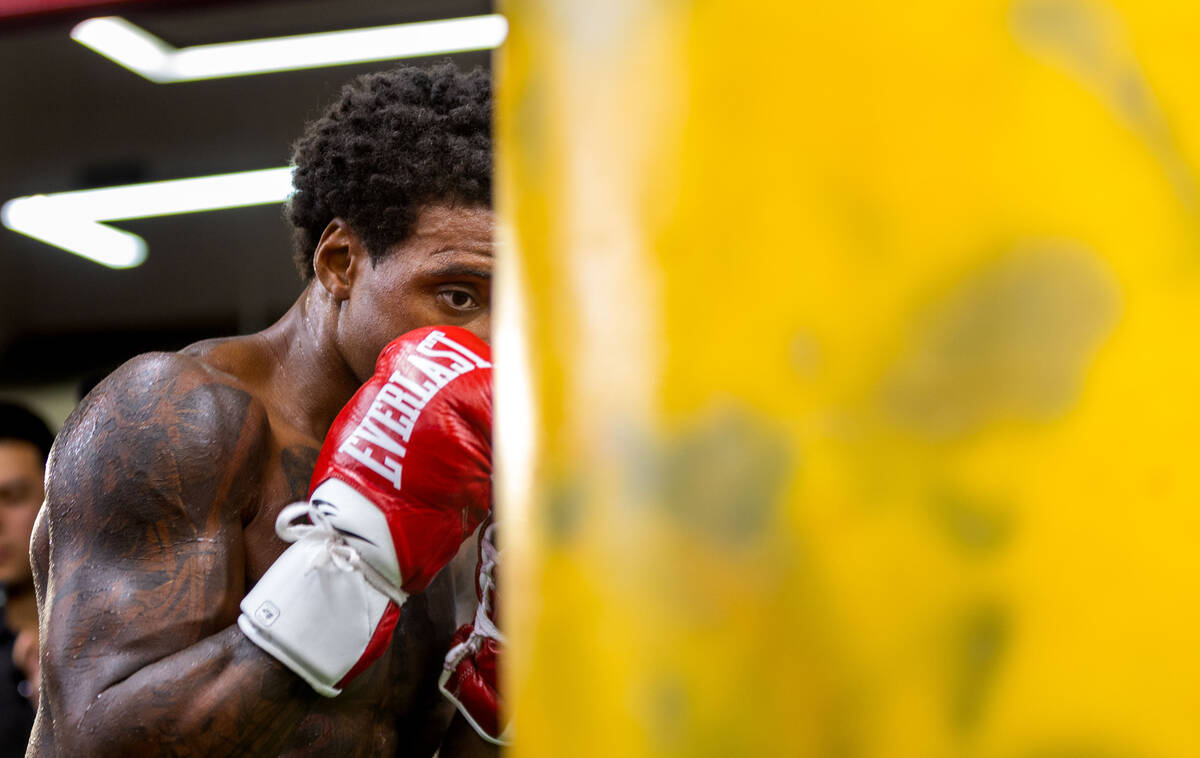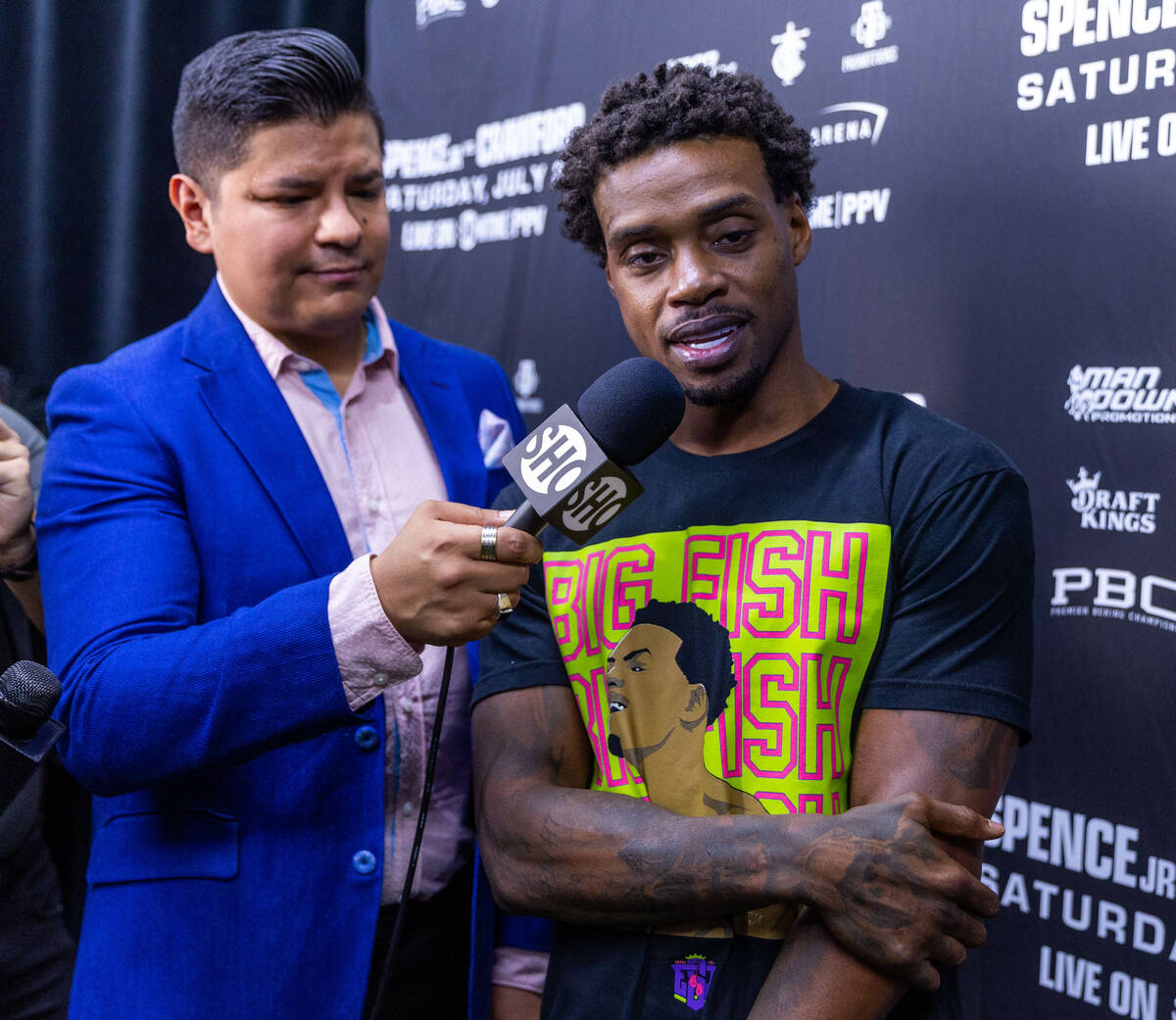 He's the IBF welterweight champion. The WBA and WBC champion, too.
The Big Fish — a shark — in the 147-pound pond he's long ruled. One of the best pound-for-pound fighters in boxing.
But Errol "The Truth" Spence Jr. will assume another (far less glamorous) identifier when he steps inside the boxing ring July 29 to fight WBO champion Terence Crawford at T-Mobile Arena.
Underdog.
"I really don't care," he deadpanned Thursday to a swarm of reporters before his media workout at Fight Capital Gym. "It is what it is. People have opinions. It's time to prove them wrong."
Spence, like Crawford, is concluding his training camp in Las Vegas, where the dry, sweltering temperatures differ from the humid heat he's accustomed to in the Dallas area. Should the 33-year-old beat Crawford, a -160 favorite for the fight, Spence will become the first man in boxing's four-belt era to claim an undisputed title by dethroning four different champions — one by one.
"This is what I've worked for my whole career," said Spence, an Olympian in 2012. "I want to be that undisputed welterweight champion of the world, and I'm excited to go up against a great opponent like Terence Crawford to accomplish that."
'Strap Season'
"Strap Season," he calls his pursuit of undisputed welterweight glory, and it began in earnest in 2017. First, he ventured across the pond to KO Kell Brook in 11 — bringing the IBF title with him from Sheffield, England, to his hometown of DeSoto, Texas.
Next up: a 2019 clash with WBC champion Shawn Porter, whom he dropped in Los Angeles en route to a decision and his second belt.
Then came the car crash later that year that nearly claimed Spence's life.
In adversity and boxing, Spence (28-0, 22 knockouts) is well-schooled.
He'd fight once in 2020 and not again until 2022, withdrawing from a dream bout with eight-division champion Manny Pacquiao because of a torn retina suffered toward the end of training camp.
"There were so many steps he had to take to get to this point," his trainer Derrick James said.
Among them: healing — and winning a bout in April 2022 with Yordenis Ugas via 10th-round stoppage to claim the WBA title.
Afterward, he issued a call for the 35-year-old Crawford (39-0, 30 KOs), who has the fourth and final belt Spence covets.
"Every belt I've gotten I've taken from somebody," Spence said. "I beat champion after champion. I'm going through the ringer fighting the best guys in my division. There's a big difference between facing a champion and someone without a belt. The guys with the belts have a lot more to fight for."
So does Spence, who fights now for his family's security as much as anything else.
"My crash made me focus on different things and put things in perspective," he said. "It definitely makes me more dangerous. It gives you motivation."
Not that he needed it against an opponent like Crawford, five years the WBO champion and the last remaining impediment to undisputed glory.
Deep waters
On Thursday, Spence showcased his sturdy, chiseled physique while training shirtless opposite James in an intense 45-minute workout session, blending snapping hooks and crosses around a sharp, scoring southpaw jab — and with the affinity for in-fighting that often breaks his opponents.
He'll be the taller and bigger fighter against Crawford. But "I don't know how much the size will factor into the fight until we get into the ring," he said.
The shirt Spence shed featured him cartooned atop the words "Big Fish." On the back, it read, "Everyone thinks they can swim until they get in the water," to which he offered an explanation.
"You start getting tired. You know hard swimming is? You starting thinking, and you might drown," he said, pulling up his shirt and pointing to a shark tattooed into his abdomen.
"Everybody thinks they can swim until they get in the water and paddle to survive."
The Big Fish is prepared for the fight of his life.
Contact Sam Gordon at sgordon@reviewjournal.com. Follow @BySamGordon on Twitter.
Errol Spence Jr. vs. Terence Crawford
What: Undisputed weltwerweight title
When: 5 p.m. July 29
Where: T-Mobile Arena
Tickets: Starting at $564 on axs.com
TV: Showtime pay-per-view, PPV.com ($84.99)
Odds: Crawford -160; total 10½ (over -240)