Imperfect Rebels show their heart in tournament loss
Updated March 10, 2023 - 1:38 pm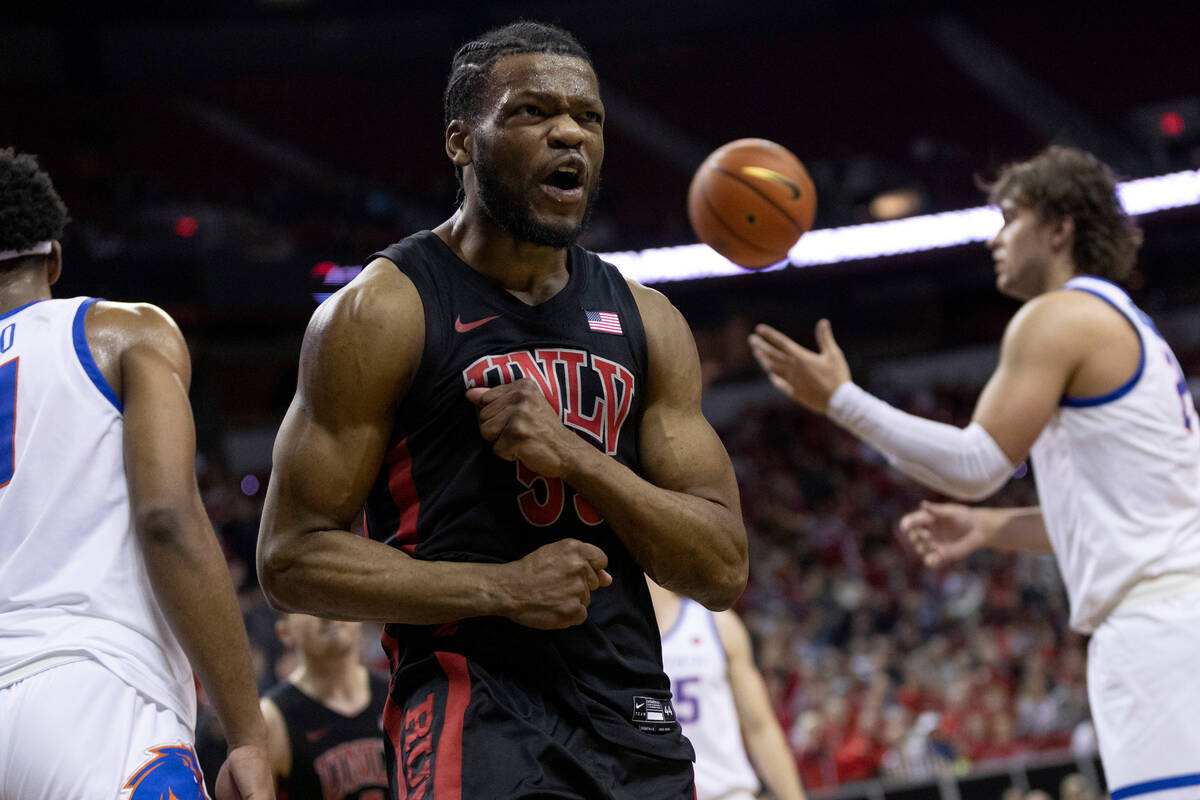 They battled until the end if nothing else, this imperfect collection of Rebels who represented UNLV's once proud basketball program during the 2022-23 season.
They were constructed by coach Kevin Kruger and his new staff of assistants. Composed of a lineup of (mostly) seniors who weren't quite ready for their careers to conclude.
"It should be remembered as a group that competed like crazy," Kruger said Thursday after an 87-76 overtime loss to Boise State in the Mountain West quarterfinals ended his second season at the program's helm.
"They battled. They fought. Down big. Made big runs. Had some really big wins. Had some really big road wins. And I still think at the end of the day, once everyone takes a breath, this is still a group that should be remembered for being incredibly competitive and a group that fights."
There certainly is merit in that despite the unforgiving outcome that sabotaged an exhilarating comeback at the Thomas & Mack Center. UNLV trailed by 22 with 3:30 to play in the first half — then led by two with 4:02 to play in the second, forcing overtime via Shane Nowell's miraculous corner 3-pointer before tiring in the final five minutes as a better Boise State team surged.
They could have quit, but they competed one last time for each other.
For Kruger, who inherited a program that hasn't reached the Mountain West semifinals since 2014 — and summoned the very best the Rebels had in their final half of the season.
The Mack roars
"I'd super credit him," fifth-year senior guard EJ Harkless said, pairing 18 points with seven assists before fouling out of his collegiate finale. "He got a whole new senior group that came in. Kind of got hit with adversity with injuries."
And with the barrage of 3-pointers from the Broncos, who made 10 of 14 triples to hand the Rebels a 50-34 halftime deficit.
The issues that plagued the Rebels all season were prevalent in the worst way during the first 20 minutes Thursday night: not enough playmaking, shot creation, size or reliable depth to win a third consecutive game in March.
But their heart was prevalent in the best way, nearly nullifying the aforementioned issues, one defensive rotation, extra pass and offensive rebound at a time.
Harkless, fellow fifth-year senior guard Jordan McCabe, fifth-year senior guard Luis Rodriguez, senior guard Justin Webster and senior center David Muoka made the Mack roar like never before the season — coaxing Utah State's student section into chanting "Boise State's choking" after seizing a lead they weren't supposed to have.
"Certainly the representation that the team deserves to be remembered by," Kruger said. "Even being down early, doing everything they needed to do to give themselves a chance to win the game" before ultimately falling short.
'A good fight'
Kruger hoped this team would be remembered differently. Perhaps for reaching the conference tournament semifinals and playing into the final weekend of the regular season.
"I don't think there's any harm in thinking that," he said. "At the same time, I still think there's a lot of great that could come from this year. A lot of great things have been established."
He didn't delve into specifics, knowing there are holes to fill — and that he may need to build another new roster amid the impending losses to graduation and with the transfer portal lingering.
"There were a lot of tough pills that a lot of people had to swallow. Seeing that the end was coming … I think everybody fell in love with their role and wanted to see one another be successful," Harkless added. "We gave a really good Boise State team that came out shooting really well a good fight in the second half."
Battled until the end.
If nothing else.
Contact Sam Gordon at sgordon@reviewjournal.com. Follow @BySamGordon on Twitter.