Bankrolls, brackets busted by upsets in NCAA Tournament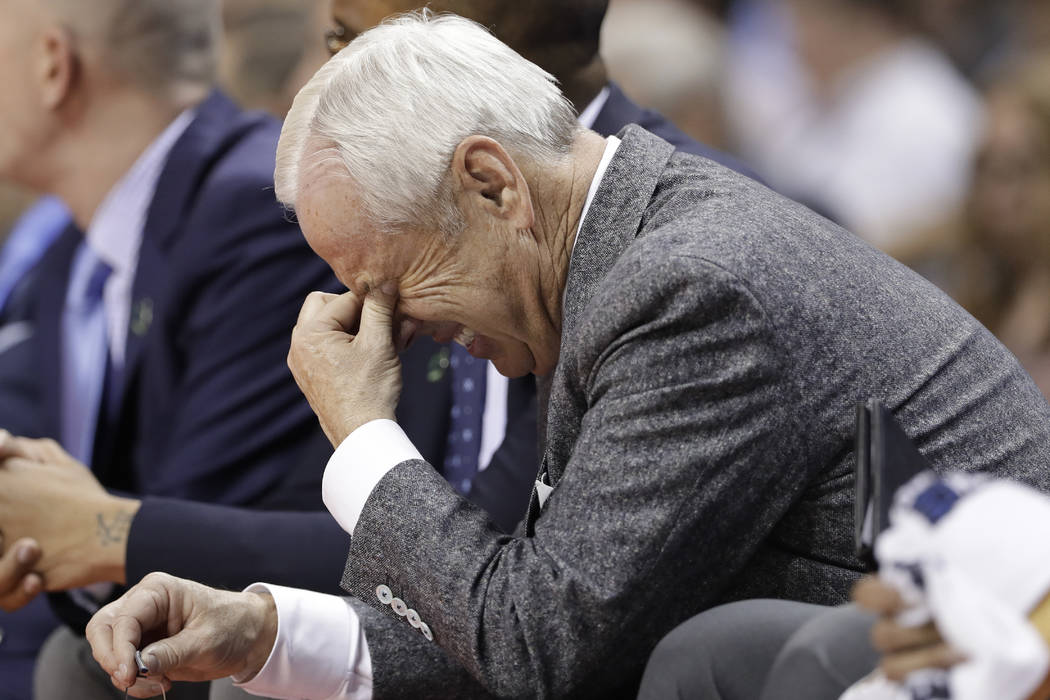 There were no crazy money-line parlays reported Sunday on big favorites like the $20,000 to win $870 that a CG Technology bettor lost Friday night when Virginia went down.
That might be because some bettors learned their lesson after watching No. 16 Maryland-Baltimore County, No. 13 Marshall and No. 11 Loyola University of Chicago pull off outright upsets in the first round of the NCAA Tournament.
Or it might be because their bankrolls were busted, and bettors and bookmakers alike were running on fumes at the end of a fast and furious four days.
"The crowd was more subdued (Sunday). Everybody was walking around with their tongues hanging out," The Mirage sports book director Jeff Stoneback said. "They probably don't have much money left. They got whacked pretty good the last couple days. Especially that Michigan game. That was a big win for us."
Bettors lost big Saturday on Kansas and Michigan, which both won but didn't cover in games involving buzzer-beaters.
Upset Sunday
Sunday wasn't a day to play favorites. Underdogs dominated, going 7-1 ATS with five outright wins as No. 1 Xavier, No. 2s North Carolina and Cincinnati and No. 3 Michigan State all were eliminated, busting countless brackets along the way.
William Hill sports book director Nick Bogdanovich wasn't surprised.
"This has been the biggest upset year in history, bar none, and it has continued through the tournament," he said.
Sharp as a spoon
UNR erased a 22-point second-half deficit to Cincinnati en route to a stunning 75-73 win. Heavy sharp money on the favorite pushed the line up from Bearcats minus 7 to as high as 9. But the Wolf Pack burned that cash while finishing the game on a 32-8 run in the final 11:34.
When UNR was trailing by 20-plus points in the second half, it was available at 22-1 odds on William Hill's in-play money line and 35 bettors backed the Pack, with two $100 tickets each winning $2,200.
When UNR was down by 12 with nine minutes left, a William Hill bettor at Tuscany placed a $1,200 wager at 9-1 odds on the in-play money line and won $10,800.
$2,000 to win $26.65
There weren't any five- or six-figure money-line parlays on favorites reported Sunday, but there was a straight money-line wager made similar to the insane $1,294 to win $12.95 a William Hill bettor lost Friday night on Virginia.
When Cincinnati was up 22 on UNR, a William Hill bettor placed a $2,000 in-play money-line wager on the Bearcats on his mobile app that would've paid a whopping $26.65. Instead, he lost two grand.
Why would anyone wager so much to win so little, you ask?
"They figure it's free money," Bogdanovich said.
Orange is the new green
Syracuse closed as a 10-point underdog in its 55-53 upset of Michigan State.
A Wynn Las Vegas bettor placed a $20,000 money-line wager on the Orange at 5-1 odds to collect a $100,000 payday.
A William Hill bettor is four Syracuse wins away from winning $370,368. On Dec. 18, he placed a $1,234.56 futures wager on the Orange at 300-1 odds to win the NCAA title.
A Caesars Palace bettor won $100,000 on a pair of five-figure bets on Clemson plus 2 and on the money line against Auburn. Clemson led by as much as 41 in its 84-53 blowout.
No. 1 and done
Florida State, a 5½-point underdog, went on a game-ending 18-4 run to deal the Musketeers a stunning 75-70 defeat.
When the Seminoles trailed Xavier by 12 in the second half, they were available at 14-1 on the in-play money line and 32 bets were placed, with a pair of $100 wagers winning $1,400 apiece.
Gone to Carolina
Texas A&M, which closed as a 7½-point 'dog, needed only to erase an early 20-13 deficit to North Carolina. The Aggies went on a 15-0 run to help open up a 14-point halftime lead and cruised the rest of the way in an 86-65 rout.
"Not only have underdogs won, but it's the way they've won," Sunset Station sports book director Chuck Esposito said. "The way Texas A&M beat North Carolina, the way Buffalo beat Arizona (by 21) and the way UMBC beat Virginia (by 20).
"That gap between David and Goliath has closed considerably the last five or 10 years. Now a lot of small schools know they can play with these guys."
Contact reporter Todd Dewey at tdewey@reviewjournal.com. Follow @tdewey33 on Twitter.