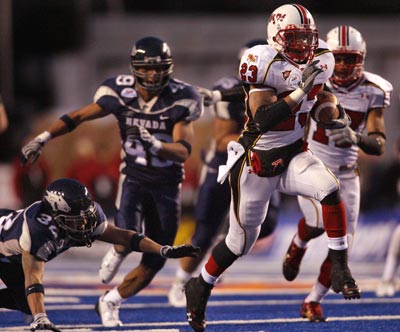 BOISE, Idaho — Ralph Friedgen's initial reaction was to put Da'Rel Scott and the six other Maryland players who broke curfew leading up to the Humanitarian Bowl on a bus with a one-way ticket back to College Park, Md.
Instead of being run out of town, Scott stuck around and ran over UNR.
Benched for 21/2 quarters for his curfew violation, an inspired Scott became an unstoppable running force for the final 20 minutes. He carried 14 times for 174 yards and scored two fourth-quarter touchdowns as Maryland held off the Wolf Pack 42-35 on Tuesday.
"I just felt as though I had to run with a purpose," Scott said.
Scott romped through a worn-down UNR defense in the final quarter. He sprinted 49 yards nearly untouched to snap a 28-28 tie early in the fourth, then added a 2-yard TD gallop to put the Terrapins up 14 points with 7:44 left.
But until he got his first carry midway through the third quarter, Scott wondered if he would ever get on the field. He was one of seven Terps caught by Friedgen, who declined to specify what the players did but indicated they had sneaked out a couple of nights before the game.
"Five percent of guys thought they didn't need to listen to me, that they could get bed checked and sneak out," Friedgen said. "This isn't my first rodeo."
Scott's first carry came with 5:55 left in the third quarter, and Maryland needed all of his 174 yards to hold off quarterback Colin Kaepernick and the Wolf Pack's potent "pistol" offense. Kaepernick, who played the second half with a sprained right ankle, misfired in the first half but found his throwing rhythm after briefly being benched in the third quarter.
Kaepernick finished 24-for-47 for a bowl-record 370 yards and three touchdowns, and he added a 15-yard scoring run with 2:19 left. But Maryland recovered an onside kick and walked away with its fourth bowl victory since 2002.
"I was proud of the way we stepped up and got back into it, but we came up short," Kaepernick said.
MARYLAND 42 UNR 35 KEY: Benched for the first 21/2 quarters because of a curfew violation, Terrapins running back Da'Rel Scott gained 174 yards on 14 carries and scored two fourth-quarter touchdowns.