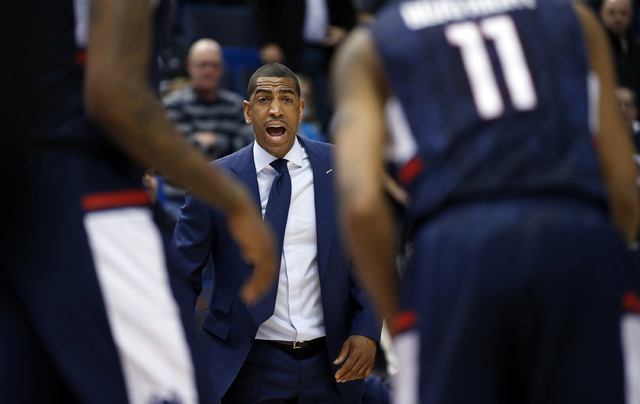 The Final Four is in Indianapolis this weekend, and even though the UConn Huskies are not in the tournament, Men's Basketball Coach Kevin Ollie is scheduled to travel there.
On Tuesday, UConn announced that Ollie, and other members of the men's basketball staff, will not travel to Indiana for the Final Four.
"In support of Governor Malloy's travel ban to the state of Indiana, Kevin Ollie and other members of the UConn men's basketball staff will not travel to Indianapolis for the NCAA Final Four and events surrounding it. UConn is a community that values all of our members and treats each person with the same degree of respect, regardless of their background and beliefs and we will not tolerate any other behavior," said UConn President Susan Herbst.
When Gov. Dannel Malloy took a stand against Indiana on Monday and said he is not ready to reverse his executive order.
On Monday, Malloy announced that he was banning state-funded travel to Indiana.
Now, under extreme pressure, Indiana Gov. Mike Pence has ordered lawmakers to go back and revise language in a newly passed religious freedom law, which allows businesses to deny services to gays.
"They knew exactly what they were doing. They got caught. They got caught," Malloy said.
Wethersfield flower shop owner John Tornatore said he feels it is not his business to deny services based on someone's sexuality.
"It's a very, very bad message… really," he said.
Tornatore added that he believes history should teach a lesson.
"Other times this has happened in the 1930's — in Germany — where Hitler passed a law saying you cannot buy from a Jewish store unless you are Jewish, and you can't buy from a Christian store unless you are Christian," Tornatore said.
A Washington state florist was recently fined for turning away a gay couple who wanted to buy flowers for their wedding.
There are 29 states, including Connecticut, that have anti-discrimination laws, with a few exceptions. Churches doing church business are exempt from the law.
The Knights of Columbus is also exempt.
It is the largest Catholic fraternal organization and can deny gay couples from being married in their facilities.
Adoption agencies that do not get any federal or state money can turn away gay couples.
As the pressure mounts in Indiana, there are still so many unanswered questions as to how this effects state travel.