UNLV point guard's tardiness a talking point before crucial game
February 21, 2014 - 10:43 pm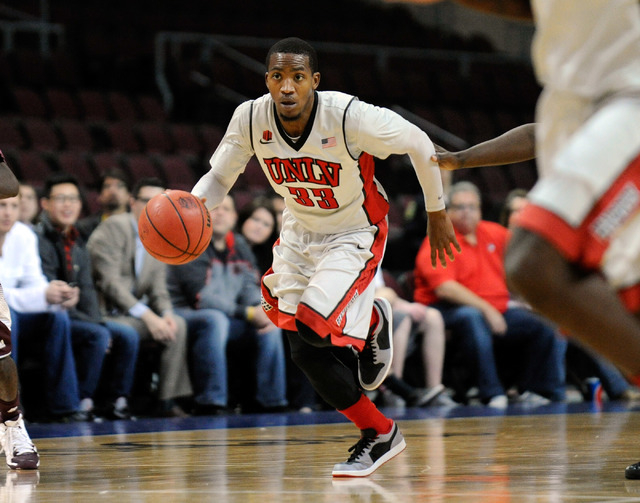 BOISE, Idaho — Some of the quickness and speed Deville Smith displays on the basketball court tends to go missing when it's time for him to catch the team bus or attend practice.
Of all the problems UNLV coach Dave Rice has dealt with this week, the tardiness of his junior point guard is relatively minor. But it is an issue that has been addressed.
"I just blame it all on me," Smith said. "I just don't have any excuse for being late."
If he shows up on time for the bus Saturday, Smith will start at the point when the Rebels (17-9, 8-5 Mountain West) face Boise State (17-9, 7-6) at 5:05 p.m. at Taco Bell Arena. Both underachieving teams figure to go into next month's conference tournament needing to win it to reach the NCAA Tournament, and this game impacts seeding.
Smith was assigned a seat on the bench to open UNLV's past two games. Rice said Smith was four minutes late to the team bus before last Saturday's game at Utah State and six minutes late to a shootaround at the Thomas &Mack Center before Wednesday's game against New Mexico.
"I got a call from back home (Wednesday), and then I read on Facebook that a close friend of mine had passed. That kind of threw me off," said Smith, a junior college transfer from Jackson, Miss. "But there is no excuse at all. I don't need to be late for the bus or for the game.
"As a player, if you're a leader, that's something I cannot do. (Rice) told me he expects more out of me, and I told him that it wasn't going to happen again."
Smith, who had started eight consecutive games, still played a major role as a reserve, getting 31 minutes in the victory over the Aggies and 32 minutes in the loss to the Lobos. He totaled 11 assists and two turnovers in the two games.
Daquan Cook, a sophomore, averaged 8.5 minutes while making his first two career starts in Smith's place.
Rice, who imposed no other punishment on Smith, said he's "trying to establish a culture" of discipline within the program. Four other players — juniors Bryce Dejean-Jones, Khem Birch and Jelan Kendrick and freshman Kendall Smith — have been benched at times this season for reporting late to team activities.
"It's part of the learning curve for guys who are in college, and I think it's part of my job as a coach to try to teach guys to be on time, because basketball is not going to be in their life forever," Rice said. "It's very important to our team that we be on time.
"Deville understands the implications. He has to learn a lesson. He knows the next time it's going to be a far more serious consequence."
Rice resisted the idea that his need to punish five players for minor transgressions is a reflection of a bigger problem.
"We all know people who have a hard time being on time," he said. "It's not something unique to just our basketball team. At some point in time, there has to be individual accountability in life."
Rice had more problems with the Rebels' sloppy play in a 68-56 loss to New Mexico. UNLV shot 31.7 percent from the field, including 3-for-21 on 3-pointers, and suffered numerous defensive breakdowns.
"We watched film, and we watched a lot of film," Rice said after Thursday's practice. "We made a lot of mistakes in the game that we don't typically make on both ends of the floor. It was important for our guys to see those things on film.
"It was just a poor performance. I didn't get one question (from the media) about effort. It was about execution. I addressed a lot of issues. Twenty-six games into the season, we can't be making those same mistakes."
The Rebels were lit up by one of the league's elite guards, senior Kendall Williams, who led the Lobos with 29 points.
Boise State also has a high-scoring backcourt with juniors Anthony Drmic and Derrick Marks. In the teams' first meeting on Feb. 1, UNLV erased an 11-point deficit with 3½ minutes remaining to win 73-69.
Marks scored 22 points to get the better of the point guard duel with Deville Smith, who said he's not taking his responsibilities lightly.
"It's a big deal for me," Smith said. "Every game is a big deal."
■ NOTE — Cody Doolin, a 6-foot-2-inch point guard, orally committed to UNLV. A three-year starter at the University of San Francisco, Doolin played in four games as a senior before leaving the team after a fight with a teammate. He is on schedule to graduate and requires a waiver from the NCAA to play for the Rebels next season.
Contact reporter Matt Youmans at myoumans@reviewjournal.com or 702-387-2907. Follow him on Twitter: @mattyoumans247.
UNLV vs. BOISE STATE
■ WHEN: 5:05 p.m. Saturday
■ WHERE: Taco Bell Arena
■ BROADCAST: CBSSN (333), KWWN (1100 AM, 98.9 FM)
■ LINE: Boise State -6½