Boyd Gaming pledges record $5M to UNLV athletics
Updated September 5, 2018 - 6:45 pm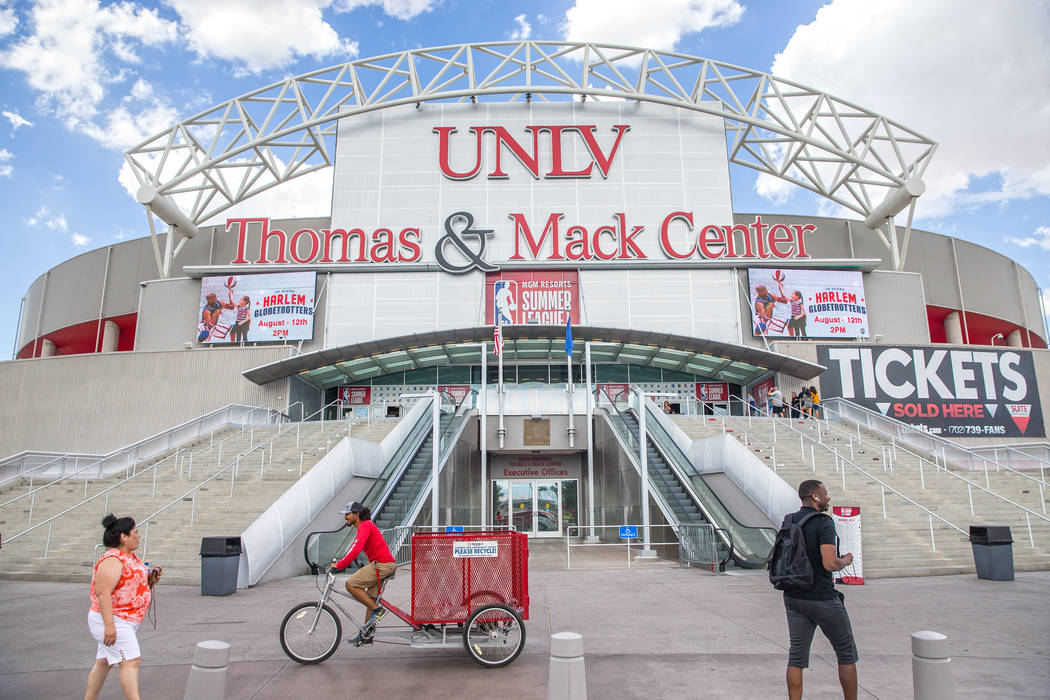 The Boyd Gaming Corp. pledged a record $5 million to UNLV that will benefit the men's basketball and softball programs and help create a center that will be available to Rebels athletes in all sports.
The length of the multiyear agreement was not disclosed, but money will go toward a new scoreboard at the Thomas & Mack Center for the 2018-19 men's basketball season, to help create the Student-Athlete Excellence Center and renovate Eller Media Stadium, where the softball team plays.
"We are thankful for this transformational commitment," UNLV athletic director Desiree Reed-Francois said in a statement. "This is a tremendous way to celebrate the respect and admiration that we have for the Boyds and Boyd Gaming. The impact will be felt throughout our student-athlete community, allowing us to deliver programs and services essential to our mission."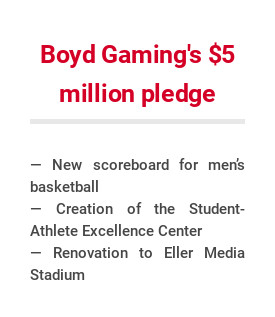 It's the largest corporate gift ever for UNLV athletics. The Fertitta family's $10 million pledge in September 2016 to the on-campus football facility was a private donation.
"We are proud to build upon our partnership with UNLV in such a profound way," Boyd Gaming executive chairman Bill Boyd said in a statement. "This investment will carry Boyd Gaming's legacy with UNLV athletics forward to inspire the next generation of leaders across our great city and state. We believe in the vision of the leadership at UNLV athletics and are proud to know that Boyd Gaming will be closely tied to the Rebels' emergence among the nation's elite."
Basketball coach Marvin Menzies said the addition of a new scoreboard will be a winner with fans. The Rebels open their season Nov. 10 against Loyola Marymount at the Thomas & Mack.
"Like at most successful home courts across the country, the fans appreciate not just the players on the court but the overall experience and atmosphere that is provided," Menzies said. "We truly appreciate our fans and know how important the game-day atmosphere in the Thomas & Mack Center is. The new scoreboard will absolutely help enhance the experience for our fans."
The student-athlete center is in the early planning stages, and no official announcement has been made regarding its development. It will be in Lied Athletic Complex and offer services that address leadership and health, among other topics.
"The Student-Athlete Excellence Center will be a differentiator for UNLV athletics," Reed-Francois said. "It will allow us to support our entire student-athlete population while graduating leaders prepared for lifelong success."
UNLV's softball program will receive upgrades to its stadium, which opened in 2o02. The Rebels begin their season in February.
"We are so thankful to Boyd Gaming and their generous donation," softball coach Kristie Fox said. "It is a time in college athletics where facilities are getting better and better. This will allow UNLV softball to build on the traditions of our past and continue toward a bright future."
More Rebels: Follow all of our UNLV coverage online at reviewjournal.com/Rebels and @RJ_Sports on Twitter.
Contact Mark Anderson at manderson@reviewjournal.com. Follow @markanderson65 on Twitter.