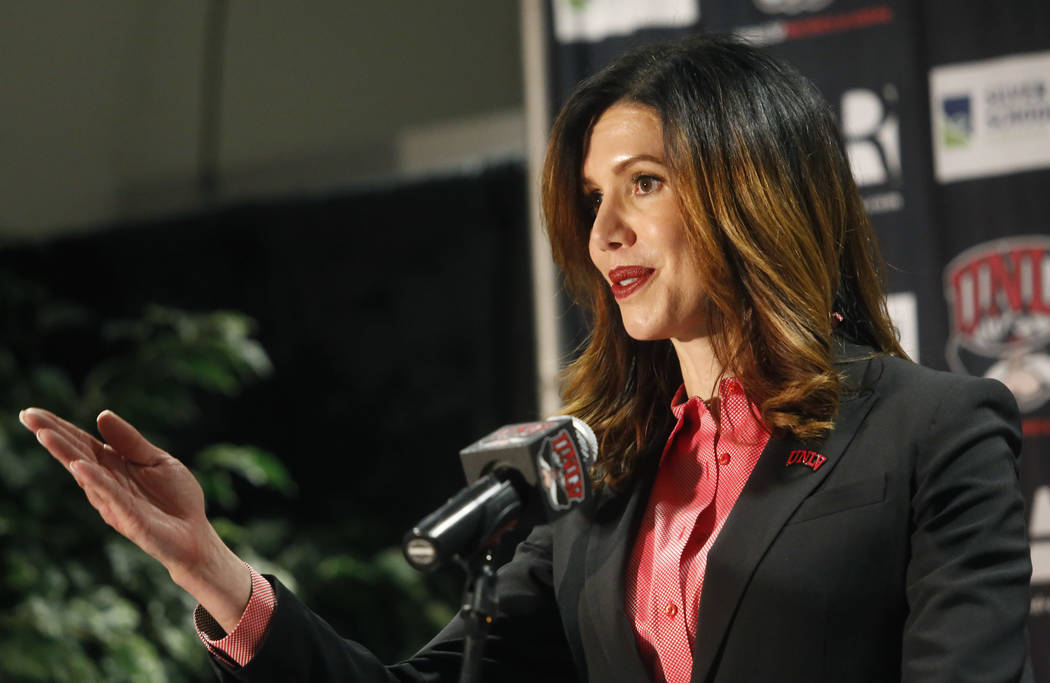 Desiree Reed-Francois received welcome financial news for the UNLV athletic department before even taking over as its director.
While an announcement Monday that the university and Thomas & Mack Center/Sam Boyd Stadium is contributing $3.7 million to the department will ease her transition, Reed-Francois is not coming to Las Vegas to take it easy.
She moved into a UNLV dorm on Sunday to see up close what life on campus is like, and she begins her first day Thursday with an 8:30 a.m. staff meeting.
When asked what her priorities were upon taking over, Reed-Francois quickly listed seven.
"My overall goal is to really listen and assess," she said. "This summer, I'm going to spend a lot of time listening, and I'm really excited to get started. There are a lot of moving parts, so I know there is a lot of work to do."
Reed-Francois was the deputy athletic director at Virginia Tech the past three years.
As for her priorities at UNLV, Reed-Francois first mentioned stating her vision for UNLV athletics, getting to know those in the department and better understanding the university "as an institution."
"I want us to be the pre-eminent athletic department in the West academically, athletically and administratively," she said. "I want us to graduate leaders, win championships and serve as a source of pride and unity for our global UNLV community."
Reed-Francois then said she wanted a better handle on the budget. UNLV had projected a $4.9 million deficit this fiscal year, which ends June 30, but with Monday's announcement the amount is less than $500,000, according to university senior vice president of finance and business Gerry Bomotti.
With the 2017-18 athletic department budget already in place, part of Reed-Francois' early attention will be reaching out to current and potential supporters.
"I know people are really passionate about UNLV," she said. "I want them to know they are appreciated, and they're going to be a key element to our success. We can't do this by ourselves. It's got to be a team effort."
The next two priorities for Reed-Francois are understanding the athletic department infrastructure and the community, and finding a house and school will be part of the process for the latter. Her husband and son move to Las Vegas this summer.
"It's important for us to be really ingrained in the Las Vegas community," Reed-Francois said.
Finally, she wants to catch up on university talks with the Raiders and the new stadium, which will be built on the south end of the Strip in time for the 2020 college and NFL seasons. The NFL approved the lease last week, but an agreement with UNLV still must be reached.
Reed-Francois is a former legal associate with the Raiders and the NFL's Management Council.
"Probably having a legal background will be an opportunity for me to provide some value in the discussion and to make sure that UNLV's interest is well represented," she said. "From day one, I will absolutely be diving into all of that."
So there is plenty for Reed-Francois to do, but she knows something about perspective. She recently took a trip with 12 Virginia Tech athletes to Rwanda, seeing in person the effects of the genocide 23 years ago that took 800,000 lives in 100 days.
Reed-Francois arrived back in Blacksburg, Virginia, last week before getting ready for the turnaround to move to Las Vegas.
"I can't even begin to tell you how moving (going to Rwanda) was," Reed-Francois said. "It really broadened our perspective. It was really a great way to close this chapter and get centered as I get ready to embark on a new chapter."
Contact Mark Anderson at manderson@reviewjournal.com. Follow @markanderson65 on Twitter.