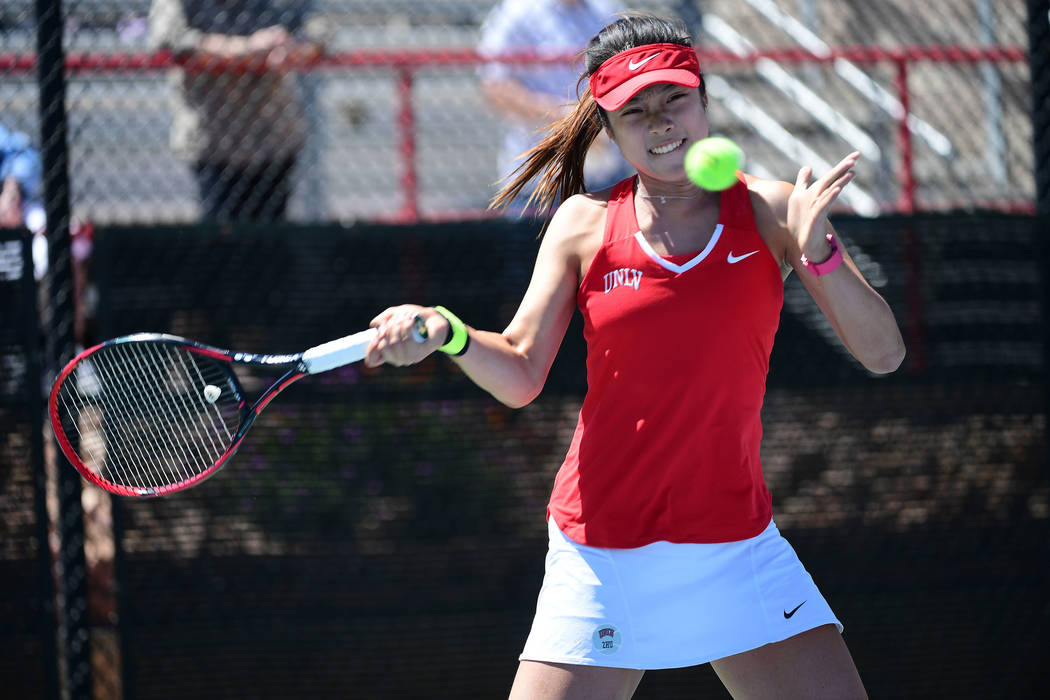 Ernie De La Trinidad considers home plate his, and he isn't afraid to stand close to it in the batter's box and dare the opposing pitcher to challenge him.
And he has found many willing to do just that.
De La Trinidad, a UNLV sophomore outfielder, has been hit by pitches 16 times this season.
"You want to own the box when you go up to bat," De La Trinidad said.
He has definitely done that, and has produced by doing more than collect bruises. The outfielder also is the Rebels' leading hitter, putting together a .369 average.
Incredibly, he also has reached base in 40 consecutive games. Because of poor record-keeping in the early days of the program, whether that is a school record is unknown, but that streak hasn't been matched in recent seasons.
"Ernie's been such a godsend for us," coach Stan Stolte said. "He came in, and we had him batting at the bottom of the order until he got it going. He's probably our best all-around hitter. We've got two or three guys that could hit third for us, but he's really filled that role."
De La Trinidad played one season at Central Arizona College, which is near Interstate 10 between Phoenix and Tucson.
He was named a junior college Division II All-American in 2016 after batting .399 with six home runs, 49 RBIs and 40 runs.
When UNLV came calling, it was the second time he had been in contact with Stolte, who recruited De Le Trinidad when he was coming out of Mountain Pointe High School in Phoenix.
"I almost came here out of high school," De La Trinidad said. "I wanted to stay closer to home, and Vegas is a five-hour drive to Phoenix. The atmosphere is pretty close to Phoenix."
As Stolte tries to rebuild the Rebels, De La Trinidad is an important piece moving forward, providing the type of player who can give the program its foundation.
UNLV (17-30) is paying the price after the uncertainty created over the program's direction when previous coach Tim Chambers stepped down in December 2015 and Stolte was named the interim. The interim tag was removed from Stolte after the 2016 season, and maybe recruiting will tick back up.
"Pitching will be the key, and we're going to get some pitching in here," Stolte said. "(De La Trinidad's) a building block, (Kyle) Isbel, (Bryson) Stott. We're going to be fine. Get through this year, and we've got some good arms on the way, and I feel good about the direction we're heading."
Volleyball
The Rebels will play seven matches next season against five teams that made the NCAA Tournament — UCLA, Boise State, Colorado State, Samford and North Dakota. UNLV made the tournament as well, going 24-8.
Its season begins Aug. 25 and 26 in the UNLV Invitational with matches against Binghamton, UC Davis and Eastern Washington at Cox Pavilion.
UNLV coach Cindy Fredrick's son, Ali Farokhmanesh, reportedly was hired as a Drake assistant men's basketball coach. Rebels fans remember him for the game-winning 3-pointer that eliminated UNLV in the 2010 NCAA Tournament.
Golf
The UNLV men's team will find out Thursday where it will play in the NCAA regionals.
UNLV's women already know where they're headed. They play in Lubbock, Texas, on May 8-10. The Rebels are seeded 11th in the 18-team field.
Contact Mark Anderson at manderson@reviewjournal.com or 702-387-2914. Follow @markanderson65 on Twitter.
UNLV tennis teams fall in MW championship final
The UNLV women's and men's tennis teams lost by 4-0 scores Sunday in the Mountain West championship finals.
The top-seeded women (18-8) fell to No. 3 seed San Jose State (14-7) at Feritta Tennis Complex, and the No. 3-seeded men (19-9) bowed to No. 1 seed Utah State (23-8) in Boise, Idaho.
Marine Dans and Gaelle Ray each notched a singles victory and teamed for a 7-5 win in doubles for the Spartans, who dethroned the Rebels to win their first league tournament title.
Aiwen Zhu and En-Pei Huang combined for a 6-3 win at No. 1 doubles for UNLV, and both led their singles matches when play was halted after San Jose State clinched the match.
For the Utah State men, Jack Swindells and Jonas Maier each won a singles match and teamed for a 6-4 doubles triumph.
The Rebels' lone victory came from the No. 1 doubles team of Jakob Amilon and Evaldo Neto.
UNLV Schedule
Baseball: vs. Fresno State, Wilson Stadium, 6 p.m. Friday, 2 p.m. Saturday, 1 p.m. Sunday
Softball: at San Diego State, 6 p.m. Friday and Saturday, noon Sunday