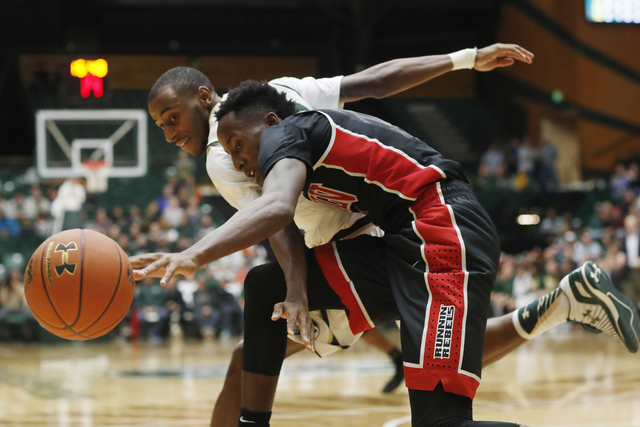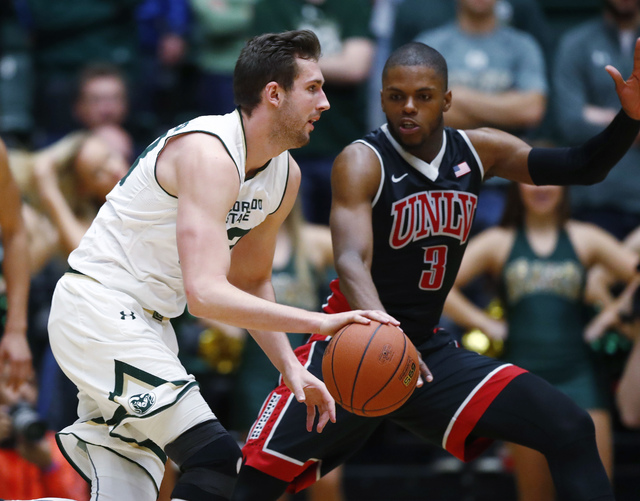 FORT COLLINS, Colo. — Three takeaways from the UNLV basketball team's 91-77 loss to Colorado State on Wednesday at Moby Arena:
1. THE REBELS HAVE NO QUICK-FIX ISSUES
None of UNLV's problems against Colorado State was a big surprise.
It already was common knowledge the Rebels didn't have a true point guard and that they would struggle inside against physical teams.
UNLV has been able to mask those problems at times, but now that the Rebels are into their Mountain West schedule, those defects won't be so easy to hide. They now face more teams on their level on a regular basis.
"We need to play some team basketball," coach Marvin Menzies said. "We need to play for our brothers. We need to share the ball and be a tighter fraternity on the court and get more connected. That starts with communication. We were real quiet. Some of it's personality and some of it is I've got to demand more, I guess. I am confident we will get there. I'm just hopeful it will be sooner than later."
The lack of a true point guard — Jalen Poyser and Jovan Mooring are two-guards trying to play the position — helped lead to what happened against the Rams. UNLV's offense went stagnant, going from scoring 41 points in the first 15 minutes to 36 in the final 25.
The Rebels struggled to take care of the ball at crucial points, committing three turnovers during a three-minute stretch to close the first half, just at the time the Rams were asserting themselves.
And even with Christian Jones back in the starting lineup after being hounded with foot and ankle injuries, the Rebels were outrebounded 47-37. Colorado State's Emmanuel Omogbo had 13 rebounds and Gian Clavell 11.
The Rams also outscored UNLV 40-20 in the lane.
"It's not like two or three guys had a bad game," Menzies said. "We lost as a team."
2. EVEN TYRELL GREEN WASN'T HIMSELF
Green had carried UNLV's offense recently, averaging 18.5 points in the four prior games to raise his season average to 13.9. UNLV won two of those games and lost to ranked teams Oregon and Kansas in the other two.
But Green made just 1 of 11 shots against Colorado State, including missing all five from the 3-point arc, to finish with four points.
He became increasingly frustrated as the game went along, and some of that had to do with calls Green thought he should have received in what was a physical game.
UNLV will need Green to go back to being the player he was before this game, and this experience could be a valuable lesson to find a way to play through questionable officiating and an off night.
3. UNLV DOESN'T HAVE TIME TO FEEL SORRY FOR ITSELF
Green's teammates can't wallow in self-pity, either, not with 11-3 Wyoming visiting the Thomas & Mack Center at 1 p.m. Saturday.
The Rebels can't let this performance turn into a string of losses.
"They know they can play much better," Menzies said. "They did at times. So, with us (as coaches), they've got to figure out how to sustain it for more than 17 minutes.
"They're beating themselves up a little bit, and they should, as well as the staff. We've got to figure out with this particular group of guys, what's the answer to the riddle?"
Contact Mark Anderson at manderson@reviewjournal.com or 702-387-2914. Follow @markanderson65 on Twitter.
VS.