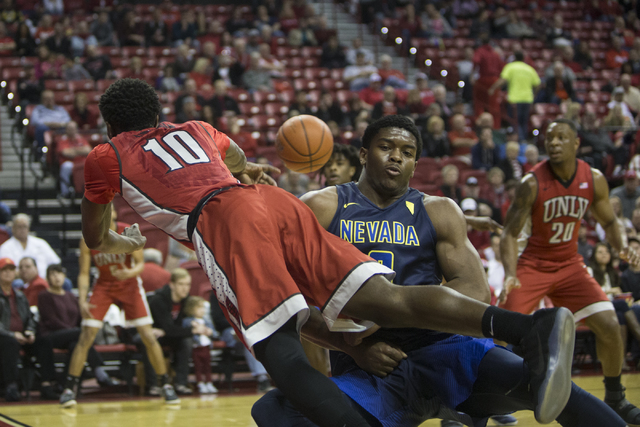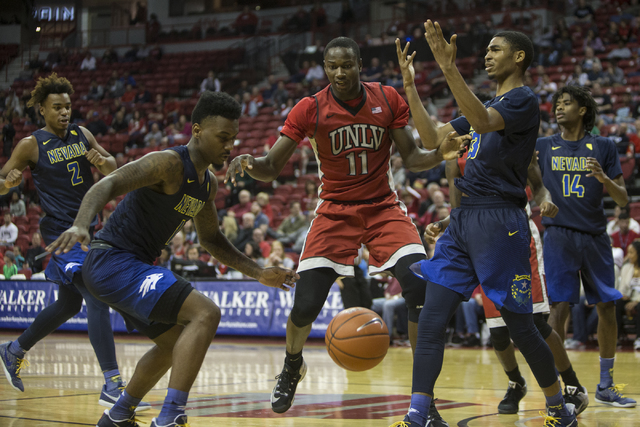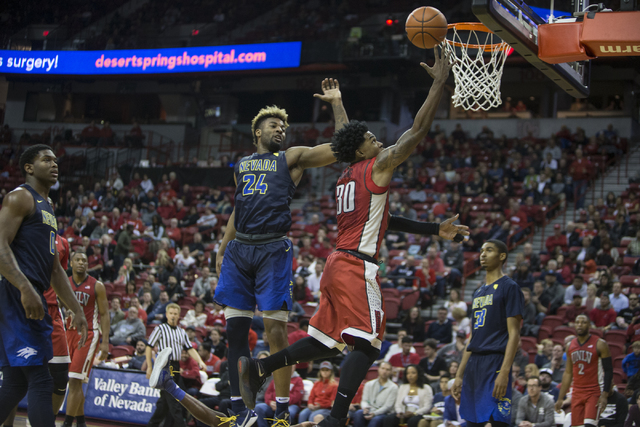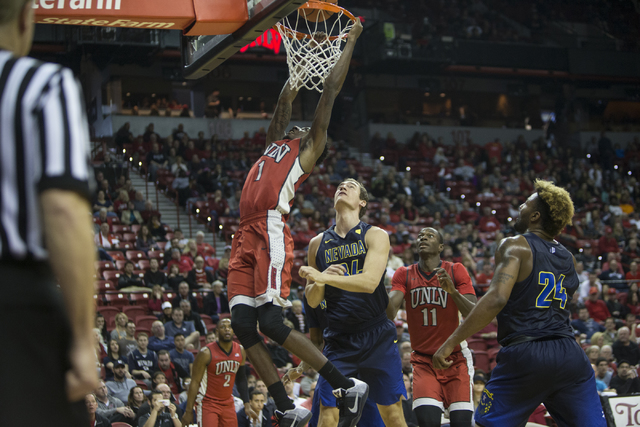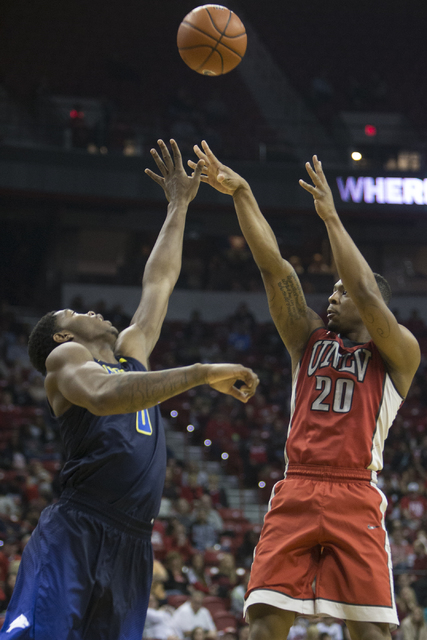 Three takeaways from the UNLV basketball team's 94-58 loss to UNR on Saturday at the Thomas & Mack Center:
1. THE UNLV MALAISE
UNR came in and rolled to the victory, taking control early and dominating the entire game.
The Wolf Pack swept the regular-season series and did so in convincing fashion by a combined 63 points. UNLV's worst loss in this rivalry was by 20 points in 1962 when John F. Kennedy and Camelot ruled the White House.
First-year UNLV coach Marvin Menzies said his players haven't grasped what it takes to get the job done, especially at a proud program like this one that celebrated the 1987 Final Four team at halftime.
"I think there's a lack of understanding by our guys at what the UNLV brand is, and we're going to get everybody's best shot," Menzies said. "Air Force, Boise State, it doesn't matter who we're playing. We're UNLV. I'm not sure my young men quite understand the significance and the honor that they have on their plates right now."
Rebels forward Christian Jones didn't dispute his coach's assertion.
"Some people don't know that background of games like that," Jones said. "It showed."
2. EMOTIONAL MENZIES
Menzies said he had to be careful about what he said in the postgame news conference, and it was clear he had plenty on his mind.
The team is getting worse and not better, and maybe that's because opponents have more video on the Rebels and are exposing their flaws. And the greater the losing becomes, the more of a mental beating the Rebels take.
"This is very painful, you guys," Menzies said, his voice breaking a little, "and it's a hard pill to swallow."
UNLV has two regular-season games remaining — Wednesday at home against Utah State and Saturday at Fresno State — and then the Mountain West tournament.
"This transition has been tough," Menzies said. "We've got to define how we're going to finish this thing."
The Rebels, who have lost nine in a row, must find a way to get some momentum.
"It's tough right now," guard Kris Clyburn said. "We're working on keeping a positive mindset throughout this whole process."
3. TWO-MAN TEAM
UNR won easily even with a minimal contribution from Cameron Oliver, who scored just nine points.
Oliver is in the running for Mountain West Player of the Year, and he was averaging 15.6 points, 8.5 rebounds and 2.7 blocked shots.
UNLV had much more difficulty with Jordan Caroline (31 points, 10 rebounds) and Marcus Marshall (28 points). Those two outscored UNLV 59-58.
Contact Mark Anderson at manderson@reviewjournal.com or 702-387-2914. Follow @markanderson65 on Twitter.