3 takeaways from UNLV's loss at UNR
February 8, 2017 - 11:57 pm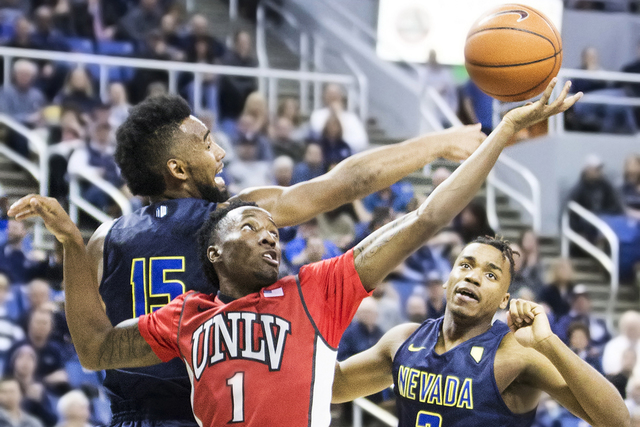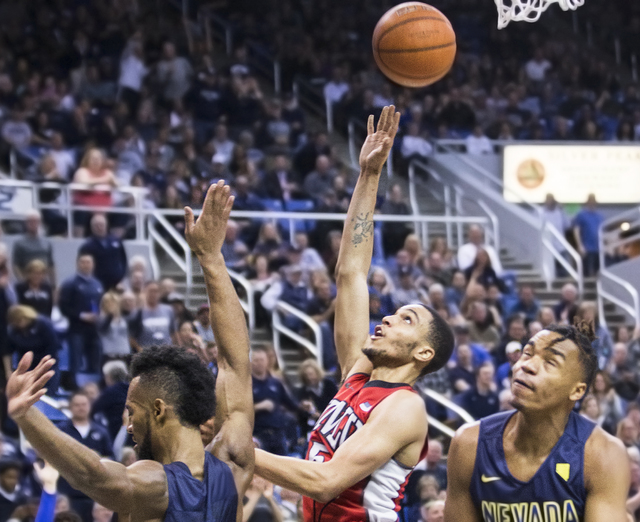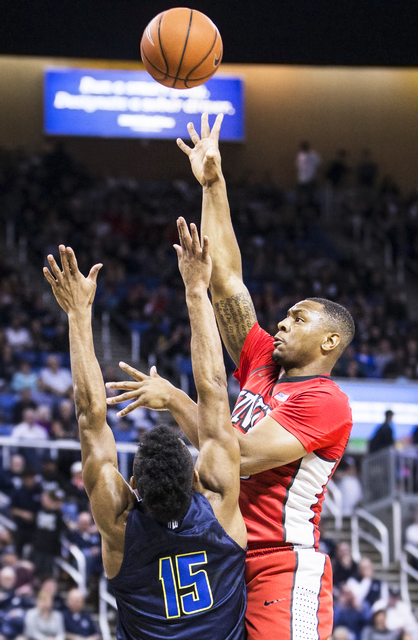 RENO — Three takeaways from the UNLV basketball team's 104-77 loss to UNR on Wednesday night at Lawlor Events Center:
1. IT WAS BAD, AND THAT'S NO SURPRISE
UNLV was a 12½-point or 13-point underdog, depending on the sports book, so expectations were low that the Rebels would be competitive.
And they weren't, falling behind 15-6 by the first media timeout and never truly making a game of it.
The lack of surprise about how this game played out speaks to just where the program has fallen. Even in last season's 18-win disappointment, UNLV was expected to at least compete with its upstate rival, and that's what the Rebels did in splitting the series.
First-year UNLV coach Marvin Menzies has to build this program back to where a result like this one not only wouldn't be a surprise but also wouldn't be tolerated.
"Rivalries, man, they're tough games if you're not in tune with the significance of them," Menzies said. "As much as we tried to explain it to our guys and show them videos, they got hit in the mouth the first half and didn't recover. We came back and threw some punches and swung a little bit, but just not a very good overall effort."
2. HOW BAD WILL IT GET THIS SEASON?
Just when it looked as if the Rebels might catch a break with San Jose State coming to the Thomas & Mack Center on Saturday, they now face a program riding a three-game winning streak. That includes a 76-72 victory over UNLV on Jan. 28.
So the Rebels' long season and losing streak, which has reached five games, could very well continue.
After facing the Spartans, UNLV has trips to San Diego State and Air Force, home games against UNR and Utah State, and finally a trip to Fresno State.
Hard to find many victories in that group.
"I'm not used to losing, and I know the guys in the locker room are not used to losing," UNLV guard Jovan Mooring said. "But the good thing about this conference is I don't see a Duke or a Kansas. I still feel like this conference is up for grabs."
3. THE BALANCE OF POWER HAS SHIFTED
Back in the day, you know a year or two ago, it was assumed UNR would be the football school and UNLV the basketball one.
Now the Wolf Pack own the rights to both sports.
With Menzies in the midst of a major overhaul, UNR is trying to win the Mountain West regular-season title. The Wolf Pack then will be one of the favorites to capture the conference tournament championship and make the NCAA Tournament.
The challenge for the Wolf Pack is to keep it going, which will be tricky if coach Eric Musselman gets hired away after this season. That could put assistant Dave Rice, the former UNLV coach, in line to take his place.
No matter who is on the bench next season, the Wolf Pack will have to replace seniors Marcus Marshall and D.J. Fenner, and sophomore Cameron Oliver is expected to seriously consider turning pro.
So the Wolf Pack will have issues to address, but for now, they own the state in football and, yes, basketball.
Contact Mark Anderson at manderson@reviewjournal.com or 702-387-2914. Follow @markanderson65 on Twitter.
VS.