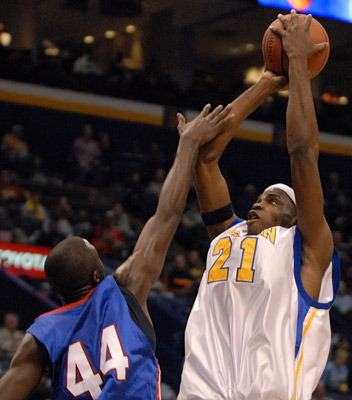 It's uncertain how big of an impact Beas Hamga can make as a UNLV freshman. But coach Lon Kruger is certain his new 7-foot recruit will be on the floor next season.
Hamga, who is from Cameroon and played last season at Decatur Christian High School (Ill.), plans to graduate this summer, one year ahead of schedule. He was originally classified as a 2008 recruit.
It seems to be a formality that Hamga's eligibility will be approved by the NCAA.
"We anticipate no problems at all," Kruger said Wednesday after receiving Hamga's signed letter of intent.
"He's a good student and he's done the things he needs to do. It's just a matter of paperwork. It just takes a little more time with a foreign student."
A lot of hype has accompanied Hamga's commitment to the Rebels. Kruger welcomes the attention, but he also must be the voice of reason.
Hamga, who turns 19 in July and is ranked as a top-50 high school prospect, probably is not going to remind fans of Shaquille O'Neal when he debuts in November.
"You see a 7-footer and right away you have visions of great things, and that's a little bit unfair," Kruger said. "He's a young guy and he's going to need some time.
"Beas is going to be a very good player, but to expect him to step in right away and totally rule everything is unfair. I think managing those expectations from the start is very important."
The 225-pound Hamga averaged 13 points, 12 rebounds and seven blocked shots per game last season for Decatur Christian. But his offensive skills need work, and his biggest immediate impact should come on the defensive end.
"I think the thing he'll do is just get better and better," Kruger said. "When you get a 7-footer like that who has good skills, that can really happen. He's got a great attitude, and he wants to be a good player."
Hamga can help replace Gaston Essengue, who hosted him on his recruiting visit. Essengue, also from Cameroon, started 31 games at center for UNLV as a senior.
"Coach told me how bad he wanted Beas to come out here," Essengue said. "I took more time explaining to him the program and selling him on the city, and he liked it."
The rest of the incoming class includes 6-10 Emmanuel Adeife of Polk Community College in Winter Haven, Fla., 6-3 shooting guard Mareceo Rutledge of Yuba College in Marysville, Calif., and 6-4 guard Kendall Wallace from Mountain View High in Mesa, Ariz.
Other newcomers will be 6-8 sophomore forward Lamar Roberson, a transfer from Houston, and redshirt freshman guard Troy Cage.
"That's six new guys, and I like the group a lot," Kruger said.
UNLV Basketball