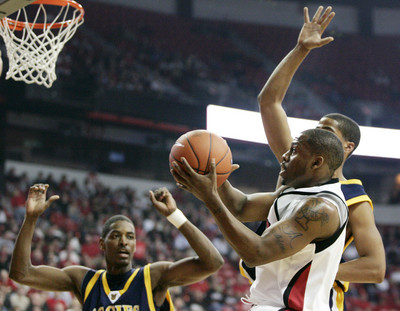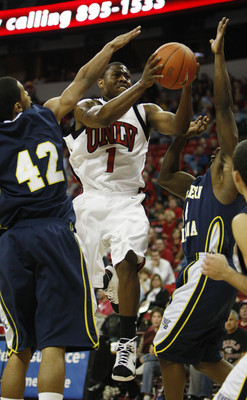 Fifteen minutes after Monday's practice, UNLV senior Wink Adams still was shooting jumpers. He was making most of them, too.
"Constantly shooting," Adams said when asked how he plans to emerge from one of the worst slumps of his career.
He's firing extra shots before practice, after practice and in the middle of the night if possible, he said.
"Wink's going to bounce back," coach Lon Kruger said. "He works hard at it, he's a competitor and he's aggressive."
Bouncing back is the goal for Adams and the Rebels, who were knocked down in weekend losses to California and Cincinnati.
UNLV (5-2) lost back-to-back games at the Thomas & Mack Center for the first time since February 2005.
What must happen next is obvious to Adams. "We've got to win two tough road games," he said.
The Rebels are about to embark on a mini-tour of the Western Athletic Conference by playing at Fresno State (2-3) on Wednesday and UNR (2-3) on Saturday, and both opponents are dealing with difficult times.
Fresno State suffered a 62-54 home loss Sunday to Oregon State, which snapped a 25-game losing streak. UNR has dropped its past two games, to Pacific and Portland.
Kruger witnessed progress after UNLV's 73-55 loss to Cal on Friday. He said the Rebels played their best 40 minutes of the season one day later in a 67-65 defeat to Cincinnati.
"We bounced back from the Cal loss and played much better on Saturday. We don't feel good about the result, but I think the Cal game got (the players') attention in a pretty big way," Kruger said.
UNLV has been pushed around inside by bigger, more physical teams. The Rebels were minus-23 in total rebounds in their two losses.
But Kruger's biggest concern is his team's poor shooting, and Adams' slump is at the forefront of it.
Adams shot a combined 5-for-25 against Cal and Cincinnati. He went into the weekend averaging a team-high 16.2 points per game and scored a total of 15 points in the two games.
"He's been streaky throughout his career, and obviously last weekend was an extreme," Kruger said. "Wink felt worse than anyone else."
UNLV's other senior starters, forwards Joe Darger and Rene Rougeau, also are lacking consistency.
Rougeau shot 4-for-19 in the two losses. Darger played mostly inside last season but is now strictly a perimeter player, with 48 of his 57 field-goal attempts being 3-pointers.
The loss to Cincinnati hurt the most because the Bearcats are picked to finish in the bottom half of the 16-team Big East Conference. Adams had two shots to tie the game with 11 seconds to go, but he missed the first of two free throws.
"I'm really confident I'll get out of it," Adams said. "I've just got to get better shots. I've been fading a little bit … on 75 to 80 percent of my shots.
"I think everybody is more focused on what we've got to do. Coach Kruger said it's going to take one or two losses for us to get in our mind what we have to do, and I think those two losses did it."
Contact reporter Matt Youmans at myoumans@reviewjournal.com or 702-387-2907.