Aztecs are often riddle for Rebels
January 12, 2010 - 10:00 pm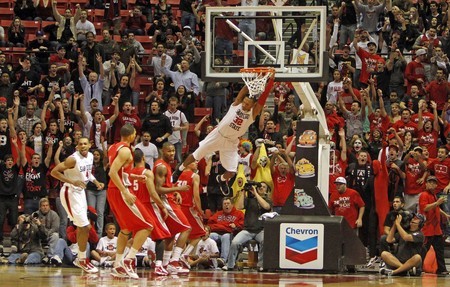 Spotting up on the wing late in Monday's practice, UNLV guard Kendall Wallace launched a 3-point shot.
"It's off," Wallace shouted, as the basketball bricked off the side of the rim in the silence of the Thomas & Mack Center.
"As a shooter, you can have on and off days," he said. "I just happened to have one of my best days in a big game."
Wallace was spot on Saturday, when he hit seven 3s and scored a career-high 21 points in a 74-62 victory over New Mexico that earned the Rebels a split of their two-game road trip to open the Mountain West Conference season.
UNLV (13-3, 1-1 MWC) returns to the Thomas & Mack for the first time since Dec. 19 to host San Diego State (12-4, 1-1) at 7 p.m. Wednesday.
Last season, the Rebels had nothing but off days against the Aztecs, who swept the teams' three meetings. Wallace was no factor in any of those games, scoring a total of four points.
"Especially for the guys who were on the team last year, that hurt a lot to lose to them three times," he said. "They knocked us out of the conference tournament, so we're definitely motivated for this game."
Wallace noted San Diego State also should be more focused after blowing a 14-point lead with less than five minutes remaining in an 85-83 loss at Wyoming on Saturday.
The Aztecs are led by two newcomers, 6-foot-6-inch freshman Kawhi Leonard and 6-9 junior Malcolm Thomas. Leonard had 25 points and 12 rebounds against the Cowboys.
Widely regarded as the league's most talented team, San Diego State could be without Billy White, who tops the MWC in field-goal percentage (62.5) and leads the team in scoring at 12.3 points per game.
Aztecs coach Steve Fisher said White, a 6-8 forward from Green Valley High, is "very iffy" because of a high sprain of his right ankle.
White had 12 points and seven rebounds in San Diego State's 68-66 overtime victory over UNLV on Feb. 3 in Las Vegas. The Aztecs who hurt the Rebels the most last year, Kyle Spain and Lorrenzo Wade, are gone.
"We didn't match up very well and they got the best of us," UNLV coach Lon Kruger said. "But this year is totally different and it all starts over. They have a lot of new players and we've got a lot of new players."
Tre'Von Willis and Oscar Bellfield are the only Rebels starters who played last season.
With the addition of transfers Derrick Jasper and Chace Stanback, and freshmen Anthony Marshall and Justin Hawkins, UNLV could exploit a matchup advantage in the backcourt this time. San Diego State, which committed 15 second-half turnovers against Wyoming, has not handled pressure defense well.
Wallace said the win at New Mexico was "definitely a boost" for UNLV's morale coming off a 77-73 loss at Brigham Young.
"I think it gives us a great starting point for the conference season," he said. "Our team is starting to gel more."
Contact reporter Matt Youmans at myoumans@reviewjournal.com or 702-387-2907.
REYNOLDS LIFTS NO. 4 VILLANOVA OVER LOUISVILLE
LOUISVILLE, Ky. — Scottie Reynolds scored a season-high 36 points to lead No. 4 Villanova past Louisville 92-84 on Monday.
Reynolds made 9 of 10 field-goal attempts, including all five of his 3-point shots, and the Wildcats (15-1, 4-0 Big East) snapped a three-game losing streak to the Cardinals (12-5, 3-1).
Samardo Samuels had 21 points to lead Louisville, which led by 17 in the first half before wilting against Villanova's pressure defense.
THE ASSOCIATED PRESS