Balanced Rebels soar to title
November 29, 2010 - 12:00 am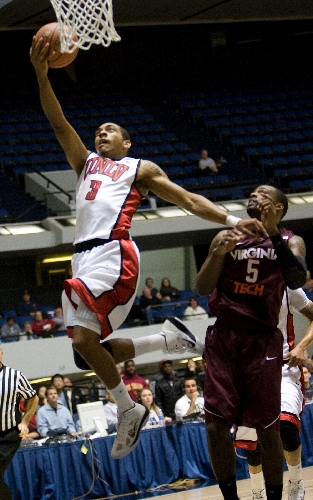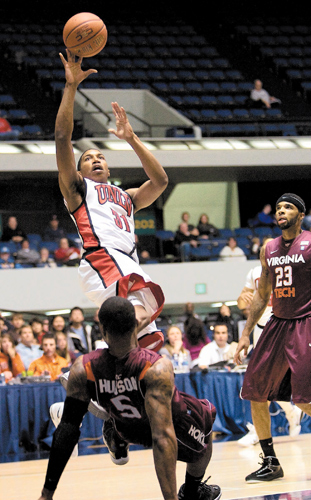 ANAHEIM, Calif. — Over the course of 40 minutes Sunday night, UNLV junior Chace Stanback was not the best player on the floor.
But for three games over four days, he made certain the Rebels emerged as the best team. And he was rewarded for it.
Stanback had 17 points and eight rebounds, and UNLV turned up the pressure on defense to down Virginia Tech 71-59 in the championship of the 76 Classic at the Anaheim Convention Center.
Stanback was named Most Outstanding Player of the eight-team tournament, held near his hometown of Los Angeles.
"It's a great feeling," he said. "We expect to work hard on every possession, and I felt like that's what we did for the majority of the tournament."
The Rebels (6-0) are closing in on a Top 25 ranking, but to maintain a perfect record they had to withstand a long-range shooting barrage from Hokies guard Malcolm Delaney.
The leading scorer in the Atlantic Coast Conference a year ago, Delaney did not disappoint. He made 7 of 9 3-pointers and totaled 30 points in 40 minutes.
"We were giving Delaney extra attention, and he still kind of did what he wanted to do," UNLV coach Lon Kruger said.
Stanback had a deeper support system. Quintrell Thomas and Tre'Von Willis each finished with 14 points, and Anthony Marshall scored 10.
Four Rebels scored in double figures in each of the tourney's three games. But it was their full-court trapping defense that made the difference by forcing Virginia Tech (4-2) into 18 turnovers.
"We just picked up our defensive intensity," Stanback said. "We've got a lot of depth, and we play physical and scrappy."
Willis' drive and feed to Derrick Jasper for a dunk put UNLV up 57-47 with 8:27 remaining. But when Stanback went to the bench with his fourth foul, Delaney drilled a 3 as the Hokies rallied to within five.
"It's hard to stop good players when they get hot," Stanback said of Delaney, who had 18 points in the second half.
The Rebels responded with a 12-4 run as Willis made two 3-pointers, Marshall and Thomas dunked and Stanback added a layup.
Thomas and Stanback, both 6-foot-8-inch forwards, helped UNLV outscore Virginia Tech 34-14 in the paint.
The Rebels shot 53.4 percent (31 of 58) from the field and held a 29-28 edge in rebounds, with Stanback grabbing four on the offensive end.
Delaney said he expected the Hokies to win with defense, and they effectively used a 1-3-1 zone for a brief stretch. But they were pressured into mistakes, shot 9 of 21 on free throws and failed to dominate physically.
"This game was physical, and I'm proud of our team, to tell you the truth," said Thomas, who shot 6-for-7 Sunday and 15-for-17 in the three games. "We're not a soft team at all. I think we'll be able to go out and hold our own against anybody."
UNLV's reserves also had a 24-3 scoring advantage, as Willis made three of the team's four 3-pointers in his strongest effort of the season off the bench. He also had three steals and three assists.
"Everyone is playing well," Willis said. "You can't look at anyone on our team and say they're not playing very well. I think if anybody, it would be me. I can pick my play up, and that could be a plus.
"This is my first championship at UNLV, and it feels great. (Stanback) is going to talk about that (award) for the rest of his life. He's smiling from ear to ear, and he got a nice little watch. I'm so proud of him."
Stanback, the Rebels' only member of the all-tournament team, shot 8-for-15. He had nine points to lift UNLV to a 37-30 halftime lead. But he did not want to be singled out for his success.
"My teammates and coaches are all behind me," he said. "I feel like I'm getting there, but there's always room for improvement, and I feel like I need to improve in a lot of areas."
Kruger praised the Rebels' "high intensity level" and the outstanding play by Stanback.
"Clearly, Chace is deserving of the award," Kruger said.
Contact reporter Matt Youmans at myoumans@reviewjournal.com or 702-387-2907.
UNLV vs. Virginia Tech
UNLV — 71
VIRGINIA TECH — 59
KEY: Chace Stanback scored 17 points for the Rebels, who shot 53.4 percent and forced 18 turnovers.
NEXT: UNLV at Illinois State, 5 p.m. Wednesday, Normal, Ill., KWWN (1100 AM, 98.9 FM)