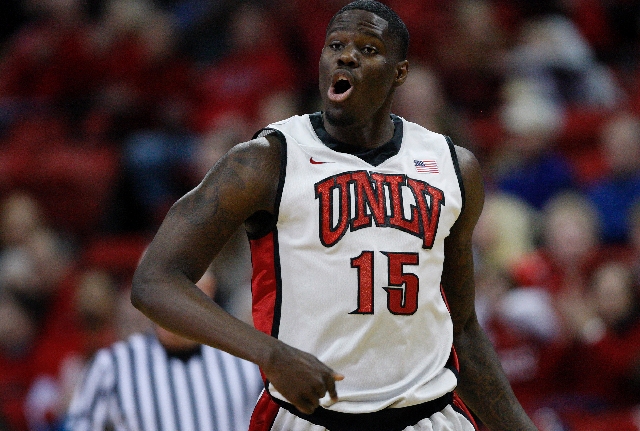 RENO — As Anthony Bennett discussed his mysterious injury, his eyes turned wide open when a reporter mentioned "brachial neuritis" as the diagnosis.
"It sounds like a real serious thing," Bennett said.
It might be serious — the inflammation of nerves from his neck to left shoulder — and it might not.
"I had never heard of it," UNLV coach Dave Rice said.
It was serious enough to prevent the 6-foot-8-inch freshman forward from participating in practices Wednesday and Thursday. But it did not seem as serious Friday, when he was able to practice, making his status less of a mystery.
Bennett is expected to play for the Rebels (21-7, 8-5 Mountain West) against UNR (12-15, 3-10) at 1 p.m. today at Lawlor Events Center.
"I think he's OK," Rice said. "I think there's still pain involved. But he told me he felt pretty good. There's always a concern with an injury like this."
Bennett, UNLV's leading scorer and rebounder at 17.0 points and 8.4 rebounds per game, might not start for the first time in 29 games. Rice said junior forward Mike Moser "most likely" will move into the lineup with Bennett being the first big man off the bench.
The Rebels have won seven straight meetings with the Wolf Pack, including a 66-54 decision on Jan. 29 in Las Vegas. UNR last recorded a series victory in November 2005.
The Wolf Pack have had problems beating anyone lately, losing four in a row and seven of their past eight to plummet to eighth in the nine-team conference. They hit a low point with a 73-47 loss at Boise State on Wednesday.
Still, UNR poses a threat because of veteran guards Malik Story and Deonte Burton. Story, a senior, scores 16.1 points per game, and Burton, a junior, averages 15.7.
Burton had 14 points and seven assists in the rivals' first meeting this season, and his point guard matchup with UNLV senior Anthony Marshall should be a pivotal factor in the game.
"I've been playing against him since my eighth- or ninth-grade year," Marshall said. "He's a great player. He's going to get his points, but you don't want to make it easy for him."
The Rebels are 2-5 on the road in league play after whipping Wyoming 65-42 last Saturday. Bennett missed his only two shots and played four minutes before going to the bench for the rest of the game with a sore shoulder. Moser filled in with 11 points and seven rebounds.
Sometime before the game at Wyoming, Bennett said he woke up with pain in his left shoulder. When the team returned to Las Vegas, Bennett went in for an ultrasound and MRI exam, but no structural damage was found. Team trainer Dave Tomchek said he was treating Bennett for brachial neuritis, a rare nerve issue.
"I'm pretty sure the team could do well without me," Bennett said. "I can be tough and probably play through it. If you're hurt and you're really into the game, you're going to forget about it.
"I just don't want to aggravate it or make anything worse. If I play, it probably could get worse. I can't say for sure. I'm just taking this day to day."
The six-day break in the Rebels' schedule arrived at a prime time for Bennett, who said he was "feeling a lot better" and "not worried about it at all."
Bennett talked about the team's goals of winning the Mountain West tournament and making a run in the NCAA Tournament, saying his primary concern was being healthy for the biggest games on the horizon.
Of course, he also is projected to be a top-five pick in the NBA Draft in June, and he was asked if that was a factor weighing on his mind.
"My future is important, but I'm not really thinking about that too much," he said. "We have a real special thing in front of us."
Contact reporter Matt Youmans at myoumans@reviewjournal.com or 702-387-2907. Follow him on Twitter: @mattyoumans247.
UNLV VS. UNR
WHEN: 1 p.m. today
WHERE: Lawlor Events Center, Reno
TV/RADIO: NBCSP (38); KWWN (1100 AM, 98.9 FM)
LINE: UNLV -5.5; total 138