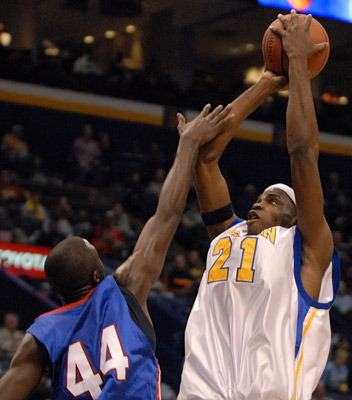 During the course of several sleepless nights, 7-foot Beas Hamga pondered where he should play college basketball. He opened a lot of eyes Monday by choosing UNLV.
"It's not an easy decision," said Hamga, who also considered Kentucky and Indiana, among others. "It's a good program at UNLV, and I have the chance to have the team built around me."
Hamga, from Decatur Christian (Ill.), was pursued by almost every major program in the country.
Kentucky figured to be the favorite to sign Hamga, but after returning Sunday from a visit to Lexington, Ky., Hamga called Rebels coach Lon Kruger and made his announcement official.
"This is a great addition. The bottom line is UNLV is getting a 7-footer who's very talented," said All Star Sports analyst Bob Gibbons, who ranks the Rebels' 2007 recruiting class in the top 20 nationally.
Hamga said he plans to sign a letter of intent by Wednesday, and until that happens, NCAA rules prohibit Kruger from commenting.
Hamga, who expects to be eligible this season, made his first official visit to UNLV on May 4.
"I talked to him today, and he said last night was the first night he slept well in a month," Decatur Christian coach Al Huss said Monday. "There was a lot of pressure on him from a lot of different people.
"He has no reservations. He feels like he made the best choice."
The 225-pound Hamga, who has a 9-foot-7-inch reach, averaged 13 points, 12 rebounds and seven blocked shots per game last season for Decatur Christian.
Hamga, who turns 19 in July, was ranked by Gibbons and other recruiting analysts as one of the top 50 players in the class of 2008. But he is on schedule to graduate this summer and plans to enroll in college a year ahead of schedule.
Hamga's eligibility still must be approved by the NCAA. "It's still in the process of being cleared, but it's going to happen," Huss said.
Hamga is a friend of fellow Cameroon native Gaston Essengue, who just finished his senior season for the Rebels.
He has other strong connections to UNLV. Huss played for Rebels assistant coach Greg Grensing at Creighton. In the offseason, Hamga lives in Bloomington, Ind., with his guardian, Mark Adams, who knows Kruger and is familiar with UNLV's program.
"I trust the coaches. They are nice people," Hamga said. "Gaston also helped me a lot."
Hamga represents a recruiting coup for Kruger, whose critics wondered if he could land a premier high school player and a big man.
"I think Hamga will emerge as a factor for UNLV right away," Gibbons said.
Hamga originally committed to Iowa, but reopened his recruitment two months ago when coach Steve Alford left the Hawkeyes for New Mexico. Kruger and staff had courted Hamga before he chose Iowa.
"He felt like he fit in there and could be a part of something special at UNLV," Huss said. "He's going to develop into a better offensive player, but right now he excels as a shot blocker and rebounder."
The Rebels lose five seniors from a team that finished 30-7 and reached the NCAA Tournament's Sweet 16.
Essengue, Joel Anthony and Wendell White were the top post players, while guards Kevin Kruger and Michael Umeh also departed.
The top returning scorer will be junior guard Wink Adams.
Hamga said he has been promised a chance to play immediately.
The rest of the incoming class includes 6-10 Emmanuel Adeife of Polk Community College in Winter Haven, Fla., 6-3 shooting guard Mareceo Rutledge of Yuba College in Marysville, Calif., and 6-4 guard Kendall Wallace from Mountain View High in Mesa, Ariz.
Gibbons said his top-20 ranking counts 6-8 sophomore forward Lamar Roberson, a transfer from Houston, as part of the recruiting class.
KRUGER'S RECRUITS
UNLV basketball coach Lon Kruger's five-player recruiting class for 2007:
Player
Ht
Pos
School
Emmanuel Adeife
6-10
C
Polk C.C. (Winter Haven, Fla.)
Beas Hamga
7-0
C
Decatur Christian (Ill.)
Lamar Roberson
6-8
F
University of Houston
Mareceo Rutledge
6-3
G
Yuba College(Marysville, Calif.)
Kendall Wallace
6-4
G
Mountain View H.S. (Mesa, Ariz.)
UNLV Basketball