BYU, Lobos await Rebels on dicey Mountain road
January 5, 2010 - 10:00 pm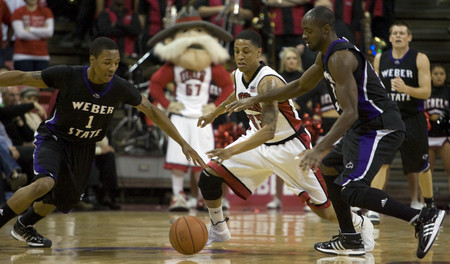 A steep climb awaits UNLV at the outset of the Mountain West Conference schedule. But instead of dreading the road trip, junior guard Tre'Von Willis is packing up and getting excited.
The Rebels will run the gantlet this week, playing at No. 25 Brigham Young on Wednesday and No. 15 New Mexico on Saturday.
The Cougars (14-1) are 8-0 at the Marriott Center this season. The Lobos (14-1) own a 19-game winning streak at The Pit.
"I love those types of environments," Willis said. "I just love games like that where the crowd is rowdy and you've just got each other. It's probably the two toughest road games in conference.
"I think we're ready. It's a challenge for us. BYU is one of the hottest teams right now in the NCAA."
UNLV coach Lon Kruger, whose team exited the nonconference season with a 12-2 record, is not downplaying the challenge.
If the Rebels split the trip, they should be thrilled. Kruger does not talk in those terms, but he indicated what UNLV is up against at BYU and New Mexico.
"I think those two teams are probably playing as well as anyone in the country right now," Kruger said. "When you think about your team and how you want them to play, you want them to play with great confidence, great energy and shooting the ball well with great flow.
"When you watch those teams play, that's what comes across. I don't know that any teams are playing with greater confidence and greater energy than those two teams.
"BYU is playing extremely well, and that's a tough place to go into and win. So we go in there with a lot of respect for what they are doing, and yet we're intrigued by the challenge."
Intimidation should not be a big factor for the Rebels, who recently experienced the rare feeling of winning at the Marriott Center.
During his UNLV career, Wink Adams had a habit of burning BYU with his hot shooting, and he did it twice last year as a senior.
Adams led a second-half comeback to beat the Cougars 76-70 on Jan. 21 at Provo, Utah. He scored a game-high 22 points as the Rebels erased a 43-30 halftime deficit and stopped BYU's 25-game home winning streak in the conference. Willis made two 3-pointers and scored 13 points.
In the February rematch in Las Vegas, Adams scored 22 points and Willis 10 to lift UNLV to a 75-74 victory over the Cougars.
BYU is a high-powered offensive team, averaging 96.6 points in its past five games. Junior guard Jimmer Fredette scores 21.6 points per game, and Jackson Emery, Tyler Haws and Jonathan Tavernari also are sharpshooters from the perimeter.
"We've got to really defend our tails off, try to stop their transition buckets and make them play from the half court," Willis said. "We don't want them to get easy buckets. We feel we can stop their transition game and make them a half-court team."
Kruger said Willis, the Rebels' leading scorer at 14.5 points per game, will return to the starting lineup for the first time since Dec. 12.
Willis missed one of UNLV's past six games and came off the bench in the other five. He was plagued by a sore left ankle that he said is "getting close" to full strength.
What bothers Willis more is the Rebels' last game, a 67-56 loss to Southern California in the Diamond Head Classic championship at Hawaii on Dec. 25.
"That was horrible. I couldn't maneuver as well as I would like to, and my shot wasn't falling. It was awful," said Willis, who shot 0-for-6 from the field and had four points against USC, which physically dominated UNLV on both ends.
The MWC's top teams lost several stars after last season, and the conference was expected to drop off in quality. But BYU and New Mexico reloaded, and UNLV and San Diego State are close behind.
"There were a lot of unknowns in October," Kruger said. "But after watching the first two or three weeks, those were settled very quickly. It's a realization that teams are going to be very tough."
Contact reporter Matt Youmans at myoumans@reviewjournal.com or 702-387-2907.