Chris Beard meets with Texas Tech about coaching job, might leave UNLV
April 14, 2016 - 11:15 pm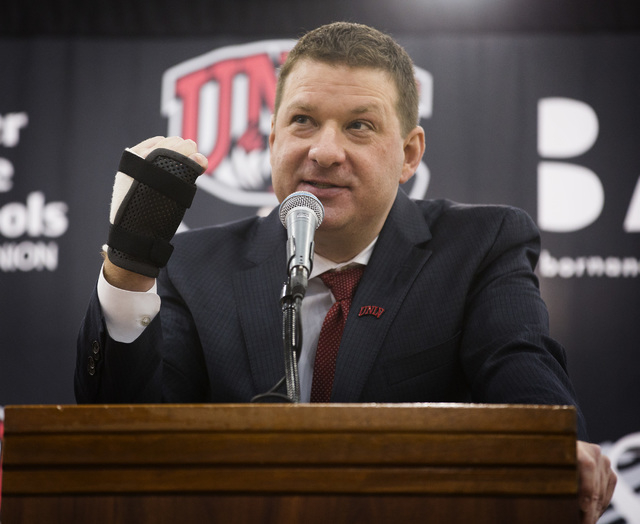 UNLV basketball coach Chris Beard met with Texas Tech officials Thursday night to discuss the Red Raiders' coaching vacancy after only six days at the helm of the Rebels' program.
No announcement was made, and UNLV athletic director Tina Kunzer-Murphy said in a statement a decision would be made Friday.
UNLV AD statement on Chris Beard: "We have agreed to have this resolved by tomorrow." pic.twitter.com/3m5edpDpy9

— Las Vegas RJ Sports (@RJ_Sports) April 15, 2016
"Late this afternoon, I was contacted by the athletics director at Texas Tech (Kirby Hocutt) seeking permission to speak with Coach Beard about its men's basketball head coaching vacancy," Kunzer-Murphy's statement said.
"This evening, Coach Beard met with officials from Texas Tech. We were made aware of the meeting before it took place.
"I have since met with Coach Beard, and we have agreed to have this resolved by (Friday)."
Fox News West Texas reported Thursday night that Beard had accepted the position, which came open earlier in the day when Texas Tech coach Tubby Smith left for the same position at the University of Memphis. But Kunzer-Murphy's statement indicated no such agreement had been reached between Beard and Texas Tech.
Fox News West Texas reports Beard has accepted the Texas Tech job. When I asked a UNLV official, Beard hadn't called. #UNLVmbb #RJnow

— Mark Anderson (@markanderson65) April 15, 2016
If Beard leaves for Texas Tech, UNLV officials could turn to New Mexico State's Marvin Menzies, who was a finalist for the position when Beard was chosen. Menzies interviewed the same weekend as Beard, but withdrew his name shortly before Beard was chosen.
Beard agreed to coach the Rebels on March 27, then waited 11 days for the University of Nevada Board of Regents to approve his five-year contract.
Texas Tech reached out to Beard about its suddenly open job, and the sides met in Las Vegas after a private plane from Lubbock, Texas, arrived at Henderson Executive Airport at 7:01 p.m., according to flightaware.com. Beard did not respond to multiple attempts for comment Wednesday and Thursday. Messages to his agent, Bret Just, also were not returned.
Speculation began Wednesday when it was reported that Smith was leaning toward taking the Memphis job. He accepted it Thursday morning, reportedly receiving a five-year, $15.45 million deal.
Then, during a Thursday morning news conference in Lubbock, Hocutt was asked about Beard, a former assistant coach at Texas Tech.
"I'm not going to comment on candidates," Hocutt said after Smith took the Memphis job. "This is unexpected, and as soon as we finish here, my focus 24/7 is going to turn to this basketball coaching search, and we'll look throughout the country.
"We'll make sure, as I told this basketball team, that we bring the best man in to lead them going forward. We'll move as expeditiously as we can, but as they know, we're going to take as much time as needed to make sure we find the right person to come in and move us forward."
Texas Tech would owe UNLV a $1 million buyout if Beard leaves, but Texas Tech also is getting a $900,000 buyout from Memphis for Smith's hire.
Beard spent 10 seasons as an assistant at Texas Tech, and his three daughters live in Texas. Texas Tech is believed to be his dream job, and he spoke glowingly about the university when he took his Arkansas-Little Rock team there in December.
"People ask me all the time where I'm from," Beard said. "I moved around a lot as a kid, and I've coached a lot of different places, but Lubbock's the longest I've ever lived somewhere, 10 years. And two of my three daughters were born here.
"It was a little bit emotional. I'd be lying if I said anything different."
If Beard leaves, UNLV would be forced to scramble during a sensitive time. The spring signing period began Wednesday and lasts until May 18. UNLV would have to hire a replacement and get the contract through the Board of Regents, which took about a week and a half with Beard. That would be crucial lost time for a new coach, especially with as many as 11 roster positions to fill.
But Findlay Prep forward Carlos Johnson appears as if he will stick with his commitment, and even posted a six-second video on Twitter of him working out at the Mendenhall Center, calling it "My Home."
My Home #UNLVmbb pic.twitter.com/AwcPGectAl

— NoGoodLoso(@WITNESS_THIS3) April 14, 2016
Contact Mark Anderson at manderson@reviewjournal.com or 702-387-2914. Follow on Twitter: @markanderson65