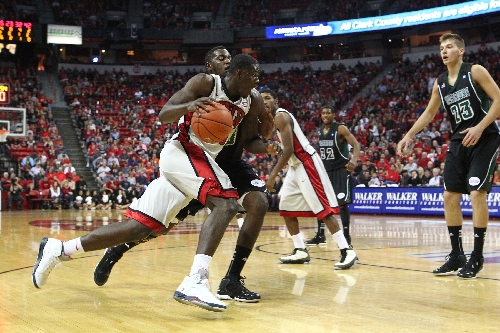 BERKELEY, Calif. – At any level of college basketball, it's typically easy to spot a player with NBA potential. Allen Crabbe is one of those standout talents.
Crabbe, California's 6-foot-6-inch junior guard, went into the weekend as the Pacific-12 Conference's leading scorer and ranked sixth in the nation at 22.4 points per game.
"He's been an outstanding player," Golden Bears coach Mike Montgomery said. "He's got a future out there."
Montgomery, who coached the Golden State Warriors for two seasons before jumping back to the college game, has spotted a UNLV player with obvious big-time potential – 6-8 freshman forward Anthony Bennett.
"He's the real deal," Montgomery said. "He's a man, there's no question about that. He's got muscles on top of muscles. I think he's got a great future at the next level, as well."
Bennett and Crabbe will be the featured attractions when the 21st-ranked Rebels (6-1) face Cal (6-1) at 3 p.m. today at Haas Pavilion in a nationally televised game on ESPNU. But plenty of other players will be worth watching.
Mike Moser should be another. The UNLV junior forward's immediate future looks brighter. He was sidelined most of the week with a strained left hip before participating in Saturday's entire practice.
Moser, the team's No. 2 scorer and leading rebounder, was held out of a 68-60 win at Portland on Tuesday, and in his absence the Rebels stumbled through their worst offensive outing of the season. At that time, Moser said he was optimistic he could be ready to play against the Bears, and that appears to be the case.
"Barring a setback, I would expect him to play," UNLV coach Dave Rice said.
Moser had 14 points in the Rebels' 85-68 victory over Cal last December in Las Vegas. Anthony Marshall was the game's standout performer with 22 points and nine rebounds.
"Marshall just ripped us," Montgomery said of UNLV's senior point guard. Marshall, Bennett and senior guard Justin Hawkins carried the offensive load Tuesday while Moser watched from the bench.
The Rebels' offensive deficiencies, particularly against zone defenses, have not eluded Montgomery's eyes.
"We haven't been able to establish a really good zone that we feel comfortable with, but we can play it. I know that's going to be the thing people say Vegas struggles against," Montgomery said. "Obviously, against Portland without Moser, it was a lot more difficult for them.
"There's not a lack of talent, that's for sure. They certainly have got the capabilities. Sometimes when those shots go down, they look like a million bucks."
But the perimeter shots have not been falling at an impressive rate for UNLV, which is shooting 31.3 percent (46-for-147) from 3-point range. By comparison, Crabbe has hit 43.2 percent of his 3s.
Crabbe is half of a high-scoring Bears backcourt that also highlights junior Justin Cobbs, averaging 18.7 points.
The Rebels' perimeter defense has been one of their strengths. Bennett, averaging a team-high 18.7 points seven games into his college career, is a rock for an inconsistent offense.
"I think that probably unlike teams the last two years here, we have a great chance to be much better in February and March than we are in November and December," Rice said. "And we better be or it's not going to be a very enjoyable February and March. We've got to get a lot better."
Montgomery expects the Bears to be much better than they were in an 81-56 loss at Wisconsin last Sunday.
The Rebels' lone loss was handed out by Oregon, another Pac-12 opponent, on Nov. 23. The challenge between conferences, which has gone the way of the Mountain West the past two years, is an underlying theme in today's game.
"The Mountain West is really good right now. There are a lot of good teams in that league," Montgomery said. "But we've got nothing to be ashamed of because our league is a really good league. We'll get back to where we should be. The national perception is not easy to change."
Contact reporter Matt Youmans at myoumans@reviewjournal.com or 702-387-2907. Follow him on Twitter: @mattyoumans247.
No. 21 UNLV VS. CALIFORNIA
WHEN: 3 p.m. today
WHERE: Haas Pavilion, Berkeley, Calif.
TV/RADIO: ESPNU (320), KWWN (1100 AM, 98.9 FM)
LINE: California -1; total 145.5