Dakota Gonzalez sparks Lady Rebels in rout of UNR
February 8, 2017 - 11:04 pm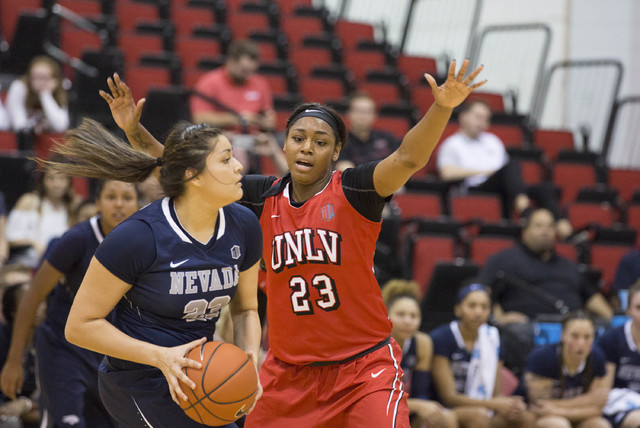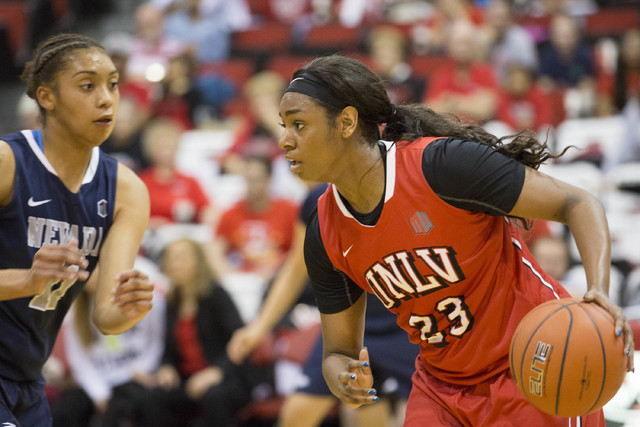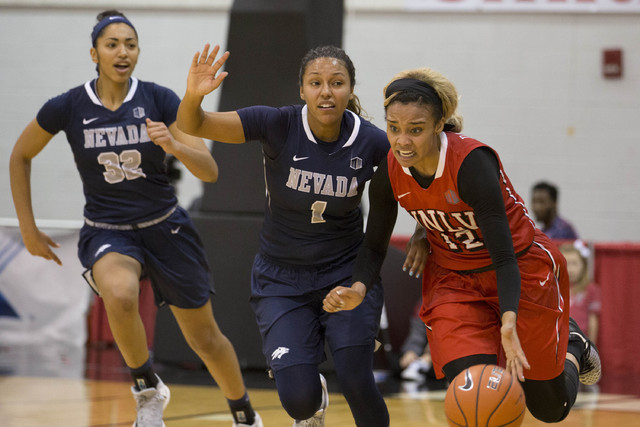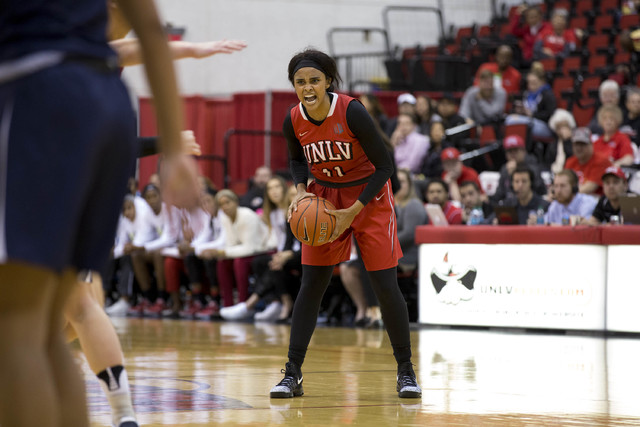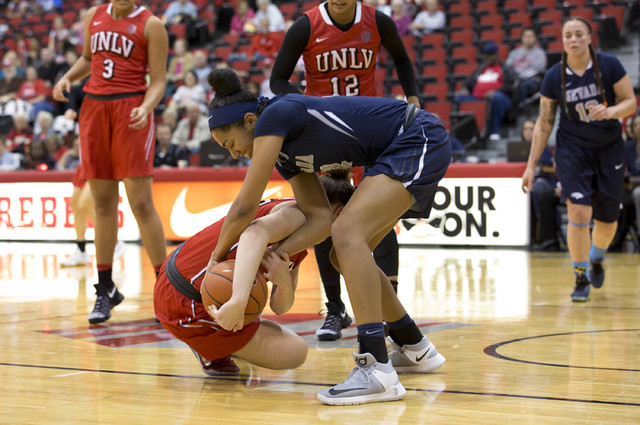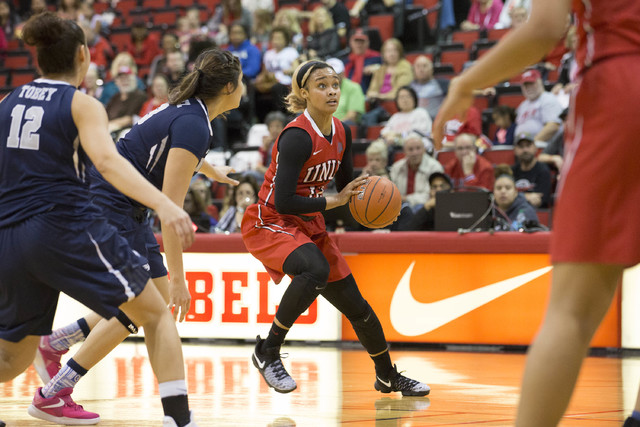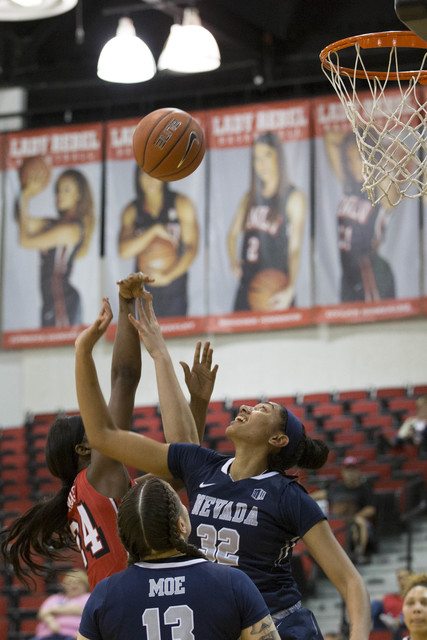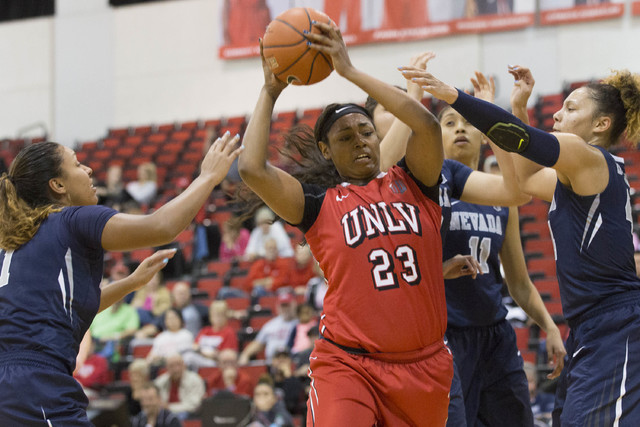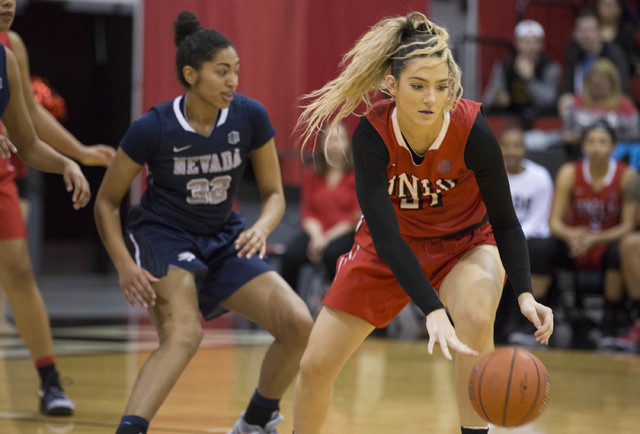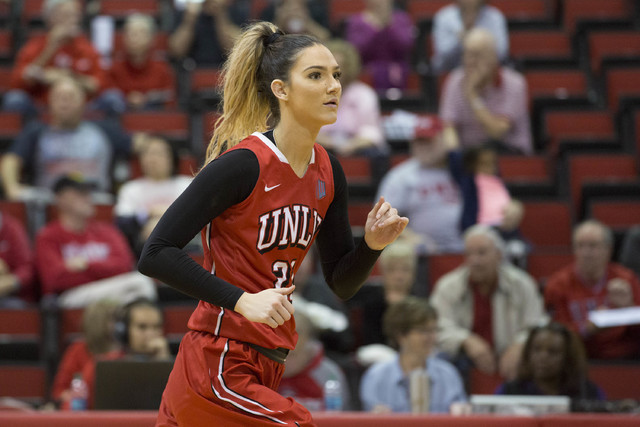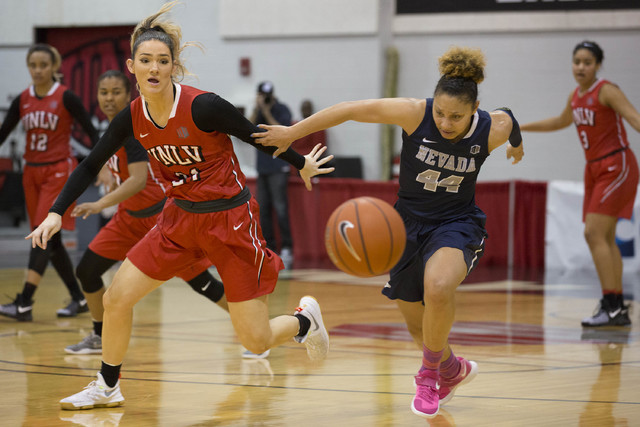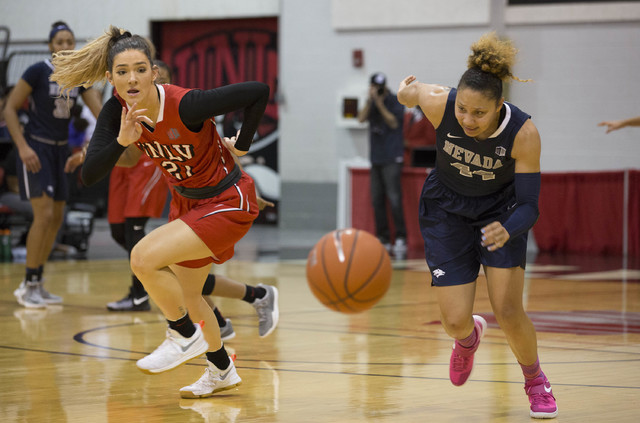 UNLV got everything it needed and more from Dakota Gonzalez on Wednesday night, prompting Lady Rebels basketball coach Kathy Olivier to approach her junior guard after the game, lay an arm around her and proclaim "leadership galore."
Already without their second-leading scorer and point guard, Brooke Johnson, who was nursing a sore knee, the Lady Rebels also lost leading rebounder Katie Powell when she injured her left shoulder in the third quarter.
So there was Gonzalez when UNLV needed her the most, running the point, tying a career high with 23 points and grabbing a team-high nine rebounds in a 60-41 victory over UNR at Cox Pavilion.
"What's big is that everyone's so versatile, and it's huge when you have the versatility," Oliver said. "Dakota has played point before. Has she played point for 40 minutes? No, not really, but she was up for the challenge, and that's a big part of being successful."
Gonzalez, who played the point a lot in high school, had plenty of help. Her twin sister, Dylan Gonzalez, scored 16 points and Paris Strawther 13 for the Lady Rebels (16-8, 7-5 Mountain West).
Strawther scored six points in the team's 12-0 run to begin the second half that gave UNLV a 38-22 lead.
"Katie and Paris, they were jiving. The ball was moving," Olivier said. "They were slashing, and we had a couple open shots, which now makes them stretch out the (defense), and Paris and Katie just read that. I thought their passing was excellent. They were catching the ball and finishing."
The third quarter hasn't been the Lady Rebels' strength this season, but against UNR (8-14, 2-9) they started strong and led 45-31 entering the fourth.
"What was exciting for us in this third quarter was just the fact that we were moving the ball so well," Dakota Gonzalez said. "Everybody was so unselfish. We were playing hard defense, and then we were making the right decisions on the offensive end, being super smart with the ball, and I think that is what gave us that spark. Defensively we had a spark, but the fact that we were able to take such good care of the ball and make such unselfish plays just got everybody going, and we rode that momentum."
They also lost Powell, who was injured diving for a loose ball. She was helped off the court and didn't return to the game.
UNLV already was missing Johnson, who tweaked her knee last week and has been dealing with inflammation. Olivier said Johnson also will miss Saturday's game at San Jose State.
But the Lady Rebels overcame both injuries to improve to 18-0 all time at home against the Wolf Pack.
"The other thing I thought was huge was that as a coach, you have so many options," Olivier said. "We have a lot of options. It's really nice to feel like you can play anyone on that bench and they're going to contribute."
Contact Betsy Helfand at bhelfand@reviewjournal.com. Follow @BetsyHelfand on Twitter.
UNLV WOMEN 60, UNR 41
KEY: Dakota Gonzalez tied a career high with 23 points and grabbed a team-high nine rebounds for the Lady Rebels.
NEXT: UNLV at San Jose State, 2 p.m. Saturday